ENGLISH
Today finally I went back to Yogyakarta. This morning I caught Argo Wilis Express departing at 7 AM from Bandung Railway Station. Anyway, last night I got an insomnia, arrrggghhh, I started to sleep at about 1.30 AM and at 4.50 AM I gotta get up. Haha, so I was pretty sleepy on the rail this morning.
So, at 5.40 AM this morning my taxi (I had ordered a taxi the day before) had arrived (wah, cool Gemah Ripah, not like Blue Bird which pissed me off at
this time
). At 5.45 AM I went to the station. Ten minutes later I arrived (Bandung in the morning is so cool, there was no traffic, hahaha...).
Well, I was starving this morning and at 5.55 AM Hoka-Hoka Bento Station was still closed. Damnit. I still had 1 hour and I decided to wait for about 20 minutes (who knows Hokben would open soon?) rather than waiting inside the train and starving. Apparently at 6.05 AM it opened!! Yeeaaahhh!!!
At 7 AM my train departed. The trip was okay, just as usual. But the thing is that I was a bit nervous during the trip since there were some peculiar sounds coming from the cart (I suspect there was something wrong with the cart). At Kroya Station and Kutoarjo Station, some mechanics seemed to check my cart a bit more intense than the other carts, hmmm... . Anyway, there was nothing bad happened. Thanks God!! :) My train arrived at 1.45 PM (15 minutes earlier than the schedule, it's cool!! :) )
Anyway, yesterday I had my TOEFL test. I think I did well. Hmm, probably because I haven't taken any English Class recently so I think out of all sections, I am confident the most on my Listening Section, LOL. However, the test sucked a bit since we gotta blacken a circle to answer and it is my weakness (you can read
here
). I always blacken slowly (since I'm always afraid it's not gonnabe perfectly good and it's not read by the computer). hahaha...
Anyway, yeah, now I'm at Jogja!!! :)
::: my Hoka-Hoka Bento Breakfast
::: Inside Argo Wilis Express Cart Executive 4
::: rice field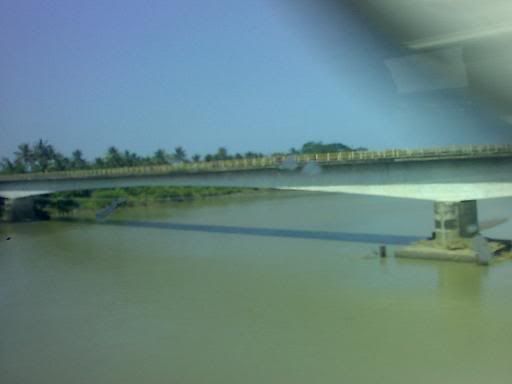 ::: Crossing Serayu River in high speed

BAHASA INDONESIA
Hari ini akhirnya aku balik ke Yogyakarta juga. Pagi atdi aku naik Kereta Ekspres Argo Wilis yang bernagkat jam 7 pagi dari Stasiun Kereta Api Bandung. Ngomong2, semalem kaga bisa tidur neh, siyal, arrrggghhh, baru bisanya tidur sekitar jam 1.30an gitu sementara aku harus uda bangun jam 4.50 pagi. Haha, makanya tadi ngantuk selama perjalanan.
Trus jam 5.40 pagi taksiku (aku uda pesen taksi sehari sebelumnya) udah datang (wah, Gemah Ripah memang keren, kaga kaya Blue Bird yang bikin saia kecewa pada
waktu ini
). Jam 5.45 pagi aku pergi ke stasiun. Sepuluh menit kemudian aku udah nyampe di stasiun (Bandung di pagi hari menyenangkan deh, nggak macet, hahaha...).
Hmm, aku kelaparan tadi pagi dan jam 5.55 pagi kan Hoka-Hoka Bento stasiun nya masih tutup. Siyal. Aku masih ada waktu sejam dan ya uda aku mendingan nungguin aja deh 20 menitan gitu (kan sapa tau Hokben nya dalam waktu dekat akan buka?) daripada nunggu di dalam kereta dan kelaparan kan. Eh ternyata jam 6.05 buka tuh!! Yeeaaahhh!!!
Jam 7 pagi keretaku bernagkat. Perjalannya biasa aja sih. Tapi ada satu hal yang bikin aku agak-agak deg-degan juga tuh. Jadinya tuh ada suara-suara yang mencurigakan gitu pada perjalanan yang datangnya dari gerbongnya (aku menduga ada masalah dah sama gerbongnya). Di Stasiun Kroya dan Stasiun Kutoarjo aja tadi teknisinya mesti ngeck gerbongku lebih saksama daripada ngecek ke gerbong lainnya, hmmm... . Yah yang penting nggak ada hal buruk yang terjadi deh. Terima Kasih Tuhan!! :) Keretaku tiba jam 1.45 siang (15 menit lebih cepat daripada jadwal, keren!! :) )
Ngomong2, kemarin aku ikutan tes TOEFL. Aku rasa aku bisa ngerjain dengan baik sih. Hmm, mungkin karena aku uda kaga ikutan les Inggris kali ya jadinya malah bagian yang aku paling percaya diri adalah Listening, LOL. Namun tesnya nyebelin bgt tu soale kan dalam menjawab kita mesti menghitamkan lembar jawaban tuh dan itu kan kelemahan saya (bisa dibaca lengkap
disini
. Aku selalu menghitamkan dengan lambat (soale aku selalu takut kalo nggak dibulatkan dengan sempurna nggak akan kebaca komputer). hahaha...
Udahlah, yeah, sekarang uda di Jogja!!! :)