ENGLISH
Yesterday I had my last exam this semester, Financial Math. I thought this subject would be the most difficult one for me, haha... ;) Apparently, yea, it was pretty difficult but I think I did well. Honestly, it wasn't as bad as I thought before, LOL. Btw, yesterday Bandung was SO crowded!! Dang It. Traffic Congestion was everywhere... :(
Anyway, finally this morning I went back to Jogja catching Merpati's MZ 326 which took off at 6.15 AM. This morning, Blue Bird sucked. I already ordered a taxi yesterday for this morning at 4.30 AM and it was confirmed. Guess what?? This morning at 4.30 AM they called me and told me that they couldn't provide a taxi. WTF?? I was so angry and said I had to be at the airport at 5 AM to catch the 6 AM flight, so they gotta be responsible for that! At that time, I also called Gemah Ripah and lucky they could provide me a taxi. Dang Blue Bird.
Finally at 6.17 AM, Merpati's Boeing 737-217/adv reg code PK-MBS took off thru runway 29 from Husein Sastranegara Airport. At 6.50 AM we landed at Adisutjipto Airport Yogyakarta, thru runway 09.
Btw, one thing I really want when I come back to Jogja is eating home-made steak, my last time was
this time
. Luckily, TODAY I ate home-made steak!! Hahahaha... . Plus, the meat was an imported meat from Australia, hahahaha.... . The steak was GREAT!!!
::: My Boarding Pass & Ticket
::: Husein Sastranegara Airport's waiting lounge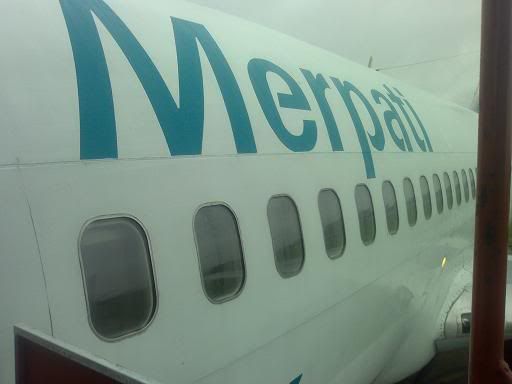 ::: Merpati's Boeing 737-217/adv reg code PK-MBS
::: Welcome to Adisutjipto Airport, Yogyakarta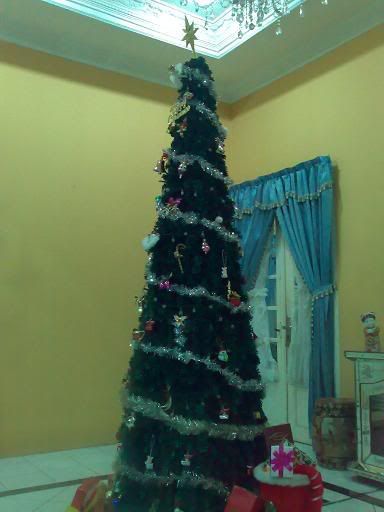 ::: artificial Christmas Tree in my home
::: imported-meat home-made steak, twas GREATT!! (MANTABB!!! :D)

BAHASA INDONESIA
Kemarin aku ujian terakhir nih di semester ini, Mat Keuangan. Aku kira mata kuliah ini akan jadi yang paling susah buat saya, haha... ;) Ternyata, ya, memang lumayan rada susah sih, cuma rasanya aku ngerjain dengan baik deh. Jujur neh, ternyata gak seseram bayanganku sebelumnya tuh, LOL. Btw, kemarin Bandung gila2an tu macetnya!! Parah bgt. Macet dimana2... :(
Ngomong2, akhirnya pagi ini aku balik ke Jogja naik Merpati MZ 326 yang lepas landas jam 6.15 pagi. Tapi tadi pagi Blue Bird menyebalkan bgt tu. Kan kemarin aku pesen taksi buat pagi ini jam 4.30, dan uda konfirmasi juga. Dan bagaimana?? Tadi pagi jam 4.30 pagi mereka telpon saya dan ngomong kalo mereka gabisa nyediain taksinya. Bang**t!! Aku jengkel bgt tu dan ngomong kalo aku harus uda ada di bandara jam 5 pagi buat naik pesawat jam 6, makanya mereka musti tanggung-jawab! Waktu itu, ya aku telpon aja langsung Gemah Ripah, eh untungnya mereka bisa nyedian 1 taksi. Sialan tu Blue Bird.
Akhirnya tadi jam 6.17 pagi, pesawat Merpati Boeing 737-217/adv kode registrasi PK-MBS lepas landas melalui runway 29 dari Bandara Husein Sastranegara. Jam 6.50 pagi gitu kita mendarat di Bandara Adisutjipto Yogyakarya, melalui runway 09.
Btw, satu hal yg aku pengen waktu aku balik ke Jogja adalah makan steak buatan rumah, soale terakhir kali aku makan kan pada
waktu ini
. Beruntung, HARI INI saya makan steak buatan rumah loh!! Hahahaha... . Plus, dagingnya jg pake daging impor dari Australia tuh, hahahaha.... . Steaknya MANTABBB!!!