Previously on
First 2010 Vacation : Bali
: Zilko and his friends went to Bali. Now they had arrived at the far northern part of Bali, at Lovina Beach, to do dolphin-watching.
Day 4 (Monday, 18 January 2010)
We had an early morning to start. The day before, we were told to be ready early at 6 AM since it would be our departure time. The boat captain would pick us up at 6 AM, they told us. We had been ready at about 5.45 AM but until 6 AM, no boat captain nor anyone else came by to pick us up. My friends and I then walked to the receptionist to ask about it. Well then, they asked us to go directly to the pier (well, it was not really a pier tho since there was no pier, just boats being docked on the beach, LOL). We were split into two boats. One smaller boat handled three people (plus one boat captain) and the bigger one handled five people (plus one boat captain). Btw, the boat captains didn't look like boat captain actually, they were more like fishermen, LOL. Anyway, I was in the bigger boat.
::: A Dolphin Watching Trip
Then we took off to the open sea. Well, the info about big waves we got the day before was TRUE!! The waves were really huge. It was kinda scary, really, as it was MUCH scarier than the trip I took
almost four years ago
. Probably because January was in the middle of raining season in Indonesia, while four years ago I went there on May, which was during the dry season. Well, the other boat actually took off earlier, so they were way in front of my boat. From far away, it seemed that they had a much smoother trip to the open sea than us. It was like we were shaken by infinitely massive waves while they sailed smoothly. We envied them! LOL. However, when we finally met in the open sea at the dolphin area, apparently they had a similar fate with us. They also encountered big waves and even worse, because they were on a smaller boat, more water poured into the boat!! hahaha... . Could it be a
paralax effect
?
Anyway, yes, we could watch the dolphins. It was stunning and beautiful!! There were three dolphins jumping together! Well, unfortunately I couldn't take pictures of them. The timing was so quick and predicting where dolphin(s) would jump in the open sea was kinda difficult. However, I think the dolphins were not as many as three and a half years ago tho. Was it because of raining season or simply the number of dolphin population had dropped significantly? I dunno. After being satisfied doing dolphin-watching, we decided to go back to our hotel. Well, our trip back to the beach was not as scary as our departure trip as it was much smoother. Probably because we were "riding" the waves on our way back while we had to "go against" the waves on our departure trip, maybe? Even so, after we landed, two of my friends were sick, haha.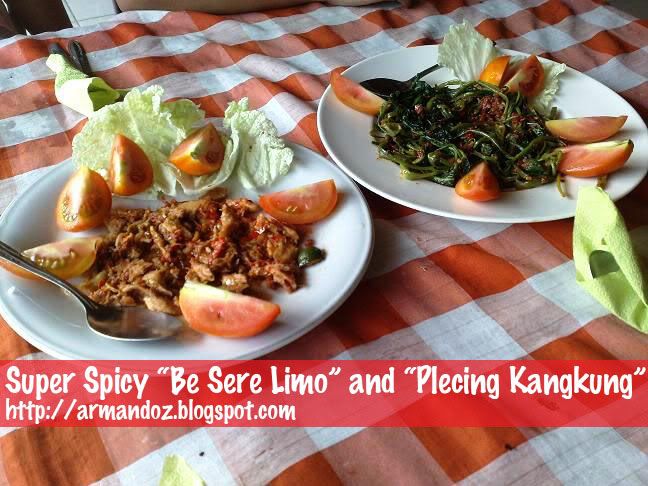 ::: Super Spicy "Be Sere Limo" and "Plecing Kangkung". They were WAY to spicy for me so that I couldn't finish eating them!!
We then had breakfast at our hotel. Not satisfied (and full) enough with our breakfast, three friends and I went to a cafe down the road for a more "appropriate" breakfast. We had "Be Sere Limo" and "Plecing Kangkung". I asked the restaurant to make a NOT-spicy Be Sere Limo because I hate spicy food. However, when they served the menus, they were SUPER spicy!! Well, if that was not spicy for them, I couldn't imagine what SPICY was in their mind!! hahaha... . Actually we had a plan to be picked up at 10.30 AM to go back to Kuta Beach, making stops at Git-Git Waterfall and Tanah Lot with one lunch stop at Bedugul. However, looking at the current condition of ourselves (tired, sleep-deprived, some of us were sick), we decided to postpone it to 12 PM and dropped Git-Git Waterfall from our list.
At 12 PM, we checked out and continued our trip, this time, we headed back to south. We made a stop at Bedugul, having lunch at the same stall as the day before. This time, they made enough rice for all of us, hahaha. We then took off immediately after lunch to go to Tanah Lot.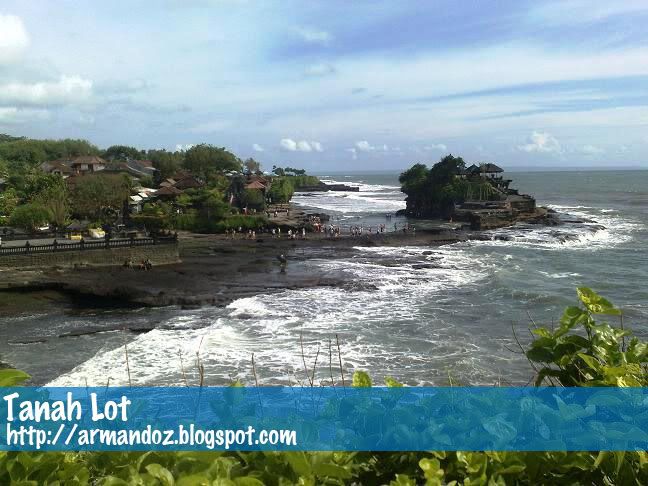 ::: Tanah Lot. I think this was the best place in Tanah Lot to take pictures.
About 90 minutes later, we arrived at Tanah Lot. It was still around 2 or 3 PM at that time so it was kinda hot. Tanah Lot was so beautiful!! It was really photogenic!! Well, there we met some Japanese (?) (I guess) tourists who could barely speak English. They were standing right in the middle of good spots for taking pictures, doing nothing, just chit-chatting with each other. Hello?? It was a public place, you should be aware that many other people wanted to be standing there in your place to get pictures, right?? They could do chit-chatting somewhere else where no other tourist would be annoyed. To "speak" with them, I used body language, lucky the understood and stepped away from those places, hehe :-) Anyway, there was a beautiful and photogenic place from top of a small cliff to the west of the Tanah Lot temple. It was located in the tip of the cliff so it was kinda scary, but it was roomy enough for eight people I think, so don't worry :-)
::: Discovery Shopping Mall at Kuta, Bali. It hadn't changed that much since I went there almost four years ago.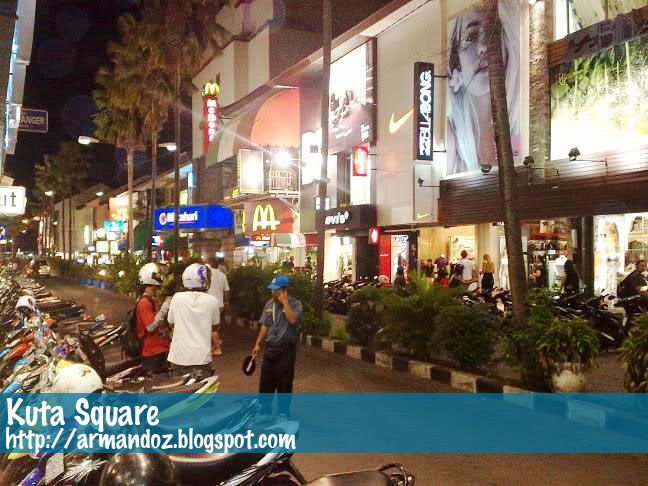 ::: Kuta Square At Night
We then left Tanah Lot and went to Kuta Beach. We would spend the last three nights in Bali staying at
Tune Hotels
again, this time in Kuta. Well, personally, I think the Kuta Tune Hotel was way better than Legian Tune Hotel in term of location. It was much friendlier for cars, hahaha. After taking rest for about one hour, we decided to take a walk around Kuta Beach. We went to Discovery Mall and had dinner there. Well, Discovery Mall had changed since the last time I visited it almost four years ago (of course! haha). After taking some walk and got tired, we went back to our hotel.
Day 5 (Tuesday, 19 January 2010)
One of my friend's friend went to Bali before us and she recommended us to visit Bali Safari, a safari park in Bali. She said it was so beautiful! Well, because I had never been there and my other friends agreed, Bali Safari was our destination this day. Before getting there, we made a stop at Sukawati Market as some friends wanted to go shopping. Well, I don't really like shopping plus I didn't think the items they sold in Sukawati were "usable", at least for me. That's why I preferred to buy boiled peanuts, waited in the car and had a chat with our driver. One hour later, they finished shopping and we continued our journey.
::: A Zebra At Bali Safari. I like this picture :-)
Well, the entrance fee to Bali Safari was definitely over budget. The information we got said that it was Rp 85,000.- per pax. So, that was the amount of money per pax we budgeted. But then, apparently, it was Rp 110,000.- per pax!! Lucky we still had some extra cash to cover the extra! Anyway, Bali Safari was beautiful. It was definitely more beautiful and better than Bogor Safari Park. However, I still don't think Rp 110,000.- per pax worth it!! With that amount of money, I preferred to go to Waterbom Bali, just adding some ten of thousand but we could get one day full access to the Waterbom! Well, the most cozy place in Bali Safari was inside the tour bus. It was equipped with A/C while it was definitely super hot and humid outside. At that time I didn't want the tour on the bus to end, LOL.
::: Jimbaran Beach Before Sunset.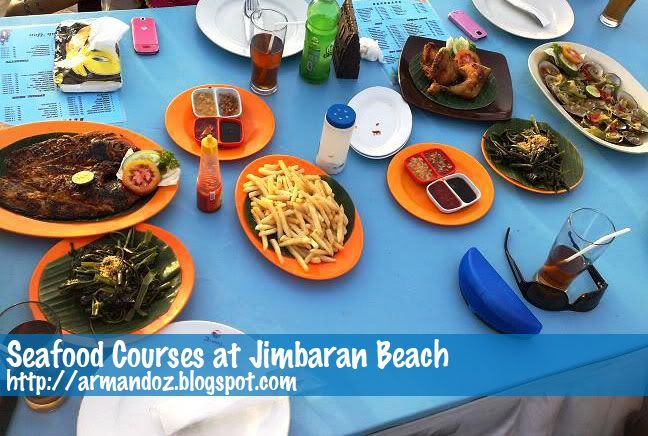 ::: Our Seafood Courses at Jimbaran Beach.
After leaving Bali Safari at around 3 PM, we headed south to Jimbaran Beach. We made two stops at Denpasar to have lunch first and to buy Titiles (I love its ham!! :D). Well, the Denpasar - Kuta road was definitely crowded. It took us about one hour to get free from the traffic jam! hahaha. Finally, at around 5 PM we arrived at Jimbaran Beach. There I treated my friends for my graduation. Of course, the menu was seafood and we didn't expect super tasty food as in Jimbaran, we are actually buying its atmosphere. Lucky enough, we got a sunset there! Sure it was a bit cloudy but the cloud didn't cover the sun. God Bless Us!! We asked the food to be served around 6 PM so that we didn't get to have meal too close to our lunch at 3 PM, LOL. After dinner and taking some pictures using sunset as our background and objects, we left Jimbaran and got back to Kuta.
::: A Sunset At Jimbaran Beach. We were so lucky to get this one!
to be continued ...