ENGLISH
This past one week has passed really quick! I mean, literally! I feel that I wrote
my last entry
just one or two days ago, but it has been one week! Wow! Maybe this is due to the fact that I have kinda been busy with all the stuffs from campus. Bah, same old story. I have one assignment due next Monday, and last Wednesday I had a really great trip to Amsterdam. No, no, it was NOT a vacation trip, it was more like a company visit to one financial company in Amsterdam. Somehow I got selected to be part of the visiting students (not all students could participate at this trip) and of course I accepted it. It turned out that it was so much fun! My eyes were opened wider and it really pumped me up to work harder!
Anyway, I can not believe that tonight, the
spring Daylight Saving Time
(DST) will take place. Well, it is not that I cannot believe we have a DST, but it is just that now we are already at the point of another DST! I remember writing
this entry
about my first DST and somehow now we are already approaching the next DST! How fast time flew!! Anyway, tonight the DST is not my favorite one as this Sunday we will only have 23 hours a day. The time will get fast forward one hour once it reaches 2 AM.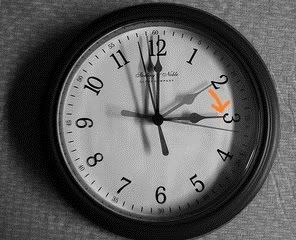 BAHASA INDONESIA
Seminggu terakhir ini benar-benar cepat berlalu deh! Maksudku, beneran deh! Rasanya aku menulis
posting terakhirku ini
tuh baru satu atau dua hari yang lalu, tapi ternyata udah seminggu yah! Wow! Ini mungkin dikarenakan aku sibuk minggu ini dengan semua hal dari kampus. Bah, cerita lama. Aku ada satu tugas yang harus dikumpul Senin besok, dan Rabu lalu aku mengikuti acara di Amsterdam. Bukan, bukan, acaranya bukan acara jalan-jalan, tapi lebih ke kunjungan perusahaan ke sebuah perusahaan finansial di Amsterdam. Aku terpilih untuk bisa ikut acara kunjungan perusahaan ini (nggak semua mahasiswa bisa ikut loh) dan tentu saja aku menerima tawaran ini. Ternyata acaranya asik banget! Acaranya benar-benar membuka mataku dan menyemangati aku untuk bekerja lebih keras!
Ngomong2, aku nggak percaya bahwa malam ini,
Daylight Saving Time
(DST) musim semi akan berlangsung. Yah, bukannya aku nggak percaya bahwa malam ini ada DST, maksudku aku nggak menyangka aja sekarang kita sudah berada di waktu DST lagi! Aku masih ingat menulis
posting ini
tentang DST pertamaku dan entah bagaimana sekarang kita sudah mendekati DST selanjutnya! Waktu benar-benar cepat berlalu!! Ngomong2, malam ini DSTnya bukanlah favoritku karena hari Minggu ini hanya akan memiliki 23 jam sehari. Waktu akan maju satu jam begitu waktu menyentuh jam 2 subuh.