Previously on 2010 Year-End Trip : Italy : Zilko and his friends went to Italy for Christmas and New Year Break and now he had used most of his time in Rome getting around the city during Christmas.
Before I start, well, I think I have to speed up my pace now otherwise this entry will be a never-ending one, hahaha.
So, we only had less than one day left in Rome since that day we planned to leave for Florence by evening. We still had one destination in mind: the Vatican Museum in Vatican City as the museum was closed when we first visited Vatican City three days before because of Christmas (see Part I).
So, that was it, our plan for that day was obvious. We also had a date with our Italian friend for lunch that day. So, after lunch, we all (including our Italian friend) went to Vatican Museum. Lucky the queue was not that long that day and we got a pretty good discount for the entrance fee because we were students! My own agendas for the Vatican Museum were two things: visiting
Sistine Chapel
and taking a picture of the famous purple spiral stairs in the museum.
Well, in fact, the WHOLE Vatican Museum was SO beautiful! It was definitely the best museum I had ever been into in my life (well, I have not visited Louvre in Paris yet so I cannot make a comparison at this point :-) ). With that entrance fee (15 euro, but we only paid 8 because we were students), I think it definitely worthed it. I loved the Roman architecture of the museum, and the art masterpieces in it. There was this long hallway which was divided in rooms, and they somehow designed the rooms to be so symmetric so that you were like seeing a mirror!!
::: One Roman Palace inside the Vatican Museum.
::: A magnificent hallway in Vatican Museum.
Anyway, so we finally got in the Sistine Chapel. Entering the chapel was so magical for me. As you might recall, about two years prior,
I worked on a project about Michaelangelo
for my Aesthetics Class. And the movie I watched in that class mainly focused on this Sistine Chapel. So just imagine how incredible it was for me that that time I WAS IN the Sistine Chapel itself, seeing Michaelangelo's masterpieces with my own eyes!!
::: The purple spiral stairs.
We also visited Raphael's Room just nearby Sistine Chapel (of course), and it was another magnificent place to visit!! Anyway, after going around the museum (and taking picture of that purple spiral stairs), we decided to leave Vatican Museum as it was already about 5 PM. We visited St. Peter's Square for a while. After that we left for Roma Termini Station. After taking our luggages (earlier that day we deposited our luggages in Termini Station), we bought our tickets to Florence. Somehow, we did not buy the regular train's tickets but we bought the Eurostar Train ticket instead. Well, the ticket was of course more expensive but Eurostar was a faster train and in a way I also wanted to experience how it felt like to ride a Eurostar! :-)
::: St. Peter's Square in the dusk.
Eurostar was awesome. Even the second class was incredible and nice! And it was fast (of course)! Once we arrived at Florence there was a funny incident as we (somehow) arrived about 15 minutes earlier in Florence, causing us to be like "
F*ck, we are in Florence!
" because it took a bit of time for us to get ready to get off the train (because one of my friend was in a wheelchair, so it took more time to prepare) and we planned to prepare for it 10 minutes before our scheduled time arrival, which meant at that point, we were not ready yet, lol.
::: Eurostar Italia, an Italian bullet train.
Anyway, that night in Florence we had dinner at a bar (it was more like an American bar though, as I ordered Ribs steak). The hostel was also not really good. They messed up with the reservation and they prepared smaller room for us. We of course complained and for the first night we got an extra room and for the rest, well, they sort of packed all of us in that smaller rooms but gave some discounts. But still, not a really nice experience.
The next day, we asked a recommendation for good places to eat in Florence and we got some. The problem was, one of them was closed because it was holiday! hahaha. Anyway, this day we went around the city. Florence was a nice city. One of the most landmarky place was Ponte Vecchio. We also wanted to enter the Palazzo Pitti, a museum at around 5 PM. But we realized a paper on the ticket booth saying something "gratis" ("gratis" is a very common word in many European languages as it means exactly the same as in Indonesian :D) after 7 PM that day and we suspected it was the entrance fee. Of course we opted to wait for two more hours (it would be a free entrance for God's sake! :D) and we could explore the city a little bit more. Well, after Vatican Museum, this museum was just fine for me, a little bit verging on boring even in a way. Anyway, that evening, we had dinner at one of the recommended restaurant to eat the famous Florenzian Beef Steak! It was kinda unique as we ordered not based on how many portions we wanted, but how many grams of steak we wanted, lol. And the steak was nice! It had a bit of raw taste, and that is why if you love medium-cooked steak, you will also like this Florenzian steak! :-)
::: Ponte Vecchio in Firenze.
::: Firenze as seen from Ponte Vecchio.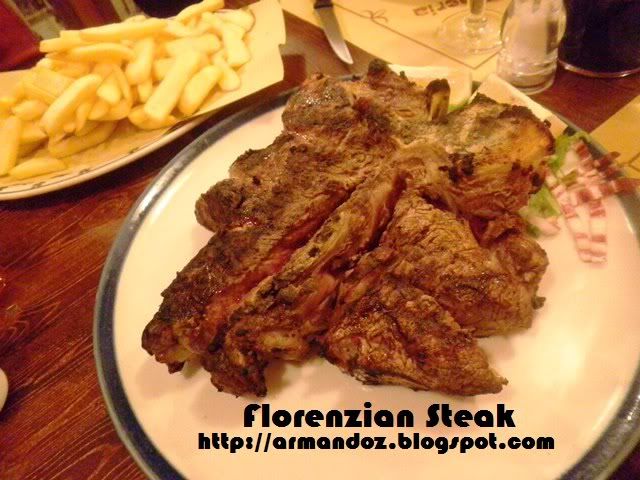 ::: Florenzian Beef Steak!
The next day, we visited the Accademia Gallery as my friend really wanted to see
David
. We could skip the lines (because my friend was in a wheelchair, lol). There was a funny incident happening when we got in. Before getting in, we had to get through the security check first. Just like at the airport, we had to walk through a metal detector. I forgot to take my keys off my pocket and the detector beeped. I took my keys off and walked through the detector again. And the security guy was like:
"Signore, this is a metal detector and these [pointing at my keys] are metals
". I was like "
Okay
" since technically what he said was something too trivial, wasn't it? And I had no idea how to react to that. Feeling the awkwardness, that security guard even restated what he just said, making it even more awkward. I said "
Okay
" again and then he was like "
Well, these are metals that is why it beeps!
". And I was like "Y
eah, of course, so?
". Tired, he let me go in, lol. Probably he was trying to be a bit funny but he put a damn serious face, making me unsure whether he was joking, playing around with me, or was in fact serious! hahaha.
The statue of David was so magnificent! It was HUGE (all this time I thought it was small. Well, not small "small", probably 2 or 3 meter in height, but in fact it was 5+ meter!). Michaelangelo also sculpted it in a unique way in depicting David's victory over Goliath (in Indonesian, David is "Daud" and Goliath is "Goliat" :-D). But that was pretty much it in the museum. The other arts were just okay, but not as outstanding as David.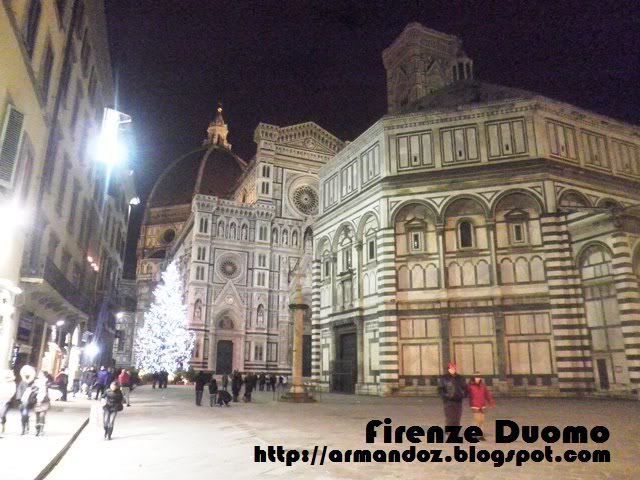 ::: Firenze's Cathedral.
After the museum, we went to the cathedral. Well, again, after St. Peter's Basilica in Vatican City, this cathedral was just "okay", even though I am a bit sure that HAD we entered this cathedral BEFORE St. Peter's Basilica, we would have been "wow"-ed by it :-) We then went around the city and went to the open market.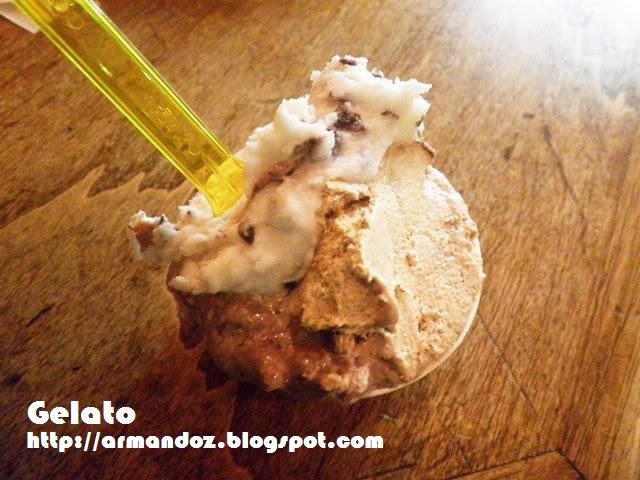 ::: Delicioius Gelato in Firenze.
I was looking for a water proof shoes as our next destination was Venezia (Venice) and there was a rumor that it was flooding there. I was thinking buying a pair of new shoes didn't hurt as I could use those shoes also as my winter shoes back in the Netherlands. I found a good pair of shoes with reasonable price. However, I had a problem with the color (yellow) as I did not see myself wearing yellow shoes, lol. The seller tried to provoke me to buy them (of course) by saying I could color the shoes
MYSELF
using a polish or something and I also had to buy that polish. Well Sir, if I would not buy new shoes whose color I did not like in which I had to "recolor" it myself with some polish that I also had to buy! If he would recolored it for me with no charge, well, I would be considering the offer and it would depend on how the shoes looked like after the process. I ended up not buying those shoes :-)
TO BE CONTINUED