note:
- I will write about my holiday to BALI next week because the topic I am writing right now is very exciting and it needs to be written now, while it's up :-)
- this entry will only be written in English.
This year, one of the greatest tennis players during the 2000s, Justine Henin, came back to compete at the professional tour. She started the year at Brisbane International, after receiving a wildcard entry because after 20 months of retirement, she didn't (and still doesn't) have any point nor rank. There, she made it to the final and lost in a very tight match against, another comeback queen who was back to tennis pro last August and won the US Open title, Kim Clijsters. En route, Henin beat Nadia Petrova. After the match, Petrova said Henin's style of play is different with her style before the retirement. She is more aggressive right now, not much like a clay court player as she used to be. This new style is supposed to match hard court's characteristics more.
::: Justine Henin with her backhand was in action during a night match at 2010 Australian Open
Two weeks later, at the
2010 Australian Open
, the first grandslam tennis of the year, against all odds, Justine Henin made it to the final beating Elena Dementieva, world no. 5; Yanina Wickmayer; and Nadia Petrova, whom annihilated Kim Clijsters and crushed Svetlana Kuznetsova in the earlier stages, en route. Her opponent in the final is no other than the current world no. 1 (and will still be no. 1 in the world after this match, no matter how the outcome will be), Serena Williams. Serena Williams defeated Samantha Stosur, local favorite; Victoria Azarenka, seeded 7 who already had 6-4, 4-0 lead at her match against Serena, but Serena still managed to turn things around and won the match; and Chinese Li Na, en route to the final.
Surely this is a must-watched match and is probably the best final combination for this year's Australian Open, especially after unstable performances by most top-ranked woman players, named Dinara Safina, Jelena Jankovic, Ana Ivanovic, and Maria Sharapova, while some new comers, like Caroline Wozniacki, Victoria Azarenka, Agnieszka Radwanska, and maybe Yanina Wickmayer, still need to prove their consistency.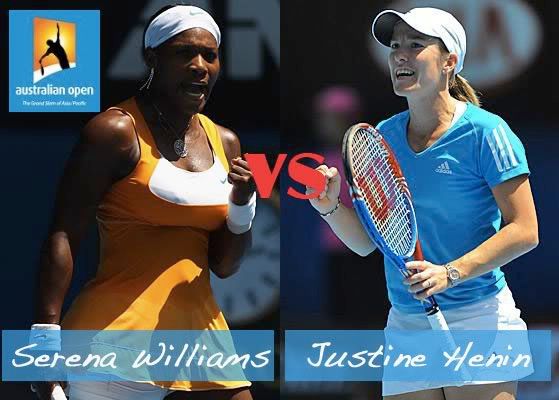 ::: Serena Williams vs Justine Henin, who will bring the trophy home this year?
The match is interesting, because the two have never met in a grandslam final before. Who will win the match? Well, it's a tough call, but let's check history and get some stats:
Head to Head Record:
Serena Williams 7 - 6 Justine Henin
Hard Court Head to Head Record
Serena Williams 4 - 1 Justine Henin
Last Meeting:
2008 Sony Ericsson Open, Key Biscayne, Miami, USA (Tier I Event), HARD COURT, Quarterfinal
Serena Williams WON by 6-2, 6-0
Final Stage Record
Serena Williams 2 - 2 Justine Henin
Well, from those stats, it's clear that Serena Williams is more likely to win, because Australian Open is a hard-court tournament. History shows that Serena is more dominant in hard court tournaments, while Justine Henin is (was) more dominant in clay-court tournaments. However, considering Nadia Petrova's comment, who has played Justine Henin three times since her comeback (one at exhibition tournament in Cairo, clay court match, two at professional level matches, in Brisbane and Australian Open), Henin has changed her style!! Therefore, the stats can be misleading this time, because of the major change.
Looking at their playing style. Well, Serena is Serena while Justine Henin, again, according to Petrova's comment, has changed, there's nothing much to say because it's still new. However, so far, it seems to have worked well for her. Still, there's no guarantee yet because so far Henin has only played one top 5 player, Elena Dementieva, in an amazing and nailbiting 2nd round match at Rod Laver Arena last week. It might be a good test for her new style of play, but it definitely needs more "real tests".
::: Serena Williams in action during a day match
So, the conclusion is - it's not conclusive enough tho actually because there are too many random factors taking place, LOL - it can be anyone's game. They are both fighters, they play amazingly, they are both champions (they have ever won Australian Open before, Serena with four titles in 2003, 2005, 2007, and 2009; Justine Henin with one title, in 2004). However, I think Serena slightly has an advantage over Henin. So, I'd go for Serena Williams for the win!!! Go Serena!!! :-)
Well, whoever wins this match (one of them will win anyway, and the other one will have to lose, unfortunately, but that's the reality of a tournament) doesn't really matter if we see the big picture. With Justine Henin's comeback, hopefully women tennis will become more competitive and exciting to watch. Right now, the Williams sisters are still dominating the draw. Sure, there are some shining players, but they don't tend to shine for long. Inconsistency, that's the major problem many younger female tennis players have right now. Hopefully, with Henin's comeback, along with the Williams sisters' dominance (they won another grandslam doubles title earlier today, beating world no.1s in doubles, Cara Black and Liezel Huber, in straight sets), things will be stirred up.
note: all pictures are taken from the official website, link above.