note : this entry will only be written in English since I am in the mood of writing details :-)
Last January, my friends and I went to Bali for a vacation. Well, we had already planned this vacation for years, and we had also saved money for this vacation. That's why it was so amazing that it finally came true!! :-) We were so lucky to get AirAsia's promo tickets last June, as we bought them in the very first day of the Bandung-Bali route's launching. Anyway, let's get the story started :-)
Day 0 (Thursday, 14 January 2010)
We all agreed to meet at 1.30 PM at Husein Sastranegara Airport. Well, four of my friends live not so far away from my boarding house. Therefore, we decided to share taxi to save a little cash. Unlucky enough - well it was a shame that a holiday should start that way with this little but kinda annoying incident where instead of saving little cash, we had to spend extra cash. You might not want to know this because it sucks to hell but well, okay okay, I understand if you insist, I will tell you what that incident was :D - , we got a very unfriendly taxi driver. Okay, we might have mistake in our respect by "overloading" the taxi but he could actually expressed it in a nicer way. Anyway, the most important thing was that we finally made it to the airport safely, even though with a bit over-budget cash spent on taxi.
::: Indonesia AirAsia's Boeing 737-3B7 reg code PK-AWQ was ready at Husein Sastranegara Bandung to fly to Ngurah Rai Int'l Airport as QZ 7156.
After checking in and waiting at the waiting lounge (well, apparently now Husein Sastranegara Airport has been developed to be a nicer airport than the last time I was there two years ago), at 3.35 PM we boarded our plane. It was Indonesia AirAsia's Boeing 737-3B7 reg code PK-AWQ flight no. QZ 7156. Some minutes later, we took off from runway 11, enabling us to take a look at Bandung City as we climbed. The climbing was a bit scary at time because we had to penetrate a thick layer of cloud. Anyway, about 1 hour 20 minutes later, we were approaching the island of Bali. Well, the landing was going to be different with the my previous landings at Ngurah Rai Airport where we approached runway 09. This time, we were approaching runway 27, making the pilot fly over the famous Kuta (I recognized it!!) and make a u-turn to land. Then, the landing was smooth and soon enough we took our luggages and walked to the pick up area.
::: Sunset on board, seen as we were approaching Ngurah Rai Int'l Airport
::: Kuta Beach is within visible range, we can spot Discovery Mall in this picture. We can also easily spot Ngurah Rai Airport as we would be landing at runway 27 and we had to make a u-turn.
Before we departed to Bali, we already booked a driver to pick us up at the airport and we would rent him for the rest of our stay there. So, we were looking for him at the pick up area and lucky enough it wasn't hard to find Pak Gede, our driver. Our only destination that day was our hotel but we decided to take "an advantage" of having a driver by having dinner first (if we caught a taxi, we would have to pay for more, right?). Right after dinner, we bought a box of two dozens medium-sized bottles of water before going to our hotel. On the way, I asked Pak Gede to pass by Kuta beach. I knew, the sun had already been resting but surely Kuta beach was still alive! Anyway, soon after, we arrived at our hotel,
Tune Hotels
at Legian. Tune Hotels is a hotel chain owned by AirAsia implementing similar concept: you pay what you use. That's why the room is so minimalist but for that, they also offer a very interesting price!! The location in Legian is not friendly enough for car to get there actually, as it is located in a very narrow alley with a 90 degree turn (oO). Anyway, then we checked in and got our rooms.
After taking short rest, we decided to take a walk to the beach. It was night and it was windy. Some bars and high-class restaurants were open inviting people to drop by. We just walked on the road along the beach until we were tired and gave up (we had a crazy plan to walk until Kuta beach, which was kinda relatively far away from where we were). Before getting back to our hotel, we dropped by at a small restaurant called "Warung Murah". After having some chit-chat there we went back to our hotel and got some sleep.
Holiday began....
Day 1 (Friday, 15 January 2010)
We asked Pak Gede to pick us up at 9 AM. Our destination this day was the southern part of Bali. After having breakfast at that so called "Warung Murah" which actually was not that cheap ("Warung Murah" is roughly translated as "Cheap Restaurant"), we started our day and headed south. Our first destination was GWK (Garuda Wisnu Kencana). Well, believe it or not, I had never visited GWK before on my previous two visits to Bali. Entering GWK was really expensive, in fact, it was the second most expensive entrance fee we had to pay during our whole trip to Bali (most expensive entrance fee coming soon :D). Well, the GWK area was a beautiful area as it used to be a hill and it was carved. Well, aside from its beauty, the sun was flaring that day, it was so damn hot!!
::: Garuda Wisnu Kencana (GWK)
We then left GWK and went to Dreamland beach. Well, I had
a wonderful memory
about Dreamland and I was excited to get there once again. However, it turned out that I had to be drown in disappointment. Dreamland was not as beautiful as it was several years ago, the last time I visited it. This time, it was dirty, flocked with freelance retail sellers, and unmanaged. Well, to me, Dreamland has lost its beauty and attraction. I am very disappointed.
::: Dreamland Beach, not that beautiful anymore, whatta shame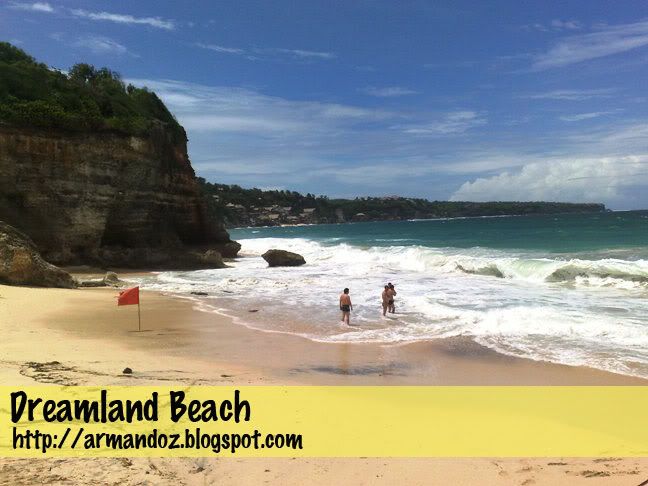 ::: Dreamland Beach
We continued our trip to Nusa Dua beach. On the way, we dropped by at a warung and had lunch. Nusa Dua beach is famous with its water sports. After negotiating, we all played banana boat and caught a glass-boat ride to the turtle island. There was nothing special with the banana boat, it was kinda exciting. However, the glass-boat ride was kinda ridiculous as they also gave us bread to feed the fish. However, on the boat, there was no hole or something to help us feed the fish. We gotta throw the bread over the side of the boat to feed the fish, while the fish were beneath us. What's the point?? (well, there was no beautiful corals anyway seen through that glass, so basically the glass was a waste in the first place). Then, we arrived at turtle island. Turtle island is a green turtle captivity. Strangely, beside green turtles, there were also some other tame animals right there and tourists can take picture with them. O yea, there was a funny sign, well you might not find it funny tho but it was for me :D, saying that sitting on turtles was prohibited. Hahaha, I think it was funny because perhaps someone had tried to pose by sitting on a turtle before, probably wanting to pose like
Muten Roshi (jin kura-kura)
from Dragon Ball?? hahaha... . Anyway, by the end of the visit, they asked for donation. Well, I know green turtle is one endangered species and I wanted to take part in the conservation. I knew what they tried to conserve there and that's why I donated a bit more money. Anyway, after that, we caught our glass-boat to get back to Nusa Dua beach.
::: Nasi Rawon I had as lunch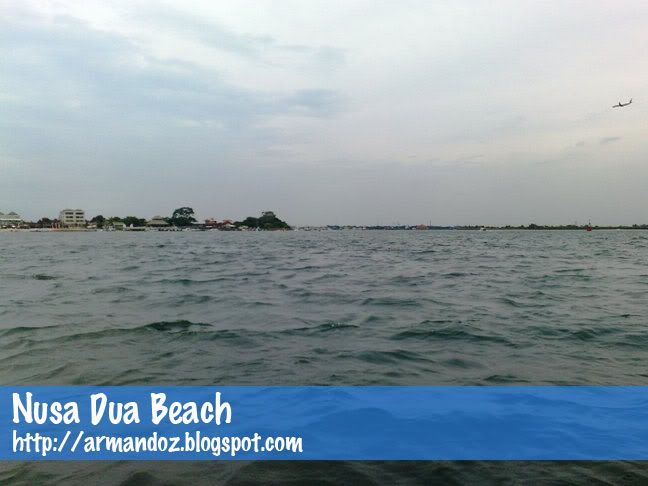 ::: Nusa Dua Beach as we were going to Turtle Island. A Lion Air's Boeing 737-900ER can be seen approaching runway 27 Ngurah Rai Airport :-)
::: green turtles at Turtle Island.
We left Nusa Dua beach and headed to Uluwatu Beach. On the way, we dropped by at Padang-Padang Beach. I think it was a "new" beach as I had never heard of it before. Yeah, it was way still more natural than Dreamland at that time but still, it wasn't as beautiful as Dreamland I visited several years ago. We didn't spend too long there as we were rushing against time. We were after sunset at Uluwatu Beach. Not long after, we arrived at Uluwatu Beach. Well, Uluwatu Beach was SUPER beautiful and fantastic!! The view was perfect, the color of the water was superb, the combination of cliff and sea was awesome!! It is a must visited place when we go to Bali :-) However, at that time we were really unfortunate as it started to rain several minutes before the sunset!! Damnit, the rain ruined all as we had to miss the sunset. But aside of that unfortunate fate, we were really happy to be able to enjoy the beauty of Uluwatu itself, even without the sunset. We left Uluwatu with a satisfied feeling...
::: Padang-Padang Beach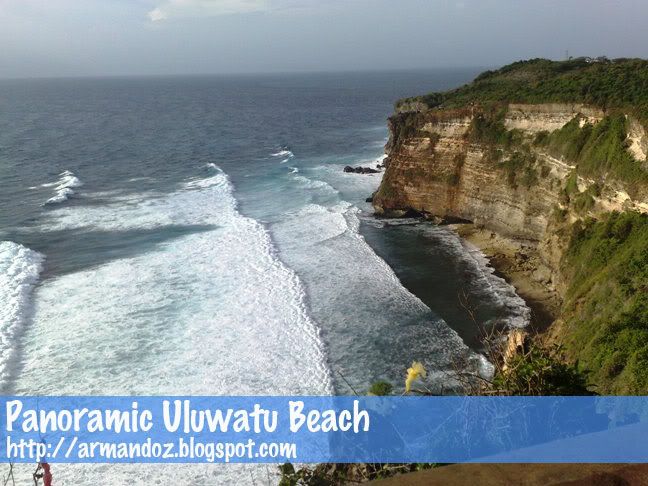 ::: A Very Beautiful Uluwatu
Well, our day 1 to do list had all been checked, and it was time to get back to our hotel. On the way, we stopped by at a gift store.
to be continued...
Next On First 2010 Vacation : Bali :
- Monkey Forest, Ubud, Kintamani
- Bedugul, Munduk Waterfall, Lovina Beach
- Seasick at Lovina (not me, trust me!)