ENGLISH
Actually I planned to write my vacation in 3 parts, but because there are so many things that I want to write here, so I decided to write this in only 2 parts. Then, as all we know, Jogjakarta was shaken by a massive earthquake last Saturday. I write this message (my vacation) NOT because I don't care about it or I'm happy with that. I'm also very sad with that disaster, but we all have to recover from this pathetic condition right?? :) So, I just think that I don't need to write about the disaster, or write something which is very sad (because of the situation which sorrounds us right now) because many people have written about that... .
Day 1

I got up at 4.30 AM, then took a bath and had breakfast. My friend picked me up at 5.40 AM, then we went to the airport. After checking in, we waited for our flight until 7 AM. At 7.10 AM our plane (Garuda Indonesia) took off, and after 1 hour 3 minutes journey, we landed at Ngurah Rai International Airport, Bali at 9.13 AM (there is one hour difference between Yogyakarta and Bali). After that, we went to our hotel and checked in. Then, we went to Kuta on foot (the hotel receptionist said that Kuta was only about 30 minutes and we could walk on the beach, so it was supposed to be a nice walk, but it was NOT). Kuta was SOOO FAR away, and halfway we decided to catch a taxi. Then, after arriving at Kuta we had lunch at KFC Discovery Mall (Discovery Mall is the newest mall in Bali). That day, we wasted spent our day by walking around Kuta. In the afternoon, we went to the beach and waited for the sunset. Many merchants came to us and offered us many things they sold (tattoo, shorts, accessories, massage, etc). They were insane, they asked Rp. 350,000.oo for one small tattoo (What!?!?!?!?), finally after bargaining for so long, my friend got it with only Rp 10,000.oo. Then, in the evening we went back to our hotel. On the way home, we passed Ground Zero, where the first Bali Bomb exploded some years ago.

Day 2

We got up at 8.40 in the morning, then we had breakfast in the hotel. Then, I tried to vote for Katharine McPhee at that time, and finally my vote came in and there was no charge!!! Yaaayyy.... :P Then, at 11.00 AM we cought a taxi and went to Waterbom Bali (in Kuta again, just accross Discovery Mall). We spent our second day there (until about 4.30 PM). We played many water slides, swam and floated in the lazy river, and had lunch there. After that, we went to Joger and bought some clothes (T-Shirt) there. After that, we went back to our hotel and had dinner at a small restaurant near our hotel. But unfortunately we realized that we had lost our room key, and for sure, had to pay for it (Rp. 50,000.oo)... :(

Day 3

We rent a car starting this day until day 5. We left our hotel at 9.40 AM, and then the driver really messed up changed our plan. He suggested us to go to Nusa Dua first because the weather was perfect (actually we planned to go to Ubud), and we agreed to accept his offer (he was supposed to know more than us, that's what on our mind). We finally arrived at Nusa Dua and booked to play some games (parasailing, jetski, banana boat, and flyfish). I didn't want to play parasailing and of course didn't book for it, but 2 of my friends really wanted to play, and they waited for their turns. After waiting for 30 minutes, the boat ran out of fuel, plus the weather was not good enough to play parasailing (dangerous to play). Of course they didn't play it (poor them...). Then, I only played banana boat and fly fish, not as exciting as I thought before, I thought the banana boat would fall in the sea (so we would be thrown to the water >> that's exciting), but it didn't... :( Then, I thought the flyfish would really "fly", but it didn't... :( Ok, then we left Nusa Dua with disappointment, and went directly to Dreamland Beach. Dreamland was really wonderful, the sand was very white, the water was so clear (nice blue), the waves was not very big, the scenery was very fantastic. I love this beach. We swam there, and left this beach at 4.30 PM. We then went to Bedugul Lake in the middle of Bali...



to be continued..................................



::: Landing video @ Bali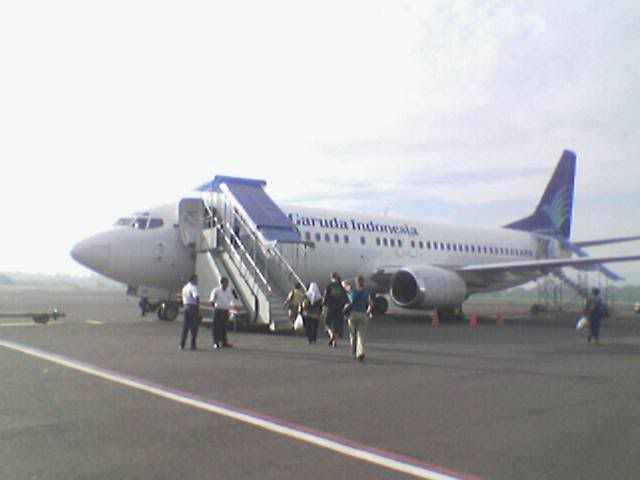 ::: Boeing 737-400 Garuda Indonesia GA 250 which brought me to Bali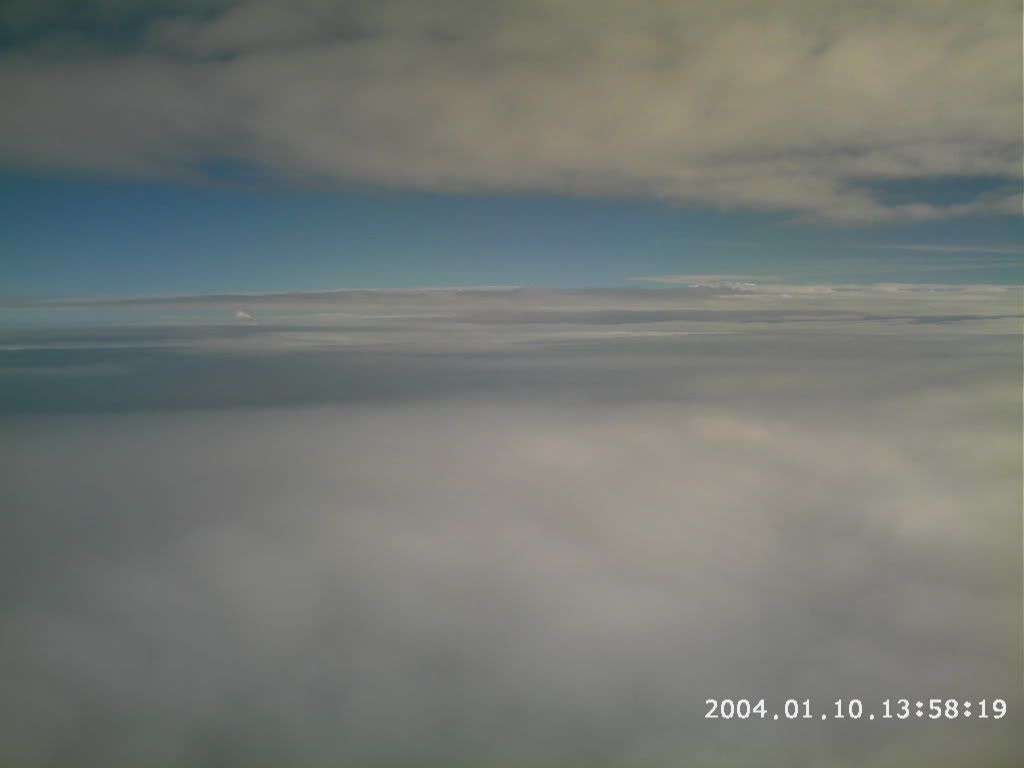 ::: Between two clouds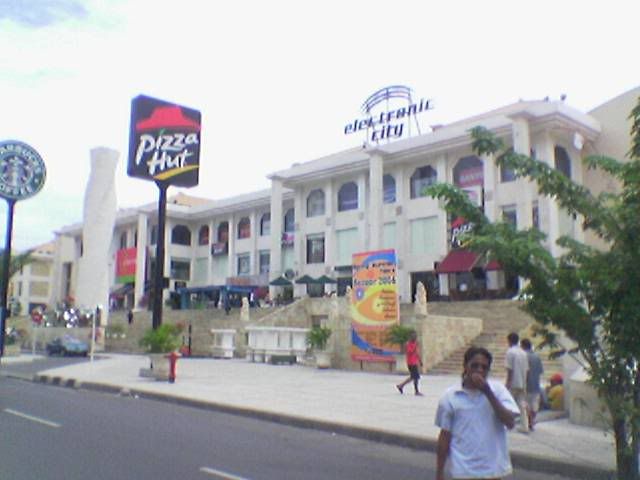 ::: Discovery Mall, Kuta Bali


::: Kuta Bay


::: Ground Zero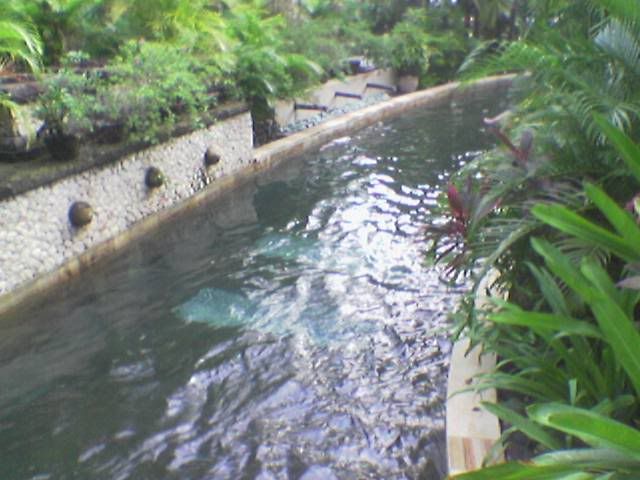 ::: Lazy River, Waterbom Bali


::: One Spot somewhere in Waterbom Bali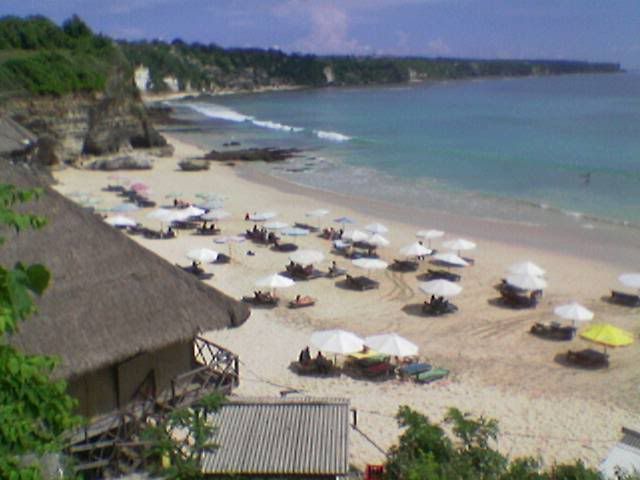 ::: Dreamland Bay

Note: Click to Enlarge




INDONESIAN

Sebenernya aku merencanakan untuk menulis perjalananku ke Bali dalam 3 bagian, tetapi karena banyak hal yang aku mau tulis disini, jadi aku memutuskan untuk menulisnya hanya dalam 2 bagian saja. Trus, seperti yang sudah kita semua ketahui, Jogjakarta diguncang gempa besar hari Sabtu kemarin. Aku menulis message ini (liburanku) BUKAN karena aku nggak peduli dengan hal itu atau aku senang dengan hal itu. Aku juga sangat sedih atas gempa itu, tapi ktia semua harus bangkit dari kondisi menyedihkan ini kan?? :) Jadi, menurutku aku nggak perlu menulis lagi tentang gempanya, atau menulis sesuatu yang sedih (berhubungan dengan situasi saat ini) soalnya sudah banyak orang juga yang menulisnya... .


Hari 1

Aku bangun jam 4.30 pagi trus mandi dan sarapan. Temenku menjemput aku jam 5.40 pagi, trus kita pergi ke bandara. Habis check-in, kita menunggu penerbangan kita sampe jam 7 pagi. Jam 7.10 pagi pesawatku (Garuda Indonesia) tinggal landas, dan setelah perjalanan selama 1 jam 3 menit, kita mendarat di Bandar Udara Internasional Ngurah Rai Bali jam 9.13 pagi (ada 1 jam perbedaan antara Yogyakarta dan Bali). Habis itu, kita pergi ke hotel dan check-in. Trus, kita pergi ke Pantai Kuta dengan berjalan kaki (kata resepsionis hotelnya Kuta tuh cuma setengah jam jalan kaku dan kita bisa berjalan di tepi pantainya, jadi seharusnya kalo jalan tuh juga asyik, tapi ternyata ENGGAK). Kuta tuh JAUUUUHH banget, dan setengah jalan, kita mutusin untuk naik taksi aja. Habis sampai di Pantai Kuta, kita makan di KFC di Mall Discovery (Mall Discovery adalah mall terbaru di Bali). Hari itu kita memboroskan menghabiskan waktu dengan berjalan-jalan di Kuta. Siang harinya kita pergi ke pantainya dan menunggu matahari terbenam. Banyak pedagang berdatangan dan menawarkan barang dagangan mereka (tato, celana pendek, aksesoris, pijet, dll). Mereka agak gila deh, masa untuk satu tato kecil mereka minta Rp. 350.000,oo (Apa!?!?!?!?!), akhirnya setelah tawar-menawar selama beberapa lama, temenku berhasil mendapatkannya dengan harga Rp. 10.000,oo aja. Trus sorenya kita balik ke hotel. Di perjalanan balik ke hotel, kita melewati Ground Zero, dimana bom bali pertama meledak beberapa tahun yang lalu.

Hari 2

Kita bangun pagi jam 8.40 pagi, trus kita makan pagi di hotel. Habis itu aku mencoba untuk mendukung Katharine McPhee, dan akhirnya suaraku masuk dan gratis!!! Yeeeesss... :P Trus, jam 11 siang kita pergi ke Waterbom Bali dengan menaiki taksi (di Kuta lagi, cuma di seberangnya Mall Discovery). Kita menghabiskan waktu kita di hari kedua disana (sampe jam 4.30 sore). Kita main banyak slurutan, berenang dan ngambang-ngambang di Sungai Malas, dan makan siang disana. Habis itu kita pergi ke Joger dan membeli beberapa baju (kaus) disana. Habis itu kita balik ke hotel dan makan di warung kecil di deketnya hotel. Sayangnya, kita akhirnya menyadari bahwa kita tlah kehilangan kunci hotel, dan tentu saja kita harus membayarnya (Rp. 50.000,oo) ... :(

Hari 3

Kita menyewa mobil mulai hari ketiga ini sampai hari kelima. Kita meninggalkan hotel jam 9.40 pagi dan sopirnya bener-bener mengacaukan mengubah rencana kami. Dia mengusulkan untuk pergi ke Nusa Dua dulu soalnya cuacanya baru sempurna (sebenernya kita merencanakan mau pergi ke Ubud), dan kita setuju aja sama tawarannya (dia kan seharusnya lebih ahli atau tahu, itu yang ada di pikiran kita). Akhirnya kita sampai di Nusa Dua dan memesan untuk main beberapa permainan (parasailing, jetski, banana boat, dan flyfish). Aku nggak mau main parasailing sih, jadi ya tentu aja donk aku nggak ndaftar, tetapi 2 temenku kepingin main dan menunggu giliran mereka. Setelah menunggu selama 30 menit, kapalnya kehabisan bahan bakar, ditambah lagi cuacanya dah nggak gitu bagus (jadi kan bahaya). Jadi ya tentu aja mereka batal main (kasian banget...). Trus, akhirnya aku cuma main banana boat sama flyfish, nggak seseru yang aki kira sebelumnya, aku kira banana boatnya bakalan kebalik di tengah laut (jadi kita jatuh di laut gitu, kan seru), tapi ternyata enggak... :( Trus aku kira flyfishnya bener-bener bakalan "terbang", tapi ternyata juga enggak... :( Ok, trus kita meninggalkan Nusa Dua dengan kekecewaan trus langsung pergi ke Pantai Dreamland. Dreamland bagus banget, pasirnya putih, airnya jernih (birunya bagus), ombaknya nggak gede-gede amat, pemandangannya fantastis. Aku suka banget sama pantai ini. Kita berenang disana, dan meninggalkan pantai ini jam 4.30 sore. Trus kita pergi ke Danau Bedugul di tengah Bali...

Bersambung..................................