ENGLISH

previous part....................................

I've changed my mind, and I'll write my Bali Vacation Story in 3 parts (again) >> so I can write more details here.... :)

Day 4

We got up at 8.30 AM in the morning, and left our hotel at 10 AM. We then directly went to the Bedugul Botanical Garden, not so far away from the Bratan Lake. Botanical Garden was a nice place with nice air. It was a big park (almost similar with Safari Park at Cisarua (Bogor) or Pandaan (East Java), but there is no animal there). Then, after going around the park (to the greenhouse, garden, and lake view garden), we left the park and wanted to have lunch.

Our driver recommended a buffet restaurant (he said it was Rp 40,000.oo the night before, then he said it was Rp. 50,000.oo that morning >> which made me suspicious). He said that was cheap (what!?!? Rp. 50,000.oo per person is cheap?? Usually we just needed around Rp. 12,000.oo per person and even if we wanted to double it, we just needed Rp. 24,000.oo; would we double our meal so many times that became that expensive?? Clearly nope >> note: we consumed that ammount of money when we had meal at cheap restaurants, we didn't always have meal there, sometimes we also spent more money too....). OK, back to topic. We then went to that restaurant, and guess what?? The price was Rp. 60,000.oo per person including tax and service!!! Then, the menus were just standart, nothing special or the traditional food of Bali. Well, we then just got out the restaurant, and went accross the road to the lake and found some small stalls, some were food stalls, and we ate there. The food was Betutu Chicken and it was only Rp. 5,000.oo per person.

Then, after having lunch we left Bedugul Lake and went to Lovina Bay, near Singaraja (in the north of Bali). We felt that our driver became a little bit different after finding out that we didn't eat at restaurant he recommended (I know probably the restaurant would give him tips if we ate there..... ). On the way, we stopped at Git-git Waterfall. From the parking lot to the waterfall was so far away. There were so many foreigners there (some were German, I know that... :D). Then, after that we continued our journey to Lovina. Finally at 4 PM we arrived at our hotel and took a rest. Guess what?? There was NO television in our room (the rate was Rp. 300,000.oo per night?? Isn't that crazy????). So, that night we went to a cafe near Lovina Bay and bought drinks there and watched TV (Indonesian Idol). We sent back Brinet and Tesa to the competition that night. After that, we went back home

Day 5

We got up at 4.30 AM in the morning, then went to the bay to watch dolphins. After bargaining, we dealed and then went to the open sea. The journey took about 40 minutes from the bay to the place where many dolphins lived (so, we also watched the sunrise on the boat). Well, finally we watched the dolphins (you can watch the video below, can you find the dolphins?? :D). Then, at 6.50 AM we went back to the seashore. On the way, my friend got an sms which told us that Jogja had just been shaken by a massive earthquake!!!! We were shocked and then I called my brother in Jogjakarta (it was still in the morning, I knew that he was free that day and he must sleep at that time), and luckily he and my family were all safe. Then, we checked out at 8.30 AM and went to Denpasar. At 10.50 AM we arrived at Denpasar and bought pork sausages, smoked pork ham, and dendeng (my family entrusted me those presents). Then, after checking-in at the hotel in Kuta, we watched TV (Metro TV) to find out some more newest informations about Jogjakarta. Watching that show didn't make us feel comfortable, because that channel (and some other channels) only focused on destructed areas, the other areas which were actually safe (like the city of Jogjakarta) were only showed a little. Then, because I was so sleepy and exhausted, I took a nap.

That night one of my friend and I went to Ngurah Rai Airport to go to Garuda Indonesia office to ask about our flight back to Jogja. The officer said probably we wouldn't land at Adisutjipto Airport Jogjakarta, but at Adisumarmo Airport Solo, but they still waited for further notice. Then, some other friends asked to go to the disco. OK, then we walked so far away to Kuta Bay. Then, after ordering some expensive drinks (we hadn't danced yet at that time), I alone decided to go back to the hotel to watch American Idol (that show was the last show, probably we would never watch that show again if we missed that episode; in other hands, I can go to the disco whenever and wherever I like, so staying in the disco that night was not very necessary... :D). I decided to walk (to save more money instead I still had 60 minutes before the show started), and apparently it needed 48 minutes to walk to the hotel!!! So exhausting, but healthy... :D Then, I watched American Idol, and found out that Taylor Hicks was crowned the title.



to be continued...................................................




::: Greenhouse at Bedugul Botanical Garden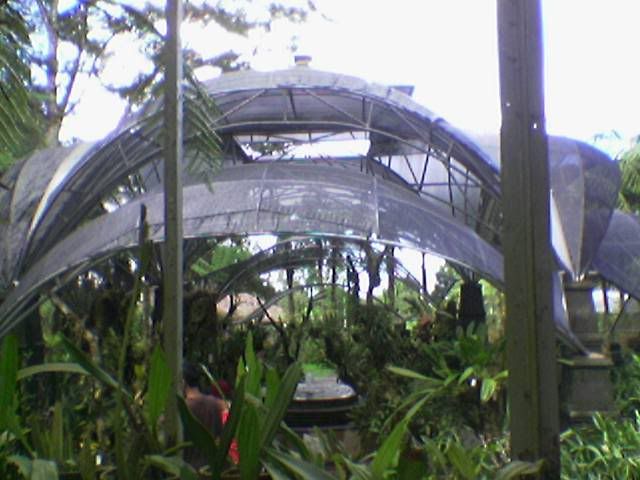 ::: Garden


::: Lake View Garden


::: Bratan Lake


::: Git-git Waterfall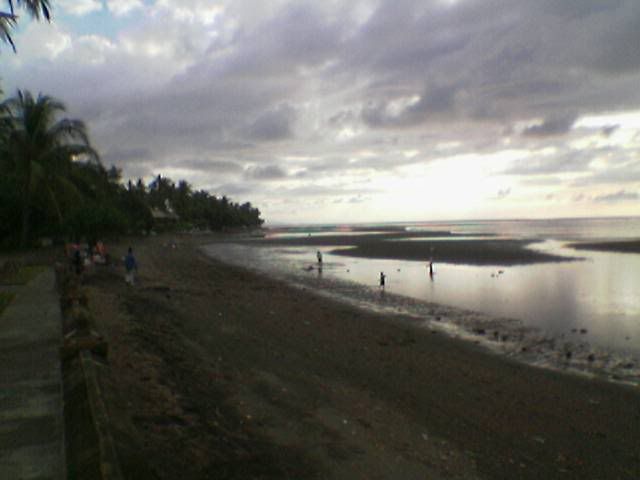 ::: Lovina Bay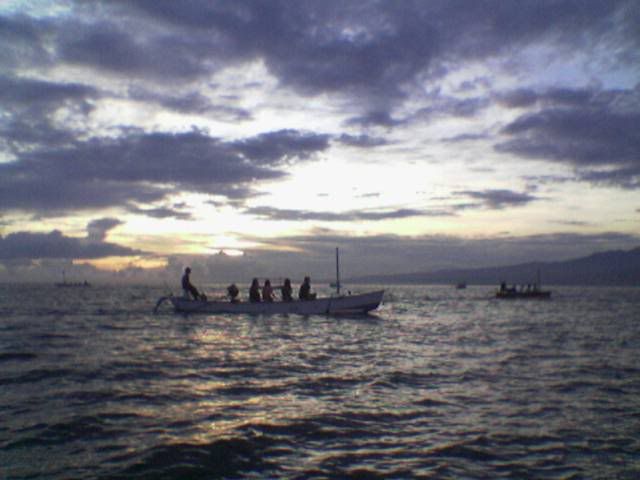 ::: sunrise at the open sea

::: Can you find the dolphins???

Note: Click pics to enlarge



INDONESIAN

Bagian sebelumnya..................................

Aku mengubah pikiranku, jadi aku bakalan menulis Cerita Liburan ke Bali ini dalam 3 bagian (lagi) >> jadi aku bisa menulis lebih banyak detail disini... :)

Hari 4

Kita bangun jam 8.30 pagi, trus meninggalkan hotel jam 10 pagi. Trus kita langsung pergi ke Bedugul Botanical Garden, nggak jauh-jauh amat dari Danau Bratan. Botanical Garden adalah taman yang bagus dengan udara yang nyaman. Taman itu adalah taman yang sangat besar (mirip sama Taman Safari di Cisarua (Bogor) dan Pandaan (Jawa Timur) cuma nggak ada binatangnya). Trus habis mengelilingi taman (ke rumah kaca, taman, dan taman untuk melihat danau), kita meninggalkan taman dan mau makan siang.

Sopir kami merekomendasikan sebuah restoran prasmanan (dia bilang katanya harganya Rp. 40.000,oo malam sebelumnya, trus paginya berubah menjadi Rp. 50.000,oo per orang >> membuat aku menjadi curiga). Dia bilang katanya itu murah (apa!?!?!? Rp. 50.000,oo seorang murah?? Biasanya juga kita habisnya Rp. 12.000,oo seorang dan kalo mau makan porsi dobel kan cuma Rp. 24.000,oo apa kita bakalan tambah sampe banyak kali sehingga jadi semahal itu?? Jelas aja enggak >> note: kita mengkonsumsi uang sejumlah itu soalnya kita makan di restoran murah, kita nggak selalu makan disana, kadang kita juga menghabiskan uang lebih juga....). OK, kembali ke topik. Kita trus pergi ke restoran itu, dan tebak apa?? Harganya ternyata Rp. 60.000,oo termasuk pajak dan pelayanan!!! Trus, menunya juga biasa-biasa aja, nggak ada yang spesial atau makanan tradisional Bali-nya. Trus kita meninggalkan tuh restoran, trus menyeberang jalan dan menemukan beberapa warung kecil, beberapa jual makanan juga, dan kita makan disana. Menunya adalah Ayam Betutu dan harganya cuma Rp. 5.000,oo per-orang.

Trus, habis makan siang, kita meninggalkan Danau Bedugul dan menuju Pantai Lovina, di dekat Singaraja (di utara Pulau Bali). Kita ngerasa kalau sopirnya jadi agak berubah setelah mengetahui kita nggak jadi makan di restoran yang dia rekomendasikan (aku tahu mungkin aja tuh restoran ngasi dia tips kalo kita makan disana.... ). Di jalan, kita mampir di Air Terjun Git-git. Dari tempat parkir ke air terjunnya jauh banget. Ada banyak turis-turis asing juga (beberapa adalah orang Jerman, aku tahu itu... :D). Trus, setelah itu kita melanjutkan perjalanan ke Lovina. Akhirnya jam 4 sore kita sampe di hotel dan istirahat. Tebak apa?? Nggak ada televisi loh di ruangannya (padahal harganya Rp. 300.000,oo semalam Apakah itu nggak gila namanya???). Jadi, malam itu kita pergi ke sebuah kafe di deket Pantai Lovina dan membeli minuman dan menonton TV (Indonesian Idol). Kita mengembalikan Brinet dan Tesa ke kompetisi malem itu. Habis itu, kita pulang.

Hari 5

Kita bangun jam 4.30 pagi, trus kita pergi ke pantai untuk melihat lumba-lumba. Habis tawar-menawar, kita sepakat trus pergi ke laut bebas. Perjalanannya membutuhkan waktu sekitar 40 menit untuk sampai di tempat yang banyak lumba-lumbanya (jadi, kita juga melihat matahari terbit di atas perahu). Kita akhirnya melihat lumba-lumbanya (bisa dilihat tuh di video yang ada di atas, bisakah kalian menemukan lumba-lumbanya?? :D). Trus, jam 6.50 pagi kita kembali ke pantai. Dalam perjalanan, temenku menerima sms yang isinya mengatakan kalo Jogjakarta baru saja diguncan sama gempa bumi yang besar!!! Kita shock trus aku telpon adikku di Jogjakarta (pas itu masih pagi, aku tahu adikku lagi libur, dan dia mesti lagi tidur pas jam itu), dan untungnya dia sama keluargaku semuanya selamat. Trus, kita check-out dari hotel jam 8.30 pagi trus pergi ke Denpasar. Jam 10.50 kita sampe di Denpasar dan membeli beberapa sosis babi, ham babi asap, dan dendeng (keluargaku titip itu semua ke aku). Trus, habis check-in di hotel di Kuta, kita nonton TV (Metro TV) untuk mencari beberapa berita terbaru tentang Yogyakarta). Nonton acaranya bukannya bikin kita tenang dan nyaman soalnya tuh channel (dan banyak channel lainnya) hanya fokus pada area yang hancur, area lain yang sebenernya aman (misalnya Kota Yogyakarta) cuma ditunjukkin sedikit. Trus, karena aku ngantuk banget dan capek, aku istirahat siang.

Malamnya aku sama salah satu temenku pergi ke Bandara Ngurah Rai untuk pergi ke kantor Garuda Indonesia untuk menanyakan penerbangan kembali ke Jogja nantinya. Petugasnya bilang kalo mungkin kita nggak akan mendarat di Bandara Adisutjipto Jogjakarta, tapi di Bandara Adisumarmo Solo, tapi mereka masih menunggu pemberitahuan lebih lanjut. Trus, temen-temen yang lain ngajakin pergi ke disco. OK, trus kita jalan jauuuuh banget ke Pantai Kuta. Trus, habis memesan beberapa minuman mahal (belum dance sih pas itu), aku sendiri memutuskan untuk balik ke hote dan nonton American Idol GrandFinal. (ini adalah show terakhir, mungkin aja kita nggak akan pernah nonton show ini lagi kalo kita melewatkan show malam itu; disisi lain, aku masih bisa koq pergi ke disco kapanpun dan dimanapun aku suka, jadi tinggal di tempat disko malam itu nggak terlalu mendesak... :D). Aku memutuskan untuk jalan kaku (untuk ngirit uang di samping masih ada waktu sekitar 60 menit sebelum acaranya mulai), dan ternyata membutuhkan waktu 48 menit untuk jalan kaki menuju hotel!!! Capek banget, tetapi sehat... :D Trus, aku nonton American Idol dan tahu kalo Taylor Hicks memenangkan show itu.

bersambung...................................................