ENGLISH

Yesterday morning I dropped off my parents at the airport (they went to Jakarta) and after that, because I was still so sleepy, I went back home and continued "watching" my dream. FYI, I arrived at home at about 7.30 AM.

At 10 AM in the morning I got up and went downstair to have breakfast. Downstair, my grandma was shocked because I was there!!! Why was she shocked? That morning, at about 8.30 AM, one employee arrived at our house and asked: "Where is the car??" My grandma answered: "It's outside", but then the employee said: "No, it's not outside". Well, then my grandma thought I used the car at that time (actually at that time I was still sleeping in my room upstair). Because of that, she was SO surprised seeing me coming down. I was also shocked hearing the news that my car was LOST. I checked through the window and yes, it was not there. Then, I looked for the key and felt so relieved when I couldn't find the key (I looked for it on the table where I put it that morning after coming back from airport). Why did I feel so relieved?? At that time, I thought: "If somebody stole my car, he had 2 alternatives:

1. he had already owned the key >> If he chose this alternative, so the key MUST have still been in my house (or at least still on the table) > SO it's not the way he stole my car
2. he looked for the key IN my house >> this was so risky because it was in the morning and there were some people in my house (my grandma, 2 servants, employee, and some workers (about 4 people)), and IF he entered the house, somebody MUST have seen him, and of course he would have to look for the key in the entire house which was obviously very difficult > SO it's also impossible."

Therefore, I concluded that the "bad guy" was insider. And at that time, the only person that was supposed to be in my house but was not, was only my little brother. And yes, he was the one who used my car that morning. Actually what he did was also very risky since he still hasn't owned the driving license and he didn't EVEN know where the car registration is saved..... :( Arrgghhh, he caused the panic in my house yesterday morning.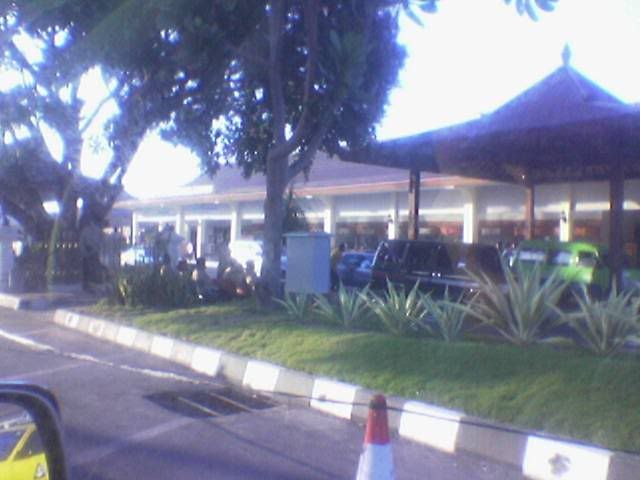 ::: Adisutjipto Airport (Departure Terminal) >> after earthquake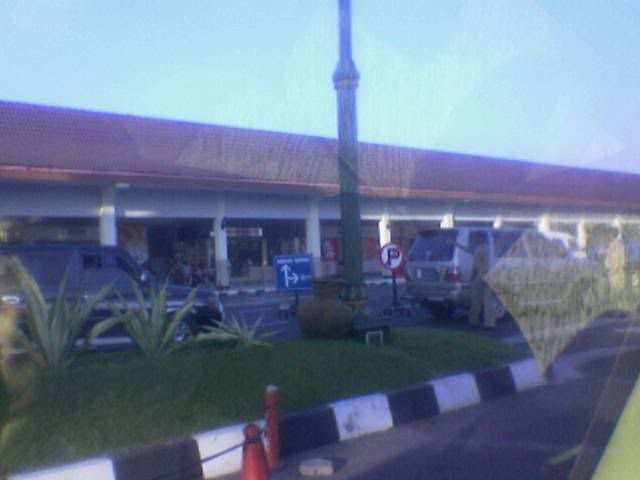 ::: Adisutjipto Airport (Arrival Terminal) >> after earthquake
(sorry for the reflection, I took these two from inside my car.... :D)

BAHASA INDONESIA

Kemarin pagi aku nganter ortuku ke airport (mereka pergi ke Jakarta) dan habis itu, karena aku masih ngantuk banget, aku pulang ke rumah dan melanjutkan "nonton" mimpiku. FYI, aku sampe di rumah sekitar jam 7.30 pagi.

Jam 10 pagi aku bangun dan turun ke bawah untuk makan pagi. Di bawah, nenekku shock karena aku disana!!! Kenapa koq nenekku shock? Soalnya paginya, sekitar jam 8.30 pagi, satu karyawan datang di rumah dan tanya: "Loh, mobilnya mana??" Nenekku jawab: "Kan ada diluar.", tapi karyawanku menjawab: "Loh, nggak ada diluar koq". Trus, nenekku berpikir kalo aku lah yang memakai tuh mobil (sebenernya sih pas itu aku lagi enak-enaknya tidur di kamarku di atas). Karena itu, nenekku SANGAT kaget waktu aku turun. Aku juga shock mendengar berita kalo mobilku HILANG. Aku mengecek melalui jendela dan bener aja, mobilku nggak ada di luar. Trus, aku mencari kuncinya dan merasa lega ketika aku nggak bisa menemukannya (aku nyari kunci di meja dimana aku naruh tuh kunci paginya setelah balik dari airport). Loh, koq aku merasa lega?? Waktu itu aku berpikir:"Kalo bener seseorang mencuri mobilku, sebenernya dia punya 2 alternatif:

1. dia sudah punya kuncinya dari awal >> kalo dia mengambil langkah ini, jadi kuncinya PASTI masih ada di dalam rumah (ato paling nggak kan masih ada di meja) > JADI ini bukan cara yang dia tempuh untuk mencuri mobilku
2. dia mencari kuncinya di rumahku >> alternatif ini sangatlah beresiko karena pas itu kan pagi hari dan ada beberapa orang di rumahku (nenekku, 2 pembokat, karyawan, dan beberapa tukang (sekitar 4 orang)), dan KALO dia memasuki rumahku, seseorang PASTI sudah melihatnya, dan tentu aja dia harus mencari kunci di seluruh rumahku yang tentu aja sangat susah > JADI ini juga nggak mungkin."

Makanya, aku menyimpulkan kalo "orang jahat"nya adalah orang dalam. Dan waktu itu, satu-satunya orang yang seharusnya ada di rumah tapi enggak ternyata hanyalah adikku. Dan bener aja, dia adalah seseorang yang memakai mobilku kemarin pagi. Sebenernya sih dia tuh nekat juga soalnya dia kan masih belum punya SIM dan dia BAHKAN nggak tahu dimana STNK mobilku disimpan.... :( Arrgghhh, dia menyebabkan kepanikan di rumahku kemarin pagi.