ENGLISH
In the last 2 months, some disasters happened in Indonesia. The raising activity of the most active volcano in the world, Merapi, started it in the middle of May 2006 when the status of this volcano finally reached: "Awas!!" (Danger). Then, almost two weeks later, when most people paid attention to that volcano, unexpectedly, a 5.9 Richter Scale earthquake shook Jogjakarta and many casualties died, many buildings collapsed and broken, etc. Then, some other earthquakes also happened in some parts of Indonesia (Wamena, Lampung, etc). In Sidoarjo, East Java, outpouring of gast and hot mud happened and caused the hot mud flood tragedy around the area. The hot mud has already reached the Gempol - Surabaya freeway and this freeway had to be close some days ago. Last Wednesday, just one day after the status of the volcano Merapi was descended to: "Siaga!!" (Alert), a large hot ash (and also lava) from that volcano destroyed the recreation site near Kaliurang, Kali Adem and 2 volunteers died inside the safety bunker there (the bunker was not good enough and it was designed to protect people from hot ash but not from hot lava, that's what some people said).
When will we be free from disasters that keep coming like this??? It doesn't make us (or at least me) feel comfortable.... :(
Well, talking about the show Indonesian Idol last night, I think once again, Indonesia got it right by eliminating Tesa. IMO, if I have to score the performances last night, it will be:
Nobo (6.5), Sisi (7.5), Dirly (7), Brinet (5.3), Ilham (7.3), Maria (8.3), Tesa (5), Christy (6.7), Ihsan (7), and Gea (8
). And the bottom three last night based on the votes were:
8. Sisi
9. Christy
10. Tesa >> voted off
Yaay, finally Indonesia and I had the same opinion... :) >> because I watched this show, I didn't watch the match between Argentina vs Serbia - Montenegro where Serbia was trounced six to nothing.
::: The Volcano Merapi and its hot ash
::: Hot Mud flood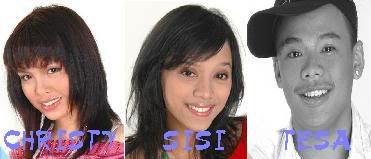 ::: bottom three this week

BAHASA INDONESIA
Dalam 2 bulan terakhir ini, beberapa bencana terjadi di Indonesia. Meningkatnya aktivitas dari gunung berapi paling aktif di dunia, Merapi, memulainya pada pertengahan Mei 2006 ketika status dari gunung berapi ini naik menjadi: "Awas!!". Kemudian, sekitar 2 minggu sesudahnya, ketika orang-orang kebanyakan memperhatikan ke gunung api itu, gempa berkekuatan 5.9 Skala Richter mengguncang Yogyakarta dan sekitarnya dan banyak korban meninggal, gedung-gedung ambruk dan rusak, dsb. Trus beberapa gempa bumi lainnya juga terjadi di beberapa bagian dari Indonesia (Wamena, Lampung, dsb). Di Sidoarjo, Jawa Timur, semubran gas dan lumpur panas terjadi dan menyebabkan banjir lumpur panas di sekitar area itu. Lumpur panas bahkan sudah mencapai jalan tol Gempol - Surabaya dan jalan tol ini harus ditutup beberapa hari yang lalu. Hari Rabu kemarin, baru satu hari setelah status Gunung Merapi diturunkan menjadi: "Siaga", awan panas raksasa (dan juga lava) dari gunung berapi itu menghancurkan tempat wisata di dekat Kaliurang, Kali Adem dan 2 orang relawan meninggal dunia di dalam bunker pengaman (bunkernya nggak cukup bagus dan didesain untuk melindungi orang dari awan panas, bukan lava panas, itu kata beberapa orang).
Kapan kita akan terbebas dari bencana yang terus terjadi speerti sekarang ini??? Itu nggak membuat kita (paling enggak aku lah..) merasa nyaman.... :(
Hmm, Ngomongin tentang show Indonesian Idol semala, aku kira sekali lagi, Indonesia benar dengan mengeliminasi Tesa. Menurutku, kalau aku harus menilai penampilan semalam, menjadi:
Nobo (6.5), Sisi (7.5), Dirly (7), Brinet (5.3), Ilham (7.3), Maria (8.3), Tesa (5), Christy (6.7), Ihsan (7), and Gea (8
). Dan tiga terbawah berdasarkan hasil voting semalam adalah:
8. Sisi
9. Christy
10. Tesa >> tersisih
Yaay, akhirnya Indonesia sama aku punya pendapat yang sama... :) >> gara2 nonton show ini aku gak nonton pertandingannya Argentina vs Serbia - Montenegro dimana Serbia kalah telak enam nol.