ENGLISH

I think all of us agree that money is one important thing in our life. Without money, we can't live (probably except some traditional tribes who still live their own ways and pretty secluded from the civilization). Here, I don't want to write about that big thing, but about small thing that happens around me.

I used to be kind and generous. For example when my friends and I had meal somewhere, usually I paid all first then my friends paid to me. I also let my friends copied many mp3s or videos from my computer, then used my blank CD, and made new CD for them, and I didn't take any charge. I also took them with my car, so I had to take them from their home, then went somewhere, sometimes went to my house, then I took them home back. At first actually I was okay and no problem with that. But as time flew, I don't think that's okay or no problem... . Why?? Because sometimes recently I also felt that they exploited me. Here's some examples. One day we had dinner at one restaurant, and as usual I paid first. Then, my friend should pay me Rp. 70,000.oo but he only paid Rp. 50,000.oo and said he would paid the rest later. But the fact is: he NEVER pays the rest. Or sometimes, he didn't even PAY the Rp. 70,000.oo that he was supposed to pay. And if I ask him about his loan to me (because I need the money and I don't take any profit from that (if he loaned Rp 100,000.oo I would ask Rp 100,000.oo, NOT Rp 120,000.oo)), he says: "NO, I don't loan anything to you!!" That's also my fault actually because I didn't bring the bills, but I think even if I had brought the bill, it would not have changed a lot (probably he would say that he had already paid Rp. 70,000.oo). Then, one day he said to me he wanted to go to my house and I said okay, but then he said that I had to take him home, what!?!?!? That's pretty weird, I knew what he was gonna do in my house, he wanted to copy many mp3s or videos again, and of course used my blank CD again. I was also tired that day and said that probably I couldn't take him home, and I would call a taxi for him when he wanted to go home. But he refused, he didn't want to go to my house if I didn't take him home... . Umm, that's weird.... . Then, one day, because I was fed up with that, I said everybody should pay themselves (I didn't want to pay for all first again), and he said I was very stingy, but I didn't care. And of course, I didn't lose any money that I actually deserved. I think there are many people out there who are also like that, when I told this problem to one of my friend, I knew that some of my friend's friends are also like that.... . Well, not all of my friends are like that, many of them (or most of them) are honest and fair. So???
----
Talking about the show Indonesian Idol last night, we finally eliminated Lee. That was a correct decision I think, since IMO, some of the worst performers last night were Lee, Dirly, Ihsan, and Tesa.
::: Rupiah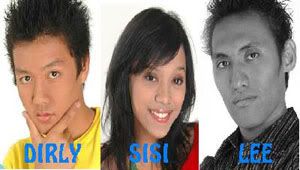 ::: Bottom three this week



INDONESIAN

Menurutku semua dari kita setuju kalau uang adalah satu hal penting dalam hidup kita. Tanpa uang kita nggak bisa hidup (mungkin kecuali beberapa suku tradisional yang masih hidup dengan cara mereka dan agak terpencil dari peradaban). Disini, aku nggak mau nulis tentang hal besar itu, tapi cuma hal kecil yang terjadi di sekitar aku.

Aku tuh dulu baik banget loh. Misalnya aja ketika aku sama temen-temenku lagi makan dimana gitu, biasanya aku yang membayar semuanya duluan, trus temenku membayar ke aku. Aku juga membiarkan temenku untuk meminta banyak mp3 dan video dari komputerku, trus memakai CD kosongku, dan membuatkan mereka CD baru, dan aku nggak minta bayaran. Aku juga mengantar mereka naik mobilku, jadi aku harus menjemput mereka dari rumah, pergi kemana gitu, trus kadang-kadang ke rumahku, trus nganter mereka pulang. Pertamanya sebenernya aku oke-oke aja sama itu dan nggak masalah. Tapi seiring dengan mengalirnya waktu, aku nggak merasa itu oke-oke aja atau nggak masalah... . Kenapa?? Soalnya kadang-kadang akhir-akhir ini aku merasa kalo mereka memanfaatkan aku. Ini beberapa contohnya. Suatu hari kami makan di sebuah restoran, kemudian kayak biasanya, aku yang bayar dulu. Trus, temenku seharusnya membayar Rp. 70.000,oo tapi dia cuma membayar Rp. 50.000,oo dan ngomong kalo sisanya akan dibayar kemudian. Tapi kenyataannya: dia TIDAK PERNAH membayar sisanya. Atau malah kadang-kadang, dia TIDAK membayar yang Rp. 70.000,oo itu yang seharusnya dia bayar. Dan ketika aku meminta utangnya (soalnya aku lagi butuh uang dan aku nggak ngambil untung dari utangnya itu (kalo utangnya Rp. 100.000,oo ya aku mintanya Rp. 100.000,oo bukan Rp. 120.000,oo)), dia bilang: "ENGGAK, aku kan nggak utang sama kamu!!" Sebenernya itu kesalahanku juga sih soalnya aku nggak bawa notanya, tapi menurutku walaupun aku bawa notanya, kayaknya juga nggak terlalu berubah deh (mungkin dia bakal omong kalo dia sudah membayar Rp. 70.000,oo). Trus suatu hari, dia bilang kalo dia mau dateng ke rumahku dan aku bilang iya, tapi trus tahu-tahu dia bilang kalo aku mesti nganterin dia pulang, apa!?!?!? Itu agak aneh, aku tahu dia mau apa di rumahku, pasti mau minta lagu mp3 atau video lagi, dan tentu aja pake CD kosongku lagi. Aku juga lagi capek sih waktu itu dan bilang kalo mungkin aku nggak bisa nganter pulang, dan aku akan nelpon taksi untuk nganter dia pulang. Tapi dia menolak, dia nggak mau ke rumahku kalo aku nggak mau nganter dia pulang.... . Umm, itu kan aneh.... . Trus, suatu hari, karena aku sudah muak dengan semua itu, aku bilang tiap orang langsung bayar sendiri-sendiri (aku nggak mau membayar untuk semua lagi), dan aku dibilang sangat pelit, tapi ya aku biarin aja. Dan tentu aja, aku nggak kehilangan uang yang aku berhak. Aku kira ada lumayan banyak orang seperti itu di luar sana, waktu aku cerita masalah ini ke temenku, aku jadi tahu kalo temennya temenku beberapa juga kayak gitu... . Hmm, nggak semua temenku seperti itu sih, banyak dari mereka (kebanyakan malah) tuh adil dan jujur. Jadi???
----
Ngomong-ngomong tentang show Indonesian Idol semalam, akhirnya Lee tereliminasi. Itu adalah keputusan yang tepat menurutku soalnya, menurutku beberapa yang terjelak adalah Lee, Dirly, Ihsan dan Tesa.