ENGLISH
Yesterday morning, just following my plan, my parents and I (plus my cousin) went back to Bandung, driving my new car. We departed at 5 AM (actually 4:58 AM) and directly headed to the west. At first, my dad drove the car until Kebumen, then my cousin replaced his place. At 7.30 AM we stopped by a restaurant at Gombong. Its billboard was such a big thing and "called" us to stop by. Okay, then we stopped by there, but you know what?? It was

VERY ULTIMATELY DISAPPOINTING

!!! The food didn't look so great, the rice was no good. But because I was pretty hungry at that time, I ate there, not very much, but at least I had something in my stomach.... :)
We continued our journey. An at 11 AM we arrived at Mergosari Restaurant, just after Wanareja, Central Java. We had lunch there. This restaurant was not disappointing and its food was great. After fulfilling our stomach, we continued our trip. Unfortunately, because yesterday was still holiday where so many people travelled, we had to pass longer road. Usually, we don't need to cross the city Banjar and Tasikmalaya, we could just go on their suburbs area. But yesterday, we had to turn left, went inside the cities and of course, it
wasted
used more time. (one good thing: now I know Tasikmalaya is a big city, larger than Magelang I think, but Jogja is still larger.... :D). Btw, at Banjar I started driving....
Unfortunately, there was an annoying traffic congestion at Nagrek, just 40 km before Bandung. We only moved at the average of speed 5 km/hr I think. Arrrggghhh.... . We were trapped on that traffic jam for almost 1 hour.... :( Therefore, we arrived at Bandung at 5 PM, we took 12 hours!!!! (last August, we only took 8.5 hours as comparison).
Btw, yesterday there were so many motorbikers on road (most of them were also "mudikers").
Last night, my parents, my cousin, and I had dinner at The Sierra Cafe, Bandung. Its place was great, located to the north of Bandung, on a hill. I ate
Beef Ranchero Australian T-Bone Steak (whatta name!!!). Then, after dropping me back at my boarding house, they went back to their hotel.
::: Bandung's Night View taken from Sierra Cafe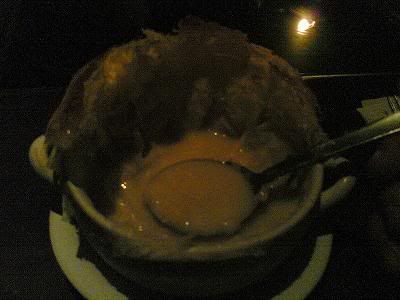 ::: Supa-Supa Soup
:::
Beef Ranchero Australian T-Bone Steak

BAHASA INDONESIA
Kemarin pagi, mengikuti rencana saya, orangtuaku dan aku (ditambah koko sepupuku) pergi ke Bandung, nyetir mobilku yg baru. Kita berangkat jam 5 pagi (tepatnya jam 4:58 sih) dan langsung aja menuju ke arah barat. Pertamanya papaku yang nyetir sampe sekitar Kebumen, trus habis itu kokoku yang menggantikan tempatnya. Jam 7.30 kita mampir di sebuah restoran di Gombong. Papan reklamenya gede banget loh, dan "memanggil" kita untuk mampir. Oke, trus kita mampir deh disana. Tapi tebak gimana?? Kemarin tuh

BENER-BENER SANGAT MENGECEWAKAN

!!! Makanannya nggak kelihatan enak, nasinya nggak bagus. Tapi karena aku dah lumayan laper, aku makan deh disana, nggak banyak2 amat, yang penting paling nggak ada sesuatu di perut saya.... :)
Kita melanjutkan perjalanan kita. Jam 11 kita sampai di Restoran Mergosari, hanya setelah Wanareja, Jawa Tengah. Kita makan siang disana. Restoran ini nggak mengecewakan dan makanannya enak loh. Habis mengisi penuh perut kami, kita melanjutkan perjalanan deh. Sayangnya, karena kemarin masih liburan, jadi banyak orang bepergian, dan kita harus melewati jalur yang lebih jauh.Biasanya, kita nggak harus melalui Kota Banjar dan Tasikmalaya, kita biasanya bisa lewat di pinggiran kotanya. Tapi kemarin, kita harus belok ke kiri, dan masuk ke dalam kotanya, dan tentu saja, itu kan
membuang
memakai lebih banyak waktu. (satu hal yang baik: aku sekarang jadi tahu kalo Tasikmalaya adalah kota yang besar, lebih besar daripada Magelang kayanya, tapi masih besaran Jogja.... :D). Ngomong-ngomong, di Banjar aku mulai nyetir deh....
Sayangnya, kemarin ada kemacetan yang menyebalkan sekali di Nagrek, sekitar 40 km sebelum Bandung. Kita cuma berjalan dengan kecepatan rata-rata 5km/jam aku rasa. Arrggghhh.... . Kita terjebak di kemacetan ini hampir selama 1 jam..... :( Makanya, kita sampai di Bandung jam 5 sore, kita memakai waktu 12 jam!!!! (kemarin Agustus kita cuma memakai waktu 8,5 jam sebagai perbandingan).
Ngomong2, kemarin ada banyak pengendara motor tuh di jalan (sebagian besar juga pada pemudik tuh).
Semalam, ortuku, kokoku, dan aku makan di Cafe The Sierra, Bandung. Tempatnya enak, terletak di utaranya Bandung, di atas bukit gitu. Aku makan
Beef Ranchero Australian T-Bone Steak
(wow namanya!!!). Trus habis nurunin aku di tempat kosku, mereka balik deh ke hotel.