ENGLISH



previous part................



Day 6

Because we were so sleepy, we got up pretty late at 10.30 AM in the morning, and because of that, unfortunately, we automatically wasted our breakfast vouchers (only available until 10 AM) that day. Then, after everybody was ready, we walked to the airport to go to Garuda Indonesia office again to ask again about our flight back to Jogjakarta the next day. The answer was still the same, the flight would not land at Adisutjipto Airport, but at Adisumarmo Airport Solo, and the transport from Solo to Jogjakarta was not Garuda's responsibility. Ok, after that we had lunch at a chinese food restaurant (I don't remember the name, but it was somewhere near the airport, not very close actually, about 5 minutes by taxi). Then, we went back to our hotel (we dropped in a laundry first, my friend wanted to take his clothes).

That evening, we planned to go to Jimbaran Bay to have dinner there. Well, the driver (who we hired to bring us to Bedugul and Lovina the previous days) offered to bring us to Jimbaran Bay with special rates, Rp. 100,000.oo and he would bring us to one cheap restaurant that he knew. He said that if we went there by taxi, we would have to pay more expensive, around Rp. 120,000.oo or even more. Because we had already been suspicious and disappointed to the driver, we just said okey and if we wanted to hire him again, we would call him (and of course we didn't call him. Okay, probably the taxi fee would be more expensive Rp. 20,000.oo but cheap restaurant that he knew?? After having experience with him bringing us to a buffet restaurant, we didn't think that's cheap. We were pretty sure that he would bring us to restaurant which would give him tips, and of course it was not gonnabe cheap....). Then, we caught a taxi and guess what?? The taxi rate was only Rp. 23,000.oo which means around Rp. 46,000.oo vv. Fiuuhhh.... . Lucky we didn't step into alligator's mouth. Then, because there were so many restaurants, we chose the closest one and had dinner there. We chose our table first, then after ordering drinks, we ordered our meal. There were only some choices of seafood: fish, mussels, calamari, crabs, and prawns. And after ordered mine, I went back to my seat and enjoyed the evening view of Jimbaran Bay and Ngurah Rai International Airport Bali (the location was pretty close to the airport so we could watch many planes took off or landed). Then, finally our meals came and we started to eat. The food was not very tasty (at least for us, I don't know for other people) actually >> one of my friend complained to us (which is actually totally useless) because the food was not tasty (and the price was so high), but he ate 4 plates of rice... . Hmmmm... . But when we come to Jimbaran, we shouldn't expect tasty food, because of some reasons. First, Jimbaran is in Bali, and probably our tongue doesn't suit with Bali's food. Second, when we go to Jimbaran we are mainly looking for the atmosphere (the bay, etc), so food is number two. After that, we went back home by taxi, and yes, it was only Rp. 24,000.oo.

Day 7

We got up at 9 AM in the morning, and this day we didn't waste our breakfast vouchers. We had breakfast there in the hotel. Then, after packing our luggages, we still had about 8 hours before our flight took off (it took off at 6.50 PM according to the schedule), and what were we gonna do in that 8 hours?? We were confused at first, and finally we decided to go to Bali Galeria Mall in Simpang Siur.

Hmm, the mall was apparently not very crowded at that time (or probably because we came there too early). So, we went and also wasted our time in Gramedia to buy some books. After that, we had lunch at the food court. Then, because it was still 1.45 PM, we decided to watch a movie at Cinema21. There were only 2 rooms and 2 movies there, X-Men III The Last Stand in room 1, and The DaVinci Code in room 2. Because I had already watched DVC (only me who had already watched that movie actually), so we watched X-Men III. The movie started at 2.15 PM and unfortunately, because we were pretty late buying the tickets, we got the front seats (the nearest to the screen which was not very comfortable). Okay, then I tried to enjoy the film (actually I don't really like the story X-Men), and I could enjoy it. It was pretty good with high-imagination, but I still prefer DVC to X-Men III... :) The movie ended at about 4 PM, and then we left the mall, took our luggages from our hotel, then went to the airport directly.

Unfortunately, we were too early about 20 minutes (the check-in table for GA 255 had not been open yet, so we had to wait). Luckily I bought some comics at Gramedia that afternoon, and I could read it while we were waiting for it. Then, after 20 minutes, we checked-in, and we still had about 2 hours before our flight. So, we went to KFC first and had dinner there. After that, we went to the waiting area and waited for our flight at Gate 16. Then, there was an announcement that GA 255 would be delayed until 7 PM (that's not really a problem, only 10 minutes late). At 7 PM, we boarded to our plane and took off from Bali at about 7.10 PM.
Bye bye Bali..... :)

On board, there was a stupid, selfish, idiot, sux man. Before the plane took off, the air stewardess reminded him to turn off his cellphone, and he said okay. But guess what?? When we were flying, he sent some sms' and also received some.... :( Arrrggghhhh.... . The weather at that time was not very nice, and he held his cellphone, kept it active, and sent sms?? Arrggghhhh..... . Lucky our flight was okay. Then, after 1 hour flying, we finally landed at Adisumarmo Airport, Solo. That was my first time to Adisumarmo Airport, the runway was okay (better than Jogjakarta Airport's runway). But, the terminal building was terrible, Jogjakarta's was a lot better.... :) Then, we caught a taxi and went back to Yogyakarta, and after 1 more hour journey, I arrived at my house.


~ THE END ~

Are you left behind and wanna read the first part of this trilogy?? Click here
::: South View of Jimbaran Bay


::: North View of Jimbaran Bay


::: My meal at Jimbaran (fried calamaris, oyster sauces mussels, and fried fish; plus tumis kangkung)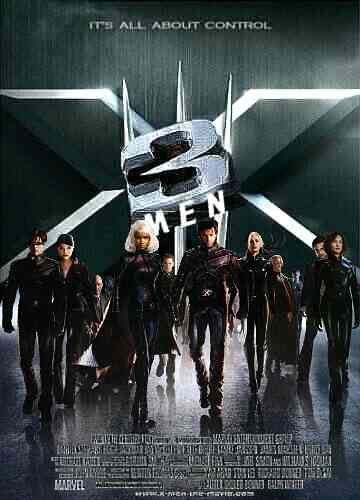 ::: X-Men III, The Last Stand


::: My ticket and boarding pass


::: Boeing 737-400 Garuda Indonesia GA 255 which brought me to Adisumarmo Airport, Solo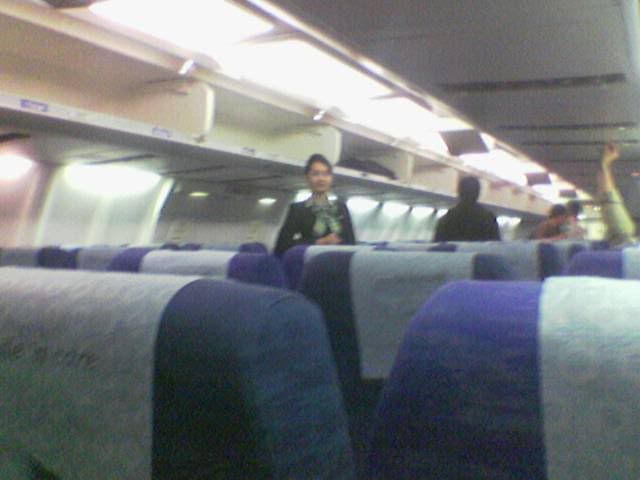 ::: Welcome on board

::: Taking off from Ngurah Rai Bali Int'l Airport, Bye-bye Bali.....

Note: click pics to enlarge them



INDONESIAN



bagian sebelumnya..............



Hari 6

Karena kita ngantuk banget, kita bangunnya agak terlambat deh sekitar jam 10.30 di pagi hari, dan karena itu, sayangnya, kita otomatis menyia-nyiakan kupan sarapan (cuma berlaku sampe jam 10 pagi doank) hari itu. Trus, setelah semuanya siap, kita jalan kaki ke airport untuk pergi ke kantor Garuda Indonesia lagi untuk menanyakan penerbangan ke Yogyakarta keeseokan harinya. Jawabannya masih sama, penerbangan nggak akan mendarat di Bandara Adisutjipto tetapi dialihkan ke Bandara Adisumarmo Solo, dan transpor dari Solo ke Jogja bukanlah tanggung-jawab Garuda. Ok, habis itu kita makan siang di sebuah restoran chinese food (aku nggak inget namanya, cuma terletak di suatu tempat deketnya airport, nggak deket-deket banget sih, sekitar 5 menit naik taksi). Trus kita balik ke hotel (kita mampir dulu di tempat laundry, temenku mau ngambil bajunya).

Sore harinya, kita berencana untuk pergi ke Pantai Jimbaran untuk makan malam disana. Sopirnya (yang kita sewa untuk mengantar kita ke Bedugul dan Lovina hari-hari sebelumnya) menawarkan untuk mengantar kita ke Pantai Jimbaran dengan harga spesial, Rp. 100.000,oo dan dia akan membawa kita ke restoran murah yang dia tahu. Katanya, kalo misalnya kita naik taksi, kita bakalan harus bayar lebih mahal, sekitar Rp. 120.000,oo an bahkan lebih. Tapi karena kita sudah curiga dan kecewa sama nih sopir, kita cuma omong oke dan kalo kita mau pakai dia lagi, kita akan menghubungi dia (jelas aja kita nggak menghubungi dia. Oke deh, mungkin ongkos taksi lebih mahal Rp. 20.000,oo tapi restoran murah yang dia tahu?? Setelah pengalaman dengan dia membawa kita restoran prasmanan, kita nggak berpikir kalo itu murah. Kita lumayan yakin kalo dia bakal bawa kita ke restoran yang ngasih dia tips, dan tentu aja itu nggak murah.... ). Trus, akhirnya kita naik taksi dan tebak apa?? Ongkosnya cuma Rp. 23.000,oo sekali jalan yang berarti sekitar Rp 46.000,oo pp. Fiuuhhh.... . Untung kita nggak melangkah masuk ke mulut buaya. Trus, karena ada banyak banget restorannya, kita memilih yang paling deket dan makan disana. Kita memilih meja dulu, kemudian memesan minuman, trus baru mesen makanan. Ternyata ada beberapa macam makanan: ikan, kerang besar, cumi-cumi, kepiting, sama udang. Dan setelah memesan punyaku, aku balik duduk dan menikmati pemandangan sore Pantai Jimbaran dan Bandara Internasional Ngurah Rai Bali (lokasinya lumayan deket sama bandara jadi kita bisa menonton pesawat mendarat dan tinggal landas). Trus akhirnya makanan kita dateng dan kita mulai makan. Makanannya nggak terlalu enak sebenernya (paling nggak sih untuk kami, tapi nggak tahu untuk orang lain) sebenernya >> salah satu temenku komplain ke kita (yang sebenernya bener-bener nggak berguna kan?) soalnya makanannya nggak enak (tetapi harganya mahal), tapi dia makan 4 piring nasi... . Hmmmm... . Tapi ketika kita dateng ke Jimbaran, kita seharusnya nggak terlalu mengharapkan makanan enak karena beberapa alasan. Pertama, Jimbaran itu ada di Bali dan mungkin aja lidah kita nggak cocok sama makanan Bali. Kedua, orang dateng ke Jimbaran kan biasanya nyari suasana (pantainya, dll), jadi makanan nomer dua deh. Habis itu, kita balik ke hotel naik taksi, dan bener, ongkosnya cuma Rp. 24.000,oo.

Hari 7

Kita bangun jam 9 pagi harinya dan hari ini kita tidak menyia-nyiakan kupon sarapan kita. Kita makan pagi di hotel. Trus, habis mengepak barang-barang kita, kita masih punya waktu sekitar 8 jam sebelum pesawat berangkat (jam 6.50 malem berdasarkan jadwal), dan apakah yang kita lakukan selama 8 jam itu?? Kita pertamanya bingung juga, akhirnya memutuskan untuk pergi ke Mall Bali Galeria di Simpang Siur.

Hmm, mallnya ternyata nggak terlalu ramai jam itu (atau mungkin kita datengnya kesana yang terlalu awal). Jadi, kita pergi dan menghabiskan waktu di Gramedia untuk membeli beberapa buku. Habis itu kita makan siang di food courtnya sana. Trus, karena masih jam 1.45 siang, kita memutuskan untuk nonton film di Cinema21. Disana cuma ada 2 ruangan dan 2 film, X-Men III The Last Stand di ruangan 1 dan The DaVinci Code di ruangan 2. Karena aku udah pernah nonton DVC (sebenernya cuma aku yang udah pernah nonton film ini) , jadi kita nonton X-Men III. Filmnya dimulai jam 2.15 siang dan sayangnya, mungkin karena kita agak telat beli tiketnya, kita dapet kursi di depan (yang paling deket sama layar yang tentu aja nggak nyaman nontonnya). Okay, trus aku mencoba untuk menikmati filmnya (sebenernya aku nggak terlalu suka sama cerita X-Men), dan aku bisa. Filmnya lumayan bagus juga dengan imajinasi yang tinggi, tapi aku masih lebih suka DVC daripada X-Men III.... :) Filmnya selesai sekitar jam 4 sore, dan setelahnya kita meninggalkan mall, mengambil koper di hotel, dan langsung pergi ke airport.

Sayangnya, kita dateng ke airportnya agak terlalu cepat 20 menit (meja check-in-nya untuk GA 255 belum dibuka, jadi kita harus menunggu). Untungnya aku siangnya membeli beberapa komik di Gramedia, dan aku bisa membacanya sambil menunggu. Trus, setelah 20 menit kita check-in dan kita masih ada waktu sekitar 2 jam sebelum pesawat berangkat. Jadi, kita pergi ke KFC dulu dan makan disana. Habis itu kita pergi ke ruang tunggu dan menunggu pesawat di pintu 16. Trus, ada pengumuman kalo katanya GA 255 bakalan ditunda sampe jam 7 malem (nggak masalah sih, cuma 10 menit telat koq). Jam 7 malem, kita naik pesawat dan tinggal landas dari Bali sekitar jam 7.10 malam.
Bye bye Bali..... :)

Di dalam pesawat, ada orang yang tolol, egois, idiot, menyebalkan. Sebelum pesawat tinggal landas, pramugarinya udah mengingatkan dia untuk mematikan hp-nya, dan dia bilang oke. Tapi tebak apa?? Ketika lagi terbang, dia mengirim beberapa sms dan juga menerima beberapa.... :( Arrrggghhhh.... . Cuaca saat itu nggak terlalu bagus dan dia memegang hpnya, tetap membiarkannya aktif, dan mengirim sms?? Arrggghhhh..... . Untung pesawatnya nggak papa tuh. Trus, setelah 1 jam terbang, kita akhirnya mendarat di Bandara Adisumarmo, Solo. Itu adalah kali pertama aku ke Bandara Adisumarmo. Landasan pacunya oke (lebih bagus daripada Bandara Adisutjipto Yogyakarta). Tapi gedung terminalnya parah, Airport Jogja jauh lebih baik.... :) Trus, kita naik taksi dan balik ke Yogyakarta, dan setelah satu jam lagi perjalanan, aku sampe di rumah.

~ SELESAI ~
Apakah anda tertinggal dan ingin membaca bagian pertama dari trilogi ini?? Klik
disini