ENGLISH
Well, another week has passed and here we go again, it is Saturday evening. If you read
my last week entry
, you will easily guess that I am now in my boarding house again, spending my time in front of computer and TV. Hmm, it just reminds me that I have something to do, I must create a simple program for my parents' business! haha... . Anyway, let me redo what I did last week, by writing some random things about me this week.
I finished reading The Lost Symbol, a novel by Dan Brown, this week. My review can be read here.


Actually I caught a flu (I guess) this week. Even though it did not affect my activities at all, it still annoyed me as it gave me insomnia. You might wonder how could a flu trigger insomnia in me? First of all, I need to warn you that the explanation might gross you. Well, a natural body reaction when we got invaded by flu virus is by secreting mucus to trap the viruses. This time, the mucus was somehow trapped in my pharynx. Of course it was not comfortable at all, feeling all those mucus inside your mouth. That's why I found it hard to sleep, because my kind kept thinking about it. I tried to swallow it, but of course my body would still secret it. So, swallowing was not a solution. I just tried to focus to sleep and after reaching a point, I would be tired myself and slept, hahaha...


I love cheese. That is why when I ordered a pizza yesterday and the waitress asked whether I wanted extra cheese on my pizza or not, I said yes (it was comparatively cheap though with the pizza's price, only an extra Rp 7,000.-). But then, my pizza had already had cheese on it, I ordered a stuffed-with-cheese crust pizza, and also Garliccheese Bread. When I ate them, I just realized that my meal was way too cheesy! I loved the first several bites before finally I felt a bit fed up with it. But I am not the type of person who likes to throw edible food away. I decided to take them slowly and finally I finished all of them, in 2 days, haha.


When I went on small grocery-shopping yesterday (yes, it was 'small' because I only bought water, some instant noodles, and Vitamin-C supplement), I found a really WEIRD promotion. For a package of instant noodles, which consisted of five packs, we should pay Rp 6,650.-. Then, I walked to another rack to check its unit price. The unit price was: Rp 1,225.-. Multiplying Rp 1,225.- with five will generate Rp 6,125.-, about Rp 500.- cheaper than the package price! In this case, of course I would rather buy FIVE packs in unit price. Well, usually a package price is cheaper than unit price because it should force people to buy more, right? Anyway, yes, I do the math every time I grocery-shop :-)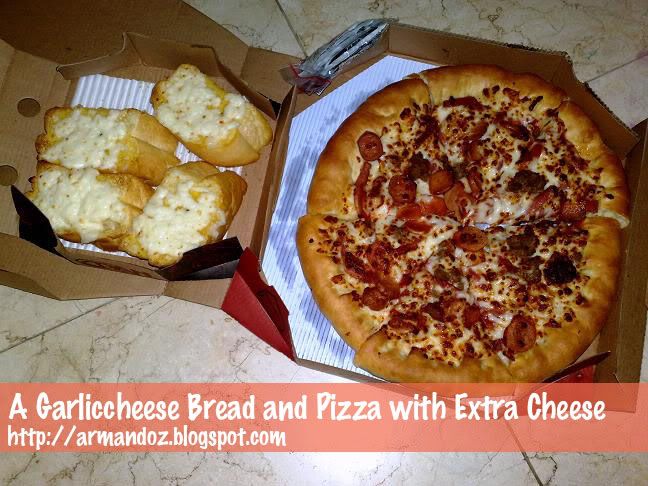 ::: Garliccheese Bread and Pizza with Cheese-Stuffed Crust plus Extra Cheese. So cheesy!!

BAHASA INDONESIA
Satu minggu lagi terlewati sudah dan kembalilah kita disini, di malam Minggu. Kalau kamu baca
postingku minggu lalu
, pasti akan mudah menebak bahwa sekarang aku lagi ada di kos saja, menghabiskan waktu di depan komputer dan TV. Hmm, baru inget nih kalo aku memiliki sesuatu hal yang harus dilakukan, yaitu membuat program sederhana sementara untuk bisnis orangtuaku! haha... . Yang, ngomong-ngomong, biarkan aku melakukan hal yang aku lakukan minggu lalu, dengan menulis beberapa hal acak tentangku minggu ini.
Aku selesai membaca The Lost Symbol, sebuah novel karangan Dan Brown, minggu ini. Review-ku bisa dibaca disini.


Minggu ini aku kena flu (rasanya). Walau tidak terlalu mengganggu aktivitasku, tetap saja menjengkelkan karena flu ini membuatku mengalami insomnia. Hmm, mungkin pada heran ya bagaimana bisa sebuah flu mengakibatkan insomnia? Pertama-tama, perlu aku beri peringatan dulu kalau penjelasannya mungkin akan menjijikkan. Yah, reaksi alami tubuh manusia ketika diserang virus flu adalah dengan menghasilkan lendir yang berfungsi untuk memerangkap virus-virus itu. Kali ini, lendirnya itu karena suatu hal kaya terperangkap di bagian faringku. Tentu saja tidak nyaman sama sekali, merasakan lendir-lendir itu. Makanya kan jadi susah tidur karena aku memikirkan ketidaknyamanan itu. Aku mencoba menelan tuh lendir, cuma percuma saja karena lendir lain akan tetap dihasilkan. Jadi, menelan bukanlah solusi. Aku mencoba saja untuk fokus tidur kan akhirnya pada suatu titik badan akan capek sendiri dan akhirnya tidur, hahaha...


Aku suka banget keju. Makanya ketika aku memesan pizza kemarin dan mbak-nya tanya apakah aku mau keju ekstra di pizza-ku atau tidak, ya aku jawab ya saja (soalnya harganya relatif murah sih dibanding harga pizza-nya sendiri, cuma Rp 7.000,-). Tapi kemudian, pizzaku kan sudah ada keju tuh di topping-ny, aku juga memesan pizza dengan pinggiran yang diisi keju, aku juga memesan Garliccheese Bread. Ketika aku memakannya, baru deh sadar kalo ternyata kejunya jadi kebanyakan! Aku suka sih di beberapa gigitan pertama, cuma kemudian jadi eneg sendiri deh. Yah, karena aku bukan tipe orang yang suka membuang makanan yang masih bisa dimakan, ya aku makan pelan-pelan saja. Akhirnya habis loh, dalam dua hari, haha.


Ketika aku belanja kecil kebutuhan sehari-hari kemarin (ya, 'kecil' karena aku cuma beli air, beberapa bungkus mi instan, dan suplemen vitamin-C), aku menemukan promosi yang ANEH. Untuk satu paket mi instan, yang terdiri atas 5 bungkus mi, harganya adalah Rp 6.650,-. Kemudian aku jalan ke rak lain untuk melihat harga satuannya berapa. Ternyata, harga satuannya adalah Rp 1.225,-. Mengalikan Rp 1.225,- dengan lima akan menghasilkan Rp 6.125,-, sekitar Rp 500,- lebih murah dibandingkan harga paketnya! Yah, untuk kasus kaya gini ya mending beli LIMA mie dengan harga satuan dong. Ya biasanya kan harga paket itu lebih murah karena harga itu untuk mendorong orang beli lebih banyak kan? Ngomong2, ya, tentu saja aku selalu menghitung ketika belanja untuk keperluan seperti itu :-)