ENGLISH
Because I have nothing much to write (actually there might be one topic I can bring up, but then I decided to give myself more time to prepare for it), I will write some random stuffs about me this week.
Finally, two of my favorite TV shows were getting much more interesting this week. Actually, The Amazing Race 16 got back on its 'track' last week, after that fabulous episode of Seychelles. This week's episode, though objectively not as great as the previous, was also really exciting to watch mainly because I had ever been to the destination, Penang, Malaysia. It is actually kinda nice to watch TAR visited a place that you have ever been, especially when you were there in less than one year ago. After a disappointing half season, American Idol is slowly getting its way back. The show is getting much more interesting each week with each contestant performing better. It is still not as great as the previous season, but it is getting much more exciting to watch. I hope it is not that I am desperate for good TV show so that a lousy show turns to be enjoyable for me, hahaha....


It is Saturday evening and, as usual in Bandung, I only stay at my boarding house or just spend my time not so far away from it. It is because many Jakartanese (and other non-Bandungers) flock to Bandung and trigger severe traffic jam everywhere around the city. Getting yourself out of where you live and going downtown will kill you tenderly (LOL). You will be irritated by the long line of cars moving really slowly on the streets before you find out that the cafe/restaurant/mall/etc you are going to are already full/over-booked/sold out. Therefore, it is wiser to just stay home and indulge yourself.


Speaking of indulging myself, the idea of a Saturday evening in Bandung for me is just to stay in front of my computer, surf the internet, probably have several snacks and several sips of tea. Speaking of which, I experienced a unique incident tonight. I boiled water in my water heater to make a glass of tea. Just right after the heating lamp turned off, I poured the water to my glass. And suddenly, an incident that I learnt in theory for years occured. My glass cracked due to the sudden temperature change. It is not that it was my first time making tea, but probably the glass was finally giving in after surviving the fate several times, LOL.


I am now relieved that I have made hotel reservations for my vacation to Singapore, Kuala Lumpur, and Krabi next June. I have also bought my flights tickets last November which means it is about 80% set right now. Now I still need to consider whether I will buy the local tour in Krabi via internet or I will make the deal there, when I am in Krabi, doing travel-agents-hopping.


Apparently, last month I forgot to take my teaching salary!! Well, partly it was because I went back to Yogyakarta mostly during last month, so somehow probably it slipped out of my mind, LOL. That is why this month I got two paychecks, mwahahahaha....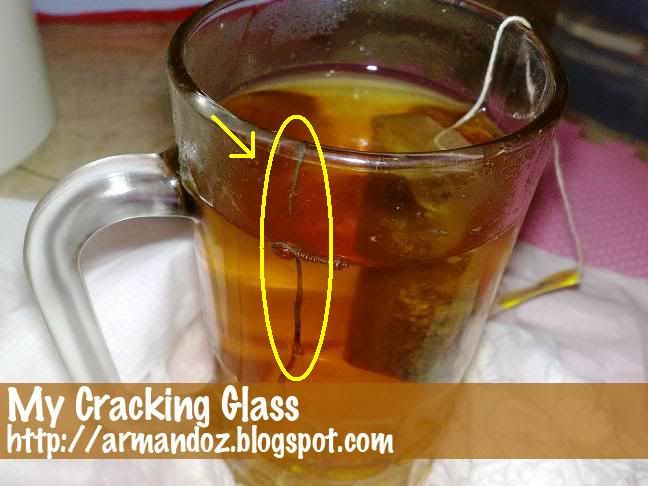 ::: My Cracked Glass. For some reasons, the water only leaked when it was cracking. Right after the incident, it did not.

BAHASA INDONESIA
Karena nggak ada bahan untuk ditulis (sebenarnya ada sih satu topik yang bisa dibawa, cuma sepertinya sebaiknya aku mempersiapkannya dulu deh), aku akan menulis beberapa hal acak tentang diriku minggu ini.
Akhirnya, dua acara TV favoritku menjadi semakin menarik minggu ini. Sebenarnya, The Amazing Race 16 kembali ke 'jalurnya' yang benar minggu lalu, setelah episode yang bagus di Seychelles itu. Episode minggu ini, walau secara objektif sih nggak semenarik episode minggu lalu, lumayan ok juga koq karena aku sudah pernah pergi ke destinasi yang ditujunya sih, yaitu Penang, Malaysia. Ternyata menonton TAR itu asyik juga ya ketika tempat tujuannya sudah pernah kita kunjungi, apalagi kunjungannya dilakoni kurang dari setahun yang lalu. Setelah setengah musim yang mengecewakan, American Idol juga perlahan kembali ke jalurnya nih. Acara ini jadi semakin menarik tiap minggu terutama setelah kontestannya tampil semakin baik. Masih nggak sekeren musim lalu, cuma makin menarik aja. Mudah-mudahan ini bukannya aku yang sedang putus asa mengharapkan acara TV yang bagus makanya acara yang payah jadi nampak keren, hahaha....


Sekarang ini malam Minggu dan, kaya biasanya di Bandung, aku hanya tinggal di kos aja atau menghabiskan waktuku tidak jauh darinya. Ini karena banyak orang Jakarta (dan orang-orang non-Bandung lainnya) yang berkumpul semua ke Bandung dan memicu kemacetan yang sangat amat parah di seluruh penjuru kota. Keluar dari tempat tinggal dan pergi ke pusat kota akan membunuh Anda perlahan-lahan (LOL). Anda akan merasa sebal gara-gara antrian mobil yang panjaaang banget yang bergerak dengan sangat pelan sebelum Anda diberi kabar bahwa ternyata kafe/restoran/mall/dll yang Anda tuju ternyata sudah penuh/dipesan/habis. Makanya, lebih bijaksana untuk tetap tinggal di rumah dan memanjakan diri sendiri.


Berbicara tentang memanjakan diri sendiri, malam Minggu di Bandung bagiku adalah duduk aja di depan komputer, internetan, mungkin makan beberapa snacks dan minum teh. Ngomong-ngomong tentang itu, aku mengalami kejadian unik malam ini. Aku memanaskan air dengan pemanas air untuk membuat segelas teh. Nah, setelah lampu pemanasnya mati aku tuang deh air panas itu ke gelasku. Dan tiba-tiba, kejadian yang sebelumnya hanya aku pelajari secara teori bertahun-tahun yang lalu terjadi. Gelasku retak karena perubahan suhu yang tiba-tiba. Bukannya ini kali pertama aku membuat teh sih, cuma kayanya akhirnya gelasnya menyerah deh setelah beberapa kali lolos dari nasib itu, LOL.


Aku sekarang lega karena sudah membuat reservasi hotel untuk liburanku ke Singapore, Kuala Lumpur, dan Krabi Juni nanti. Aku kan juga sudah membeli tiket pesawat November lalu yang artinya sekarang sudah sekitar 80% beres lah. Sekarang sih mesti mempertimbangkan enak beli tur lokal di Krabi lewat internet atau disananya langsung ya, yaitu ketika di Krabi dengan melakukan kunjungan ke tiap agen perjalanan.


Ternyata, bulan lalu aku lupa mengambil gaji ngajarku loh!! Hmm, sebenarnya setengahnya itu karena aku kan balik ke Yogyakarta hampir selama sepanjang bulan lalu, makanya karena itu sepertinya jadi kaya kelupaan gitu, LOL. Makanya bulan ini aku mendapatkan dua bulan gaji, mwahahahaha....