ENGLISH

So, I'm now back!! hehe... :) It has been really quick that now one week has already passed. So, here we go, the story of my vacation this mid-year to Singapore and Penang.

Day 1 (22 July 2009)

We departed at 6 AM from our house to Adisucipto Int'l Airport Yogyakarta. Well, it was my first direct international trip from this airport, haha. Anyway, finally we boarded Indonesia AirAsia's Airbus A320-216 reg code PK-AXC flight no. QZ 7138 heading for Singapore. Our plane took off from runway 09 at 7.45 AM. Two hours later, at 10.45 AM local time, we landed at Singapore Changi Airport. It was raining when we landed tho, hmm. Btw, when we were taxiing, I saw three Singapore Airlines' Airbus A380s!! Finally I saw the gigantic aircraft with my own eyes!! haha

Anyway, after passing immigration and taking our luggages, we caught a cab to go to the city of Singapore. After about thirty minutes cab-ride we arrived at our hotel, Grand Central Hotel, near the well-known Orchard Road. It was kinda exciting for me since it would be my chance to practise my verbal English after a long time, haha, but apparently the receptionist could speak Bahasa Indonesia, zzz. Then, we walked to Orchard Road.

Actually, we spent all of our first day at Orchard Road. We went to several malls, like Ngee Ann City, Takashimaya, Ion Orchard, Paragon, Tang's, Center Point, Lucky Plaza, etc. Nothing much I could tell here. Anyway, finally I got
the t-shirt
I had been wanting since last June!! YEAH!! haha... . Anyway, meals in Singapore was incredibly expensive (compared to meals in Indonesia)! At least we had to spend around S$ 5 which is equal to around Rp 35,000.- (that's very very cheap) for a meal.


Day 2 (23 July 2009)

We got up pretty early to catch our next flight to Penang Island, Malaysia this day. After catching a cab to the airport (and entrusted some of our luggages at our hotel since we would be back there in three days), we arrived at Singapore Changi Airport's Budget Terminal. We checked in at Tiger Airways' counter and had breakfast after that. Budget Terminal was a lowcost terminal, so there was no travelator. Our gate was at Gate 2 which was really far and we had to walk, haha.

Anyway, at 9.50 AM we boarded Tiger Airways' Airbus A320-232 reg code 9V-TAB (yea, it was my first foreign plane-ride after my trip to Malaysia last early 2005) flight no TR 422 to Penang. We took off from runway 20C after queuing for some time. The pilot of this flight had a sense of humor. Personally, I think that flight was one of the best flights I had ever flown on, hehe :).

At 11.33 AM, we landed at runway 04 at Bayan Lepas International Airport Penang. After passing immigration, we went to Batu Ferringhi Beach. It was really hot (I mean it, REALLY HOT) in Batu Ferringhi. Weirdly, it was really crowdless, not like a tourist destination. We had lunch at a Lebanon Restaurant which apparently was run by Indonesians, haha. Because of the damn weather, we decided to wait until the sun went down a bit.

At around 5 PM we walked to the beach. At the beach, the tourist atmosphere was a bit more dazzling. There were so many tourists and beach activities which kinda were a bit expensive (almost as expensive as in Bali). After walking in the beach for some hours and the sun set at 7.30 PM, we had dinner at a chinese seafood restaurant just located by the sea. One of the waitress was Indonesian Worker from Godean. She had been working there in Penang since 1996, hehe. The food was delicious, hehe. At 10 PM, after having our stomachs really full, we walked to the main street to see the night market. Nearly midnight, we went back to our hotel.

Day 3 (24 July 2009)

After having complimentary breakfast at the hotel, we all left Batu Ferringhi and went to downtown Georgetown, the capital city of the State of Penang. Georgetown was only about 25 minutes away from Batu Ferringhi. At first we planned to stop by at the Toys Museum but then canceled it (and later on I regreted it because apparently there was a manequine of
Seven of Nine
there, damnit!!). Instead, we went to two temples, the famous Wat Chayamangkalaram (Reclining Buddha Temple) and Dhammikarama Temple (Burmese Temple). Some said that the Reclining Buddha Statue there was the biggest in the world. Well, I have been to the other Reclining Buddha Temple once I was in Bangkok, Thailand five and a half years ago, but I'm not sure which one is bigger, LOL.

Anyway, after that we went to our hotel in Georgetown and checked-in. Our hotel was located next to the (supposedly) well-known site in Georgetown: KOMTAR (Kompleks Tun Abdul Razak (Tun Abdul Razak Complex)). It was a famous shopping centre some years back. However, when we got there, it was really pathetic. The shopping centre was really 'old-fashioned', and we even couldn't get to the top floor of the tower to get the scenic view of the island. Damnit!! At first we thought (which I had already doubt in the first place) that Komtar was a 58th storey shopping centre, haha.

Therefore, we had plenty of time to spend in the evening. That's why we decided to make our own city tour. With local map in our hands, we went from one site to another site on foot around the city. It was tiring tho but also fun to see the city, hehe. We went to some temples, old church, and finally we went to Fort Cornwallis, an old Britain fort in Georgetown located at the northern beach of the city. Then, we enjoyed the beach scenery there sitting at the plaza located at the beach.

At 7.30 PM, after the sun set, we wanted to go to Gurney Drive. Gurney was a place with many foodstalls. I googled it before going there and I think it was interesting, so Gurney was our next stop. It was already dusk and we concerned about getting a transport there. It was clearly not within walking distance. Then, a cab came dropping passengers at a park nearby and we caught it. I think we were so lucky. The driver, Mr. Francis Xavier, was really really kind and nice that we decided to hire him for our trip the next day. Anyway, then we arrived at Gurney and went to Gurney Plaza first. After that we walked to Gurney Drive Foodstalls and had dinner there. After that we went back to our hotel.



To Be Continued ...



Next on Mid Year Holiday : Singapore & Penang
- Air Itam (Kek Lok Si Temple and Penang Hill)
- Some Other Places in Penang
- Marina, Singapore (some more malls, Singapore Flyer, Merlion Park)
- More of Singapore



L: Indonesia AirAsia's Airbus A320-216 reg code PK-AXC flight no QZ 7138 bounding for Singapore was ready for boarding
R: cloud at 38,000 feet



L: Landing at Singapore Changi Airport
R: a Singapore Airlines' Airbus A380!! Finally I saw this aircraft with my own eyes! :D



L : First Meal in Singapore which cost S$ 6.50
R : Ngee Ann City, Orchard Road



L : Orchard Road
R : first dinner at Orchard, at Din Tai Fung Restaurant



L : Singapore Visitors Center
R : Changi Airport Singapore's Budget Terminal's Check-In Area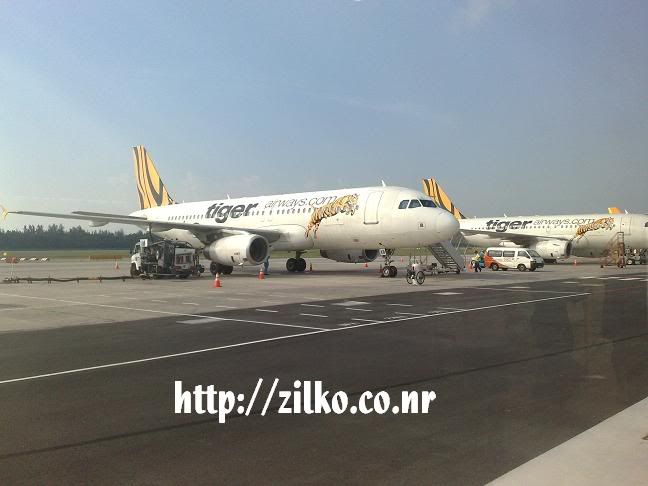 L : Tiger Airways' Airbus A320-232 reg code 9V-TAB flight no TR 422 was ready to fly to Penang
R : a busy morning at Changi Airport. Singapore Airlines' Boeing 777, Royal Brunei's Boeing 767, and a privat jet were lining for take-off at runway 20C.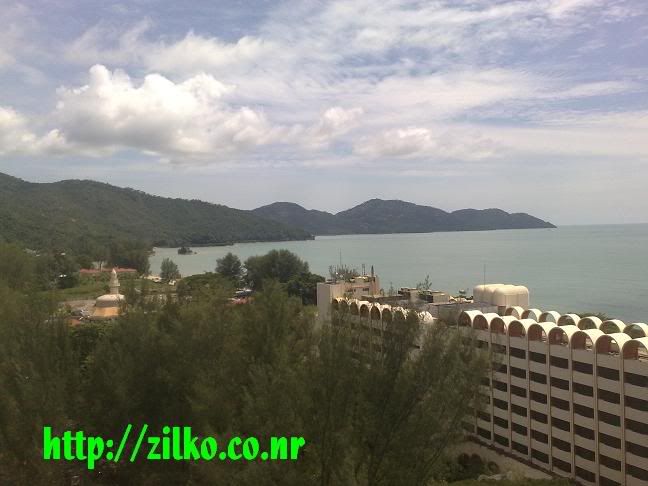 L : Bayan Lepas International Airport Penang. Lion Air's Boieng 737-400 and Malaysia Airlines' Boeing 737-400 were also there.
R : Batu Ferringhi Beach as taken from our hotel.



L : Batu Ferringhi Bistro, Chinese Seafood.
R : Jalan Batu Ferringhi Sign



L : at Reclining Buddha Temple
R : Buddha statue at Burmese Temple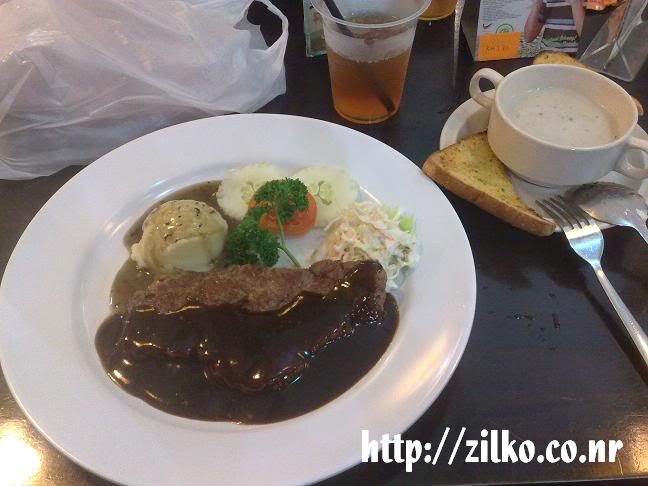 L : KOMTAR
R : blackpepper sirloin steak as lunch



L : Little India at Georgetown, Penang
R : St. George Church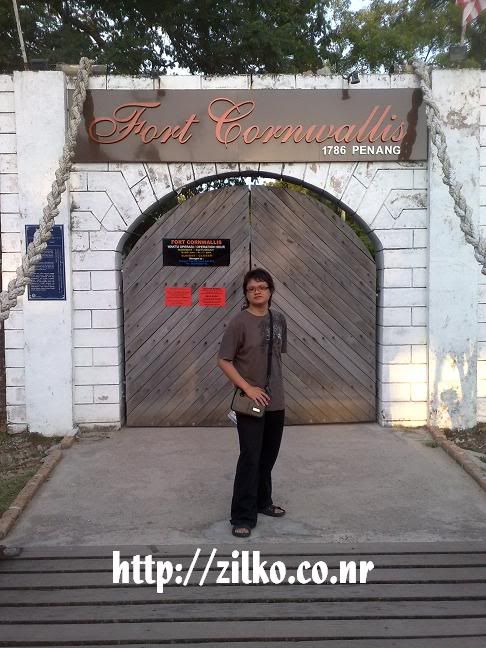 L : Fort Cornwallis
R : the beach next to Fort Cornwallis



L : Gurney Drive Foodstalls
R : omelette oysters



BAHASA INDONESIA

Jadi, aku sudah balik nih!! hehe... :) Benar2 cepat yah tak terasa seminggu sudah berlalu. Jadi, mari dimulai deh cerita liburan tengah tahun keduaku ini ke Singapore dan Penang.

Hari 1 (22 Juli 2009)

Kita berangkat jam 6 pagi dari rumah menuju Bandar Udara Internasional Adisucipto Yogyakarta. Hmm, waktu itu adalah kali pertamaku naik penerbangan internasional langsung dari bandara ini, haha. Singkat kata, kita kemudian naik ke pesawat Indonesia AirAsia Airbus A320-216 kode registrasi PK-AXC nomor penerbangan QZ 7138 tujuan Singapore. Pesawatnya tinggal landas dari runway 09 pada pukul 7.45 pagi. Dua jam kemudian, pukul 10.45 waktu lokal, pesawat mendarat di Bandar Udara Changi Singapore. Ketika mendarat ternyata sedang hujan, hmmm. Btw, waktu pesawat sedang taxiing, aku melihat tiga pesawat Airbus A380-nya Singapore Airlines loh!! Akhirnya aku melihat pesawat raksasa ini langsung dengan mataku sendiri!! haha

Ngomong2, setelah melewati imigrasi dan mengambil bagasi, kita naik taksi untuk pergi ke kota Singapore-nya. Setelah perjalanan selama kurang lebih setengah jam, kita tiba di hotel, Hotek Grand Central, didekat Jalan Orchard yang terkenal itu. Aku bersemangat karena akhirnya mendapat kesempatan menggunakan bahasa Inggris verbalku setelah sekian lama, haha, tapi ternyata resepsionisnya malah ngomong bahasa Indonesia, zzz. Trus, kita pergi ke Jalan Orchard.

Sebenarnya sih ya kegiatan hari pertama ya cuma terpusat di Jalan Orchard saja. Kita pergi ke beberapa mall seperti Ngee Ann City, Takashimaya, Ion Orchard, Paragon, Tang's, Center Point, Lucky Plaza, dll. Nggak banyak deh yang bisa ditulis disini. Ngomong2, akhirnya aku mendapatkan
kaus
yang sudah aku ingin2kan sejak Juni lalu!! YEAH!! haha... . Btw, makanan di Singapore mahalnya gila2an yah (dibandingkan makanan di Indonesia)! Setidaknya kita harus keluar minimal S$ 5 yang kira2 sama dengan Rp 35.000,- tuh (udah yang murah banget nih) untuk sekali makan.


Hari 2 (23 Juli 2009)

Kita bangun lebih pagi untuk mengejar pesawat selanjutnya menuju Pulau Penang, Malaysia pada hari ini. Habis naik taksi menuju bandara (dan menitipkan sebagian barang kami di hotel karena kita akan balik dalam tiga hari) kita tiba di Bandara Changi Singapore di Budget Terminal. Kita check-in di konter Tiger Airways dan makan pagi setelahnya. Budget Terminal adalah terminal biaya rendah, makanya tidak ada travelator. Gerbang kami adalah Gerbang 2 yang lokasinya sangat jauh dan kita harus berjalan menuju sana, haha.

Ngomong2, sekitar jam 9.50 pagi kami menaiki pesawat Tiger Airways Airbus A320-232 reg kode registrasi 9V-TAB (ya, itu adalah kali pertama aku naik pesawat beregistrasi asing setelah perjalananku ke Malaysia awal 2005 lalu) nomor penerbangan TR 422 menuju Penang. Kita tinggal landas dari runway 20 C setelah mengantri untuk beberapa saat. Pilot pada penerbangan ini benar2 lucu tuh. Aku rasa mungkin penerbangan ini adalah salah satu yang terbaik yang pernah aku naiki, hehe :).

Jam 11.33 pagi, kita mendarat di runway 04 di Bandar Udara Internasional Bayan Lepas Penang. Setelah melewati imigrasi, kita pergi menuju Pantai Batu Ferringhi. Cuaca waktu itu benar2 panas (beneran nih, PANAS BANGET) di Batu Ferringhi. Anehnya, suasananya juga sepi tuh, tidak terasa seperti destinasi turis. Kita makan siang di Restoran Lebanon yang ternyata dijalankan oleh orang Indonesia, haha. Karena cuaca sialan, kita memutuskan untuk menunggu sampai matahari turun sedikit.

Sekitar jam 5 sore kita berjalan menuju pantai. Di pantai, atmosfer turis jauh lebih terasa. Disana ada banyak sekali turis dan banyak aktivitas pantai yang harganya mahal juga (hampir semahal Bali tuh). Setelah berjalan-jalan di pantai dan matahari terbenam jam 7.30 malam, kita makan malam di rumah makan chinese seafood di pinggiran pantai. Salah satu pelayannya ternyata TKW asal Godean tuh yang sudah di Penang sejak 1996, hehe. Makanannya enak tuh, hehe. Jam 10 malam, setelah perut penuh, kita berjalan menuju jalan utama untuk melihat pasar malamnya. Sekitar tengah malam, kita balik ke hotel deh.

Hari 3 (24 Juli 2009)

Setelah makan pagi di hotel, kita meninggalkan Batu Ferringhi untuk pergi ke Georgetown, ibukota dari Negara Bagian penang. Georgetown berlokasi sekitar 25 menit dari Batu Ferringhi. Pertamanya kita berencana untuk mampir di Museum Mainan tapi kemudian membatalkannya (dan setelahnya aku menyesal karena ternyata ada manekinnya
Seven of Nine
disana, sialan!!). Lalu, kita pergi ke dua kuil, yaitu Kuil Wat Chayamangkalaram (Kuil Buddha Tidur) yang terkenal dan Kuil Dhammikarama (Kuil Myanmar). Beberapa orang bilang bahwa Patung Buddha Tidur disana adalah yang paling besar di dunia. Yah, aku sih sudah pernah pergi ke Kuil Buddha Tidur lainnya ketika berada di Bangkok, Thailand, lima setengah tahun yang lalu, tapi ga yakin juga mana yang lebih besar, LOL.

Kemudian kita pergi ke hotel kita di Georgetown dan check in. Hotelnya terletak di sebelah tempat yang (seharusnya) terkenal di Georgetown: KOMTAR (Kompleks Tun Abdul Razak). Itu adalah pusat perbelanjaan yang terkenal beberapa tahun lalu. Namun, ketika kita kesana, koq menyedihkan sekali yah. Pusat perbelanjaannya benar-benar 'kuno' dan bahkan kita tidak bisa naik ke lantai atas untuk melihat pemandangan keseluruhan dari pulaunya. Sial!! Pertamanya sih kita kira (yang aku sudah ragukan sejak awal nih) bahwa Komtar adalah pusat perbelanjaan berlantai 58, haha.

Makanya, kita jadi ada banyak waktu untuk dihabiskan sorenya. Itulah mengapa kita memutuskan untuk membuat tur kota sendiri. Dengan peta lokal di tangan, berjalan-jalanlah kita dari satu tempat ke tempat lain di dalam kota dengan jalan kaki. Capek sih, tapi menyenangkan lho untuk melihat-lihat kota gitu, hehe. Kita pergi ke beberapa kuil, gereja tua, dan akhirnya tiba di Fort Cornwallis, sebuah benteng tua peninggalan Inggris yang terletak di pantai utara dari kotanya. Trus, kita menikmati pemandangan pantai dengan duduk-duduk di plaza yang ada di pinggiran pantai.

Jam 7.30 malam, setelah matahari terbenam, kita mau pergi ke Gurney Drive. Gurney adalah tempat dengan banyak warung makanan. Aku nge-google-nya sebelum pergi dan kayanya menarik, makanya Gurney adalah tujuan selanjurnya. Hari sudah senja dan kita agak pusing juga memikirkan transpor menuju Gurney. Gurney jelas tidak dalam area yang terjangkau dengan jalan kaku. Trus, sebuah taksi datang dan menurunkan penumpang di taman dekat lokasi kita dan kita menyetopnya. Rasanya kita beruntung banget tuh. Sopirnya, Mr. Francis Xavier, ternyata sangat baik sampai kita memutuskan untuk menyewanya untuk perjalanan kita keesokan harinya. Yah, akhirnya kita tiba di Gurney dan jalan2 di Gurney Plaza dulu. Kemudian, kita pergi ke Gurney Drive Foodstalls dan makan malam disana. Setelahnya, kita balik ke hotel.



Bersambung ...




Selanjutnya dalam Mid Year Holiday : Singapore & Penang


- Air Itam (Kek Lok Si Temple dan Penang Hill)
- Beberapa Tempat Lain di Penang
- Marina, Singapore (beberapa mall lagi, Singapore Flyer, Merlion Park)
- Lebih tentang Singapore