ENGLISH

Well, nothing much really happened lately. Even so, I have been kinda busy these last few days, haha. It's because I had to go back and forth to a car aircon service center which apparently is located pretty far from my home. The aircon of my car had been in trouble since
our trip to Surabaya
two weeks ago.

Anyway, today I'm going to Semarang. We have decided to stay a night there. Wow, it's gonnabe interesting, hehe. On Monday (tomorrow) we are going back to Yogyakarta and on Wednesday we are going to Singapore.
PS : I used automatic posting for this entry. By this time this entry was published, I was actually in the church, hehe :)
::: home-made beefburger


::: home-made bakso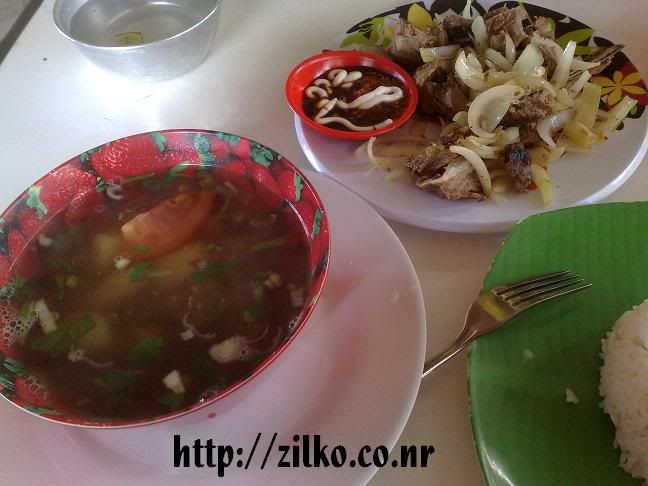 ::: lamb satai and lamb soup. I really like the satai :)


::: fried javanese noodle



BAHASA INDONESIA

Yah, nggak banyak yang terjadi sih belakangan ini. Walaupun begitu aku koq lumayan sibuk yah akhir2 ini, haha. Ya itu karena aku harus pergi bolak-balik ke sebuah tempat servis AC mobil yang ternyata terletak jauh juga dari rumahku. AC mobilku sudah rusak sejak
perjalanan ke Surabaya
dua minggu yang lalu.

Ngomong2, hari ini aku akan pergi ke Semarang bersama keluarga. Kita akhirnya sudah memutuskan untuk menginap sehari disana. Wow, akan menarik nih, hehe. Di hari Senin (besok) kita akan balik ke Yogyakarta dan di hari Rabu kita akan pergi ke Singapore.
PS : Aku menggunakan posting otomatis untuk posting ini. Ketika posting ini dipublikasikan, aku sebenarnya sedang berada di gereja, hehe :)