pre-note : Entry about my first mid-year holiday to Surabaya and Tanjung Kodok will be posted later. I just arrived at my home two hours ago :D

ENGLISH

The third grandslam of this year,
2009 Wimbledon
just finished last Sunday.

In the gentlemen singles, one (probably) disappointment already surfaced even before the main draw of the tournament was played. The current world no. 1 and defending champion, Rafael Nadal, withdrew because of injury. Well, this put Roger Federer in a better position to win the title with Andy Murray became his bigger threat.

Both played brilliantly towards the semifinals. Andy Murray won a long match against Stanislas Wawrinka in the fourth round, slaming a record of the latest finished match at Wimbledon. However, he lost to former world no. 1 Andy Roddick in the semifinal. The final was between Roddick and Federer. Before the match, I thought it was a no-brainer match, Federer would win easily, considering his 18-2 head-to-head record against Roddick. However, the match turned to be brutal. I didn't watch the whole match tho, just the middle thru the end of the fifth set. On that part of the match, I still think
last year final
was still greater. Still, this year's final was also great. Federer in the end won his sixth Wimbledon Single Titles by 5-7, 7-6(6), 7-6(5), 3-6, 16-14. Look at the fifth set's score: 16-14!! Whatta score!! By winning this grandslam, Roger Federer regained his world no.1 crown, putting Rafael Nadal at the world no.2 position. He also beat Pete Sampras' record, who won 14 grandslam singles titles during his carreer. With this victory, Federer has won 15 grandslam singles titles.

In the ladies singles, I was rooting for Venus Williams for the win even though I also rooted for Serena Williams. This year, the final was between the two sisters. At first I thought Venus would win the match, since she had been really consistent during the tournament. Plus, she owns grass more than Serena, seemingly. However, in the end it turned out that Serena Williams owned the court better than Venus, winning 7-6(3), 6-2.

Even with the win, Serena Williams, who have won three of the last four grandslam (2008 US Open until 2009 Wimbledon), stays at world no.2. Dinara Safina still holds the world no.1 position for this week even though she lost to Venus in the semifinals. Well, the women's ranking system has been critized by Serena, one of her (implicit) critics is
in this interview
in Wimbledon. She'd rather stay at No. 2 but hold three Grand Slams in the past year than be No. 1 and not have any.

In the ladies doubles, again, the Williams sisters showed her dominance on the surface. They won the title by beating Samantha Stosur and Rennae Stubbs, 7-6(4), 6-4. Wow!!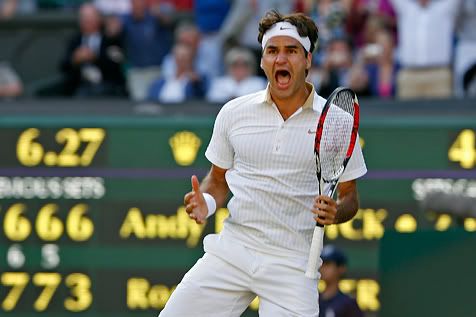 ::: Roger Federer winning the championships.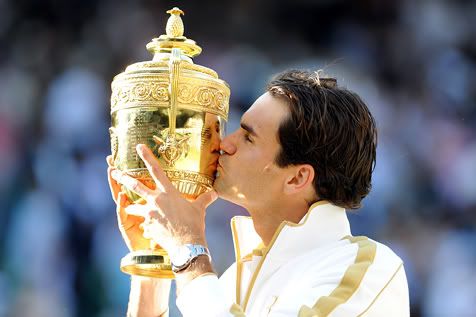 ::: Roger Federer kissing his trophy.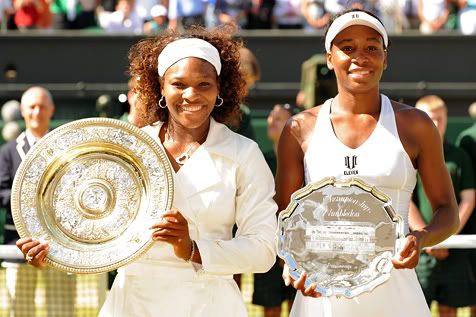 ::: 2009 Wimbledon Ladies Singles' Champion, Serena Williams, with her trophy, and runner-up Venus Williams.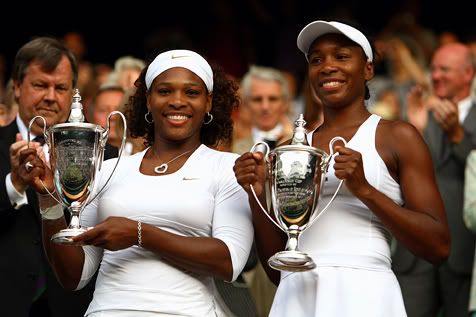 ::: Venus and Serena Williams with her ladies double trophies.


::: Serena Williams and Rofer Federer, 2009 Wimbledon Champions.


::: Look at Serena's t-shirt saying "Are You Looking at My Titles?".

note : ALL Wimbledon's photos were taken from the
official website
.



BAHASA INDONESIA

Turnamen grandslam ketiga tahun ini,
Wimbledon 2009
baru saja selesai Minggu kemarin.

Di tunggal pria, satu (mungkin) kekecewaan sudah muncul bahkan sebelum babak utama dimainkan. Peringkat 1 dunia saat itu, Rafael Nadal, yang juga juara bertahan, mengundurkan diri karena cedera. Yah, ini sih membuat Roger Federer dalam posisi lebih diuntungkan dengan Andy Murray menjadi pesaing terbesarnya.

Keduanya bermain brilian sampai semifinal. Andy Murray bermain pertandingan panjang melawan Stanislas Wawrinka di babak keempat, membuat rekor sebagai pertandingan termalam yang selesai di Wimbledon. Namun, dia akhirnya kalah dari mantan petenis nomer 1 dunia, Andy Roddick, di semifinal. Finalnya antara Roddick dan Federer. Sebelum pertandingan sih aku kira akan menjadi pertandingan mudah ditebak hasilnya, karena rekor 18-2 antaranya dengan Roddick. Namun, ternyata pertandingannya seru juga. Aku sih nggak nonton keseluruhan pertandingannya, cuma set kelima saja, itupun dari pertengahannya hingga akhir. Dari bagian yang aku tonton itu, aku rasa sih
final tahun lalu
masih lebih seru. Ya biarpun begitu yang tahun ini seru juga koq. Federer akhirnya memenangi gelar tunggal Wimbledon keenamnya dengan skor 5-7, 7-6(6), 7-6(5), 3-6, 16-14. Lihat tuh skor set kelimanya: 16-14!! Bener2 skor gila!! Dengan memenangkan grandslam ini, Roger Federer mendapatkan kembali posisi nomor 1 dunianya lagi, menggeser Rafael Nadal ke posisi nomor 2. Ia juga mengalahkan rekor Pete Sampras yang memenangi 14 gelar grandslam. Dengan kemenangan ini, Federer telah memenangi 15 gelar grandslam.

Di tunggal wanita, aku sih mendukung Venus Williams walau aku juga mendukung Serena Williams. Tahun ini, finalnya adalah antara dua bersaudari ini. Pertamanya aku kira Venus akan menang karena dia sangat konsisten sepanjang turnamen. Selain itu, rasanya dia masih lebih memiliki lapangan rumput daripada Serena, kelihatannya. Namun, akhirnya Serena Williams yang lebih menguasai lapangan rumput tahun ini daripada Venus, dengan menang 7-6(3), 6-2.

Walau dengan kemenangan ini, Serena Williams, yang telah memenangi tiga grandslam dari empat grandslam terakhir (2008 US Open sampai 2009 Wimbledon), masih akan berada di posisi nomor 2 dunia. Dinara Safina akan tetap berada di posisi nomor 1 minggu ini walau ia kalah dari Venus di semifinal. Yah, sistem pe-rangking-an wanita ini sudah dikritik Serena sih, salah satunya (implisit) ya lewat
wawancara ini
diWimbledon. Dia lebih memilih menjadi nomor 2 tapi menang tiga grandslam daripada menjadi No. 1 tapi tidak menang.

Di ganda putri, Williams bersaudara juga menunjukkan dominasinya lho di permukaan ini. Mereka menang dari Samantha Stosur dan Rennae Stubbs, 7-6(4), 6-4. Wow!!