ENGLISH
Saturday, 4th July 2009

Last Saturday, my family and I went to Surabaya. We went there to attend my grandma's sister's 85th birthday party which was held on Sunday. We departed at 5.50 AM from Yogyakarta. We arrived at Solo at about 7 AM and had breakfast at Timlo Solo Restaurant. Because I still
don't like timlo
, I didn't order timlo but nasi liwet instead (We actually planned to buy nasi liwet whose owner usually sells it in front of the restaurant. However, that day, it was sold out). Then, we continued our trip to Surabaya.

Approaching Surabaya, the street was getting more crowded. We were stuck in a pretty bad traffic jam after Krian, some kilometers before Surabaya. To make things even worse, the aircon of my car suddenly didn't work after we left Solo!! Imagine that: a hot city like Surabaya (and some other sorrounding it), a clear day, OFF aircon. It was like being in an oven, haha. Anyway, at about 2.45 PM we finally arrived at Surabaya.

At first we visited one of our relatives' house then went to our hotel to get some rest. At 5.30 PM we left the hotel and started the culinary evening, LOL. We planned to have dinner at Rawon Setan. However, we came to early and it was not open yet. Therefore, we had dinner at a seafood restaurant nearby. After that, we also took away two portions of Rawon Setan. Then, we visited another relatives' house. At around 8 PM we went back to our hotel to pick up my dad's friends to have dinner at Mie Kapasan (Javanese Noodle). At 11 PM we went back to our hotel.

Sunday, 5th July 2009

Sunday morning, I got up at around 6.50 AM. We had breakfast at Soto Cak Pardi, right accross Sh*raton Hotel. It was delicious, hehe. Then, we went to my grandparents' cemetery. At about 9 AM we went back to our hotel. My mom, my brother, and I then went to Tunjungan Plaza. At about 1 PM we met some relatives and had lunch together at Duck King. Duck King is a really professional restaurant. Sure, the price can be categorized as high but it's worth it. The meals are also tasty, haha.

Then, we went around Surabaya to find an aircon service center. My relative had some contacts but it was difficult to find available one on Sunday. After going around Surabaya we finally found one. After trying sometimes, they gave up and said the compressor should be changed and it was expensive. Therefore we decided not to do anything with it. After that we went back to our hotel.

Later on that evening, we went to the party. It was like another party, kinda like a wedding tho, haha. After the party, we went to Surabaya Town Square. After that we went back to our hotel.



To Be Continued ...




Next On Mid-Year Holiday : East Java


- Tanjung Kodok
- WBL
- Maharani Cave and Zoo
- Tuban


::: nasi liwet at Solo.


::: our meal at Nirwana Restaurant.


::: One Spot During the Trip. I somehow remember this place vividly, haha.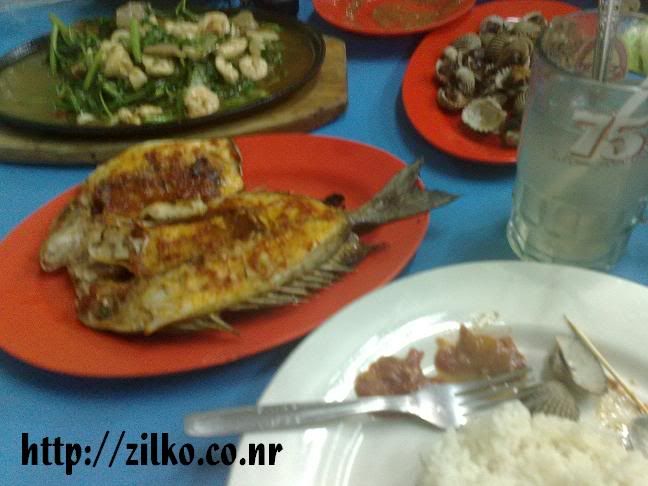 ::: our meal at the seafood restaurant.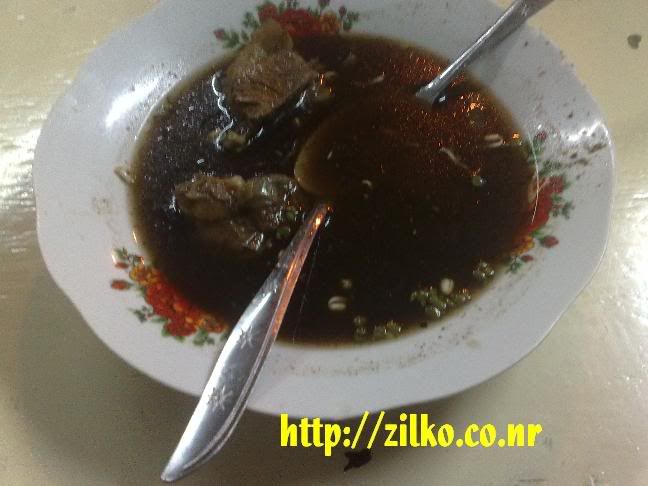 ::: Rawon Setan.


::: Mie Kapasan (Mie Goreng).


::: Tunjungan Plaza.


::: Soto Cak Pardi.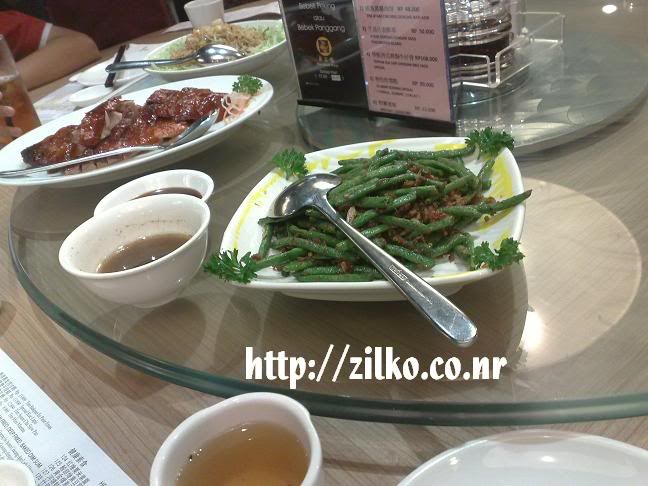 ::: Some of Our Meal at Duck King.


::: Peking Duck.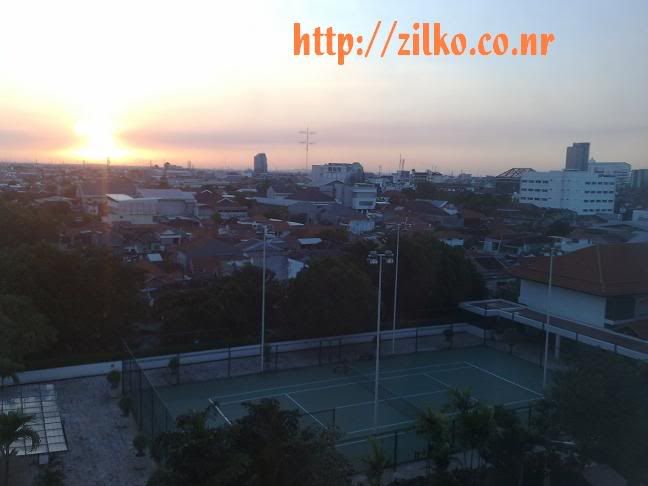 ::: Sunset at Surabaya.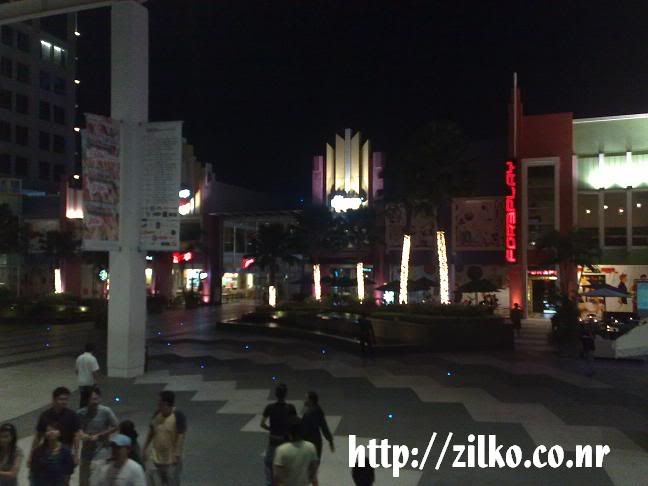 ::: Surabaya Town Square.



BAHASA INDONESIA
Sabtu, 4 Juli 2009

Sabtu kemarin, aku dan keluarga pergi ke Surabaya. Kita pergi kesana untuk menghadiri pesta ulang tahun ke-85 adiknya nenekku yang diadakan hari Minggu. Kita berangkat jam 5.50 pagi dari Yogyakarta. Sekitar jam 7 pagi kita tiba di Solo dan makan pagi di Restoran Timlo Solo. Karena aku masih
tidak suka timlo
, aku tentu saja tidak memesan timlo tapi memesan nasi liwet (Sebenernya kita berencana makan nasi liwet lho yang jualan di depan restorannya itu. Namun, pagi itu sudah habis ternyata). Kemudian kita melanjutkan perjalanan ke Surabaya.

Mendekati Surabaya, jalanan menjadi semakin padat. Kita terjebak di kemacetan yang cukup parah setelah Krian, beberapa kilometer sebelum Surabaya. Yang parahnya lagi, AC mobilku tiba2 mati setelah kita meninggalkan Solo!! Bayangkan: kota panas kaya Surabaya (dan sekitarnya tentu saja), hari yang cerah, AC MATI. Bener2 kaya ada di dalam oven dah, haha. Ngomong2, akhirnya jam 2.45 kita tiba di Surabaya.

Pertama2 kita mengunjungi rumah saudara kemudian baru ke hotel untuk beristirahat. Jam 5.30 sore kita berangkat lagi dan memulai malam kuliner, LOL. Kita berencana untuk makan malam di Rawon Setan. Namun, ternyata kita datang terlalu awal dan masih belum buka. Makanya, kita makan malam di restoran seafood di dekatnya. Habis itu, tetep aja deh ngebungkus dua porsi Rawon Setan. Trus kita mengunjungi saudara lagi. Jam 8 malaman kita balik ke hotel untuk menjemput temennya papaku untuk makan di Mie Kapasan (Mie Jawa). Jam 11 malam kita balik ke hotel.

Minggu, 5 Juli 2009

Minggu pagi, aku bangun sekitar jam 6.50 pagi. Kita makan pagi di Soto Cak Pardi, di seberang Hotel Sh*raton. Enak loh, hehe. Trus kita pergi ke kuburan kakek-nenekku. Jam 9an pagi kita balik ke hotel. Kemudian aku, mamaku, dan adikku pergi ke Tunjungan Plaza. Sekitar jam 1 siang kita bertemu dengan suadara dan makan siang di Duck King. Duck King memang prodesional lho. Memang harganya bisa dikategorikan mahal, tapi emang sebanding koq. Makanannya enak2, haha.

Trus, kita keliling Surabaya untuk mencari tempat servis AC. Saudaraku itu memiliki beberapa kenalan tapi tetep aja susah kan nyari yang buka di hari Minggu. Habis keliling Surabaya akhirnya ketemu satu. Habis dicoba2, mereka menyerah dan katanya sih harus ganti kompresor yang harganya mahal. Makanya kita memutuskan untuk nggak diapa2in aja mobilnya dan diservis di Jogja. Kemudian kita balik ke hotel.

Malamnya kita pergi ke pestanya. Pestanya ya kaya pesta2 gitu, agak mirip pesta pernikahan, haha. Habis pestanya kita pergi ke Surabaya Town Square. Trus balik deh.



Bersambung ...





Selanjutnya dalam Mid-Year Holiday : East Java


- Tanjung Kodok
- WBL
- Maharani Zoo dan Goa (Mazoogo) ==> yup, ini nama resminya! ANEH!!
- Tuban