ENGLISH
So, as you can read at
my previous entry
, yesterday (Sunday) I went to Jakarta with my bro cs. Originally, we planned to depart at about 9 AM. Okay, then at 9.15 AM I arrived at their hotel and they were still not ready, hahaha... . Finally we departed at 10.40 AM. The Bandung - Jakarta highway was just as usual, not really crowded. However, as we approached Pondok Gede Timur Tollgate, suddenly it became so crowded. Damn!! We were trapped for about 30 minutes there moving only about 1.5 km.
At 1 PM we arrived at Grand Indonesia Mall. It was my second time going there, the first time was at
this time
with my friends. Well, we just hung out there, walking around. Since we were hungry we ate at a Korean Restaurant. It was damn so expensive!! Arrrgghhh... . The taste was pretty good actually but the price was not worthed, hahaha... . At first we planned to have another meal at the food court but since the food court was so damn full and crowded we canceled that plan. Then, we watched the fountain show. It was still the same show (even the songs) as I watched before. After the show was finished, we left Grand Indonesia and went to Pacific Place.
Pacific Place is not really far away from Grand Indonesia. We arrived there about 25 minutes later. Pacific Place is also a great mall, hahaha, it was my first time stepping my feet there. Well, then we had meal at Fish & Co there. I ordered a Rp 65,000.oo Fish and Chips. It tasted really good!! hahaha... . Even the price is a bit high, but I think it's kinda worthed. Then we had a plan to watch a movie at Pacific Place's Blitz Megaplex. However, the only possible movie to watch was "Sex And The City" and of course we didn't execute the plan, LOL. Guess what?? Then they had another plan: "going to PVJ Bandung!!". What!?!?!? Well, okay, I agreed with them but I said I would only drop them off since I was soo exhausted driving all day long Bandung - Jakarta - Bandung, hahaha... . Okay, so that's what we did and at 5.30 PM we went back to Bandung. At 7.30 PM we arrived at Bandung (the highway was crowded at some points, damn!!).
Wimbledon 2008
Well, later on that night, I watched the Gentlemen's Finale of
Wimbledon 2008
between Roger Federer (SUI, world number 1) and Rafael Nadal (ESP, world number 2). It first appeared that seemingly Nadal would win the match easily after winning the first 2 sets 6 - 4; 6 - 4. But then, the match turned dramatically to one of the bestest matched I have ever seen!! Federer proved why he is world number 1. Starting on the third game, the match was really neck to neck causing a tie break. Federer won the tie break by 7 - 5. The third game was Federer's. The fourth game was no different. It was also a great match ended with another tie break. Federer again owned this match after winning the tie break by 10 - 8. The score was 2 - 2 now and the final set must be played. After the score was 2 - 2 and Deuce (40 - 40), a rain suspended the match, hahaha... :) The last set was also an intense and great set. They both played super-greatly. Unfortunately in the 15th game (the score was 7 - 7 and Federer served) Federer made some mistakes causing Nadal stole a point from him. On the 16th game, Nadal won the match!! Wow!! Congratz Nadal!!
Honestly at first I rooted for Federer to create a world record by winning Wimbledon 6 times consecutively. But watching the match, well, it was so intense and Nadal is also a great player!! hahaha... . It really was one of the bestest match I have ever seen!!
O yea, it was so obvious that Nadal was so joyful that he sobbed a bit. It was also obvious that Federer looked really really disappointed. Yea, of course, with that close match, it must have been depressing to lose, but that was a match!! Hmmm
Anyway, on the Ladies Double, Serena Williams and Venus Williams won the final match!! Wow. They won the Ladies Double and they were both on the final of Ladies Single!! Wah!! Great Job!! hahaha...
note:
because of the length of this entry I gotta change my original plan. At first my story today (Monday) was planned to also be written here but then I decided to make it as another entry that will be posted later. Hehehe...
::: one spot at Grand Indonesia (A Fountain and A Windmill)
::: another spot at Grand Indonesia (Food Court)
::: Fountain Show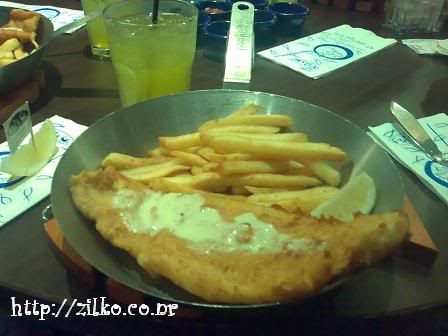 ::: my meal at Fish & Co (Fish and Chips)
::: one spot at Pacific Place (A Boat in A Mall)
::: Venus Williams won her fifth Wimbledon title, Serena came as The Runner Up
::: Venus and Serena Williams won the Ladies Double
::: joyful Nadal after he won the final match
::: disappointed Federer
::: Nadal and his trophy
note
: all Wimbledon Pictures are taken from the
official website

BAHASA INDONESIA
Jadi, seperti yang bisa dibaca pada
posting sebelumnya
, kemarin (Minggu) aku pergi ke Jakarta sama adikku dkk. Awalnya sih rencananya kita mau berangkat jam 9 pagi. Oke, aku sampe di hotel mereka jam 9.15 pagi dan mereka masih belum siap, hahaha... . Akhirnya baru berangkatnya jam 10.40 pagi deh. Jalan tol Bandung - Jakarta ya kemarin kaya biasanya deh, nggak terlalu rame. Namun, begitu mendekati Gerbang Tol Pondok Gede Timur mulai deh jadi macet banget. Sial!! Kita terjebak macet selama sekitar 30 menit dan cuma gerak sekitar 1,5 km.
Jam 1 siang kita sampai di Mall Grand Indonesia. Kemarin kali kedua deh aku kesana, kali pertama adalah pada
waktu ini
sama temen2ku. Hmm, ya kita jalan2 aja deh disana. Karena lapar kita makan di sebuah Restoran Korea. Harganya ternyata mahal banget!!! Arrrgghhh... . Rasanya sebenernya lumayan enak sih cuma harganya itu lho yang nggak sebanding, hahaha... . Pertamanya kita berencana mau makan lagi di food court nya namun karena food court nya lagi penuh buangett ya udah deh nggak jadi makan. Trus, kita nonton pertunjukan Air Mancur. Pertunjukannya masih sama aja kaya yang aku tonton sebelumnya sih (termasuk lagu2nya). Setelah show-nya selesai, kita meninggalkan Grand Indonesia dan menuju ke Pacific Place.
Pacific Place kan nggak jauh2 amat dari Grand Indonesia. Kita tiba disana sekitar 25 menit kemudian. Pacific Place juga bagus yah mall-nya, hahaha, pertama kalinya tuh aku menginjakkan kakiku disana. Hmm, kemudian kita makan di Fish & Co disana. Aku memesan Fish and Chips seharga Rp 65.000,oo. Rasanya enak banget loh!! hahaha... . Walau harganya lumayan tinggi juga tapi kan sebanding tuh sama rasanya. Kemudian kita berencana mau nonton di Blitz Megaplex yang di Pacific Place. Namun ternyata, satu2nya film yang memungkinkan untuk ditonton adalah "Sex And The City" dan tentu saja kita nggak jadi nonton dah, LOL. Dan bagaimana?? Mereka memiliki rencana lain: "pergi ke PVJ Bandung aja!!". Apa!?!?!? Hmm, oke aja sih, aku setuju sama mereka tapi aku ya bilang aku paling cuma nge-drop mereka di PVJ soalnya aku kan cuapeeekk banget dah nyetir seharian dari Bandung - Jakarta - Bandung, hahaha... . Oke, jadi itulah yang kami lakukan dan jam 5.30 sore kita balik ke Bandung. Jam 7.30 malem kita sampai di Bandung (jalan tol nya rame ey di beberapa tempat, siyal!!).
Wimbledon 2008
Hmm, kemudian malamnya, aku nonton Babak Final Pria dari
Wimbledon 2008
yang mempertemukan Roger Federer (SUI, peringkat 1 dunia) dengan Rafael Nadal (ESP, peringkat 2 dunia). Pertamanya kelihatannya Nadal akan menang dengan mudah tuh setelah memenangkan 2 set pertama dengan skor 6 - 4; 6 - 4. Namun kemudian, pertandingan berubah dramatis menjadi salah satu pertandingan paling kueerrreeennn banget yang pernah aku tonton!! Federer membuktikan mengapa dia itu peringkat 1 dunia. Mulai babak ketiga, pertandingan menjadi benar-benar ketat sekali dan menghasilkan tie break. Federer memenangkan tie break dengan skor 7 - 5. Babak ketiga menjadi milik Federer. Babak keempat juga nggak berbeda jauh. Babak itu juga merupakan suatu babak keren abizz dan berakhir dengan tie break lagi. Federer kembali memenangkan babak dengan memenangkan tie break dengan skor 10 - 8. Skornya kini 2 - 2 dan babak terakhir harus dimainkan. Setelah skor-nya jadi 2 - 2 juga dan Deuce (40 - 40) eh hujan turun lagi menunda pertandingannya, hahaha... :) Babak terakhir juga keren banget tuh. Mereka berdua main dengan sangat baik sekali. Sayangnya, di game ke 15 (Federer yang serve) dia membuat beberapa kesalahan sehingga Nadal berhasil merebut game itu. Di game ke 16 akhirnya Nadal deh yang menang!! Wow!! Selamat Nadal!!
Jujur nih pertamanya aku dukung Federer deh biar dia mencetak rekor dunia dengan memenangkan Wimbledon 6 kali berturut-turut. Namun menonton pertandingan kemarin, hmmm, benar-benar ketat dan Nadal juga pemain yang hebat banget!! hahaha... . Bener-bener salah satu pertandingan terkereeennnnn yang pernah aku tonton dah!!
O iya, kelihatan jelas banget dah Nadal begitu gembira dan sampe nangis terharu loh. Terlihat jelas pula kalau Federer kelihatan sangaaattt kecewa banget. Ya, tentu saja sih, setelah pertandingan seru banget itu, tentu saja akan sangat menyakitkan untuk kalah, tapi ya itu lah pertandingan!! Hmmm
Ngomong2, di Double Wanita, Serena Williams dan Venus Williams memenangkan babak final nya!! Wow. Mereka memenangkan Double Wanita dan mereka semua ada di final Single Wanita!! Wah!! hebat banget dah!! hahaha...
catatan:
karena panjangnya postingan ini maka aku harus mengganti rencana awalku. Pertamanya ceritaku hari ini (Senin) juga akan ditulis jadi satu sama posting ini, namun kemudian aku memutuskan untuk menuliskannya di posting selanjutnya aja deh. Hehehe...