ENGLISH
So, yesterday I went back to Yogyakarta, hahaha... . I didn't take the usual route (direct train from Bandung to Yogyakarta) but I took the other route I also used to go. I caught a flight from Jakarta to Yogyakarta. As you can read at
my previous entry
, I caught a Mandala flight. Yesterday I departed at 4 AM from Bandung catching a travel to Soekarno-Hatta Int'l Airport. At about 6.30 AM I arrived at Terminal 1C.
Anyway, something had really made me angry that morning!! Damn!! Here is the story: After checking in and paying the airport tax I walked towards the Waiting Lounge. I was so hungry and decided to had meal at one restaurant there. Goddamn it!! The price was so expensive!! I ordered the cheapest one: a Rp 15,000.oo fried chicken and an iced tea which cost Rp 4,000.oo. So, the total was Rp 19,000.oo. Then, when the bill came, I had to pay Rp 24,000.oo!! WTF!!! Of course I didn't want to pay that much!! I had an evidence. The menu book was still in my table and I showed the waiter that the price of fried chicken was Rp 15,000.oo. He insisted it was Rp 20,000.oo!! He said in

OTHER

menu books and in the computer it was Rp 20,000.oo. Hello?? I didn't give a crap on what the

OTHER

menu books had. I ordered my meal based on the menu book they gave to me, NOT the other menu books or the computer, right? I ordered it because its price was Rp 15,000.oo on MY menu book!! Finally they gave in and gave my Rp 5,000.oo back. This incident brought my mood down a bit after that....
At 7.30 AM I walked to the waiting lounge. At 8.45 AM we embarked the aircraft (Mandala's Airbus A 320-212 reg code PK-RMG) of flight RI 350. At 9 AM the aircraft took off thru runway 25L Soekarno-Hatta Airport. Well, Mandala's Airbus A320 is a modern and cool aircraft. However, now Mandala is a
LCC
, of course the seat configuration is not as comfortable as Garuda's, hahaha... . The seat pitch was so narrow that when I sit, my knees touched the seat in front of me!!
Plus, there was a woman sitting in front of me who was so egoistic!! She bended her chair backward (towards me). Hey!! She must have known that the seat was so narrow and she did that?? Well, okay, since I still could move pretty freely, I didn't complain. HOWEVER, five minutes before landing, the stewardess asked all passengers to put all chairs back to the normal position (for safety) and she did NOT do that!! WTF!! Lucky one stewardess asked her to do so! hahaha... .
At 10 AM we landed at runway 09 at Adisucipto Airport. Yeaahh!! We landed at runway 09, I had been waiting for that for a long time (I seated at A yesterday). So I can look Yogyakarta from the sky, cool. The last time I went to Yogyakarta catching a flight (which was
this time
), we landed at runway 27.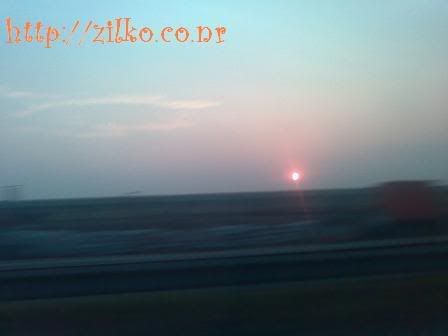 ::: sunrise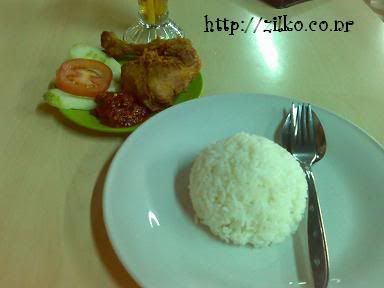 ::: controversial fried chicken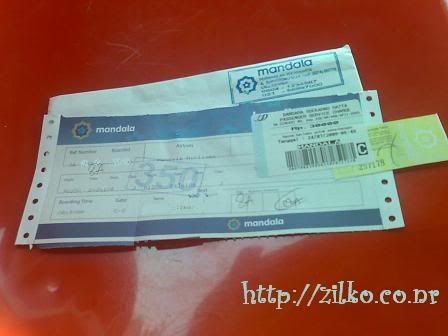 ::: my boarding pass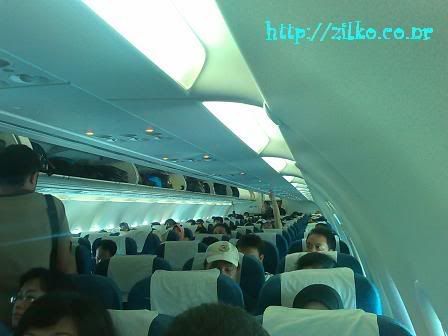 ::: inside Mandala's Airbus A320-212 reg code PK-RMG flight no RI 350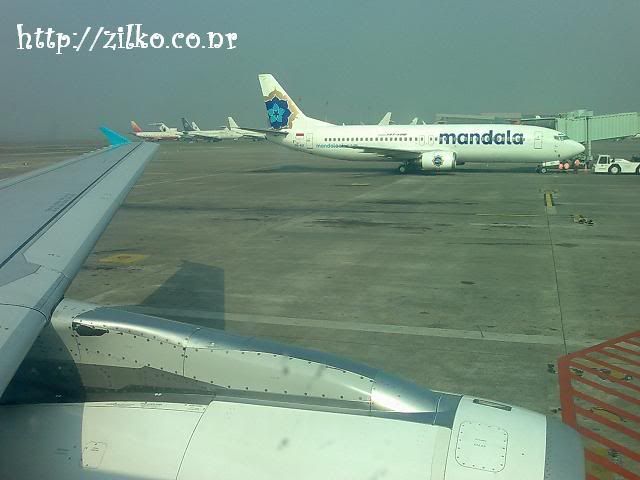 ::: Mandala's Boeing 737-4Y0 reg code PK-RIT looked from my window (you can see my aircraft's wing and engine)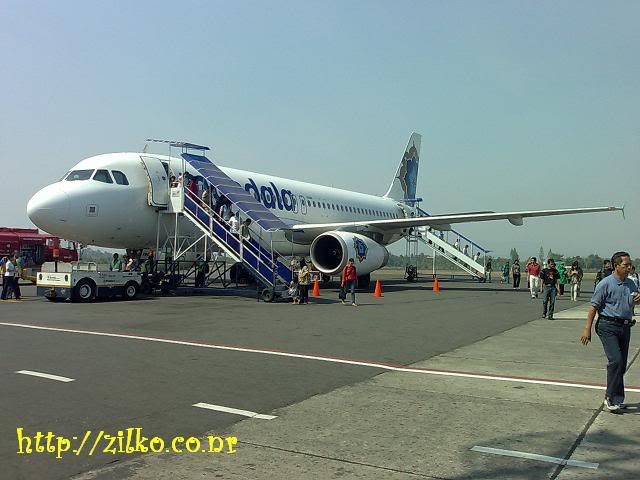 ::: Mandala's Airbus A320-212 reg code PK-RMG which brought me to Yogyakarta after landing at Adisucipto Airport.

BAHASA INDONESIA
Jadi, kemarin aku balik lagi ke Yogyakarta, hahaha... . Aku nggak ngambil rute biasanya (naik kereta langsung dari Bandung ke Yogyakarta) tapi aku mengambil rute satunya yang dulu juga sering aku tempuh. Aku naik pesawat dari Jakarta ke Yogyakarta. Seperti yang bisa dibaca pada
posting ini
, aku naik penerbangannya Mandala. Kemarin aku berangkat jam 4 pagi dari Bandung naik travel menuju Bandara Internasional Soekarno-Hatta. Sekitar jam 6.30 pagi kita udah sampai di Terminal 1C.
Ngomong2, sebuah kejadian benar2 membuat aku marah kemarin pagi!! Sial!! Begini ceritanya: Habis check in dan membayar airport tax aku jalan ke Ruang Tunggu. Berhubung aku lapar banget makanya aku terus makan di sebuah restoran. Sialan!! Harganya mahal-mahal bener uy!! Aku pesan yang paling murah saja: ayam goreng seharga Rp 15.000,oo dan es teh tawar seharga Rp 4.000,oo. Jadi, totalnya kan Rp 19.000,oo. Kemudian waktu bill-nya datang, aku harus bayar Rp 24.000,oo!! WTF!! Tentu saja dong aku nggak mau bayar semahal itu!! Aku punya bukti. Buku menunya masih di mejaku dan aku tunjukkan ke pelayannya kalo harga ayam goreng itu Rp 15.000,oo. Dia ngeyel harganya tuh Rp 20.000,oo!! Dia bilang di buku menu

LAINNYA

dan di komputer harganya Rp 20.000,oo. Halo?? Aku nggak ngurus lah di buku menu

lain

ato di komputer harganya berapa. Aku pesan kan berdasarkan buku menu yang mereka kasi ke saya, BUKAN berdasarkan buku menu lain ato komputer kan? Aku memesannya soalnya harganya kan Rp 15.000,oo di buku menu ku!! Akhirnya mereka kalah dan mengembalikan Rp 5.000,oo saya. Insiden ini bener2 bikin mood saya agak emosi neh habis itu....
Jam 7.30 pagi aku berjalan ke Ruang Tunggu nya. Jam 8.45 pagi kita memasuki pesawat (Mandala Airbus A 320-212 kode registrasi PK-RMG) nomor penerbangan RI 350. Jam 9 pagi pesawatnya lepas landas melalui Runway 25L Bandara Soekarno-Hatta. Hmm, pesawat Airbus A320 nya Mandala itu modern dan bagus memang. Namun karena Mandala kan
LCC
, tentu saja susunan kursinya nggak senyaman Garuda, hahaha... . Jarak antar kursinya tu sempit banget bahkan waktu aku duduk lututku sampe kena kursi di depanku lho!!
Plus, ada seorang ibu2 duduk di depan saya yang egois banget lagi!! Dia menyandarkan kursinya ke belakang (ke arah saya). Hey!! Udah tau kursinya itu jaraknya sempit banget eh dia berbuat demikian?? Hmm, oke deh karena aku masih bisa cukup bebas bergerak aku diamin saja. NAMUN, lima menit sebelum mendarat kan pramugari meminta semua penumpang untuk menegakkan sandaran kursi (demi keselamatan), eh dia NGGAK melakukannya!! WTF!! Untungnya seorang pramugari menegurnya! hahaha... .
Jam 10 pagi aku mendarat di runway 09 Bandara Adisucipto. Yeaahh!! Kita mendarat di runway 09, udah aku tunggu-tunggu banget dah tuh (aku duduk di kursi deretan A kemarin). Jadinya bisa lihat Yogyakarta dari atas waktu mendarat deh, keren. Terakhir kali ke Yogyakarta naik pesawat (yaitu adalah
waktu ini
), kita mendarat di runway 27.