ENGLISH
So, yesterday I went back to Yogyakarta. I caught a flight from Jakarta, so yesterday morning at 11 AM I caught a travel to go to Soekarno-Hatta Int'l Airport. At about 1.50 PM I arrived at the airport. I already paid for GA 212 flight which would depart at 4.30 PM. However, there was another Garuda flight to Yogyakarta (GA 210) which should depart at 2.50 PM but was delayed until 3.30 PM. I asked whether there was available seat or not on GA 210, and there was ONE!! haha... . So, I planned to change my flight to GA 210, but apparently, I gotta pay Rp 191,000.oo. Grrr... . Of course I didn't want to and sticked with my GA 212 flight, haha... . I would still rather keep the Rp 191,000.oo and waited at the executive lounge for free at Terminal 2F Soekarno Hatta Int'l Airport.
So, at 2.20 PM I checked in at GA 212 counter, and then walked to Mandiri Executive Lounge, hehe... ;) (I borrowed my dad's credit card so I could enter the lounge for free, hehehe... :D). There I relaxed and ate some tofus, waffles, omelets, hahaha... . At 4.05 PM there was a boarding call for GA 212 and I left the lounge and walked to the gate (F-4). I boarded the plane (Garuda Indonesia Boeing 737-36N reg code PK-GGT flight number GA 212) and at 4.30 PM my flight took off thru runway 25/R Soekarno-Hatta Airport. Damn, my flight landed at runway 27 Adisutjipto Airport (I wish twas thru runway 09, because if we landed on runway 09, we flew above the city of Yogyakarta, haha... :D) at 5.28 PM.
Btw, today I accompanied my dad to go to 2 plant exhibitions (at Magelang St and at McDonald Soedirman's Parking Area). Arrgghhh, twas so hot and I didn't really enjoy it.... . The last time I went to plant exhibition was at
this time
.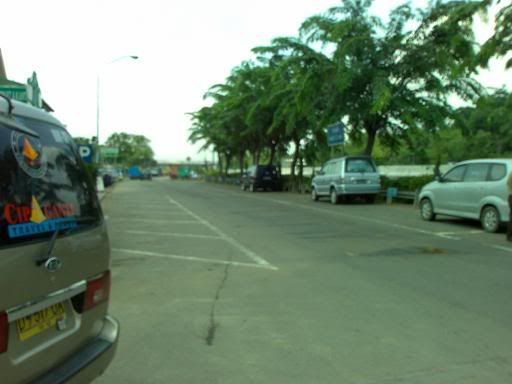 ::: One spot at Cikampek - Jakarta Highway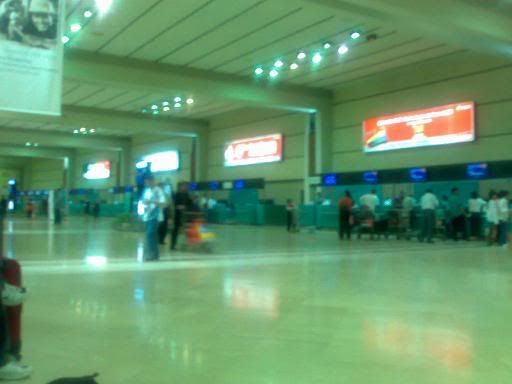 ::: Terminal 2 F of Soekarno Hatta Int'l Airport's Check-In Area
::: My Boarding Pass and ticket
::: Mandiri Executive Lounge Soekarno-Hatta airport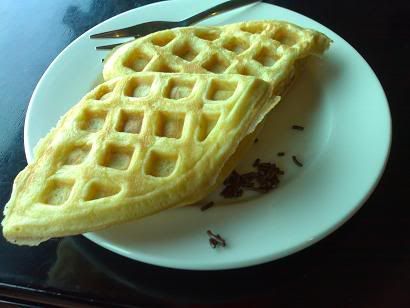 ::: waffles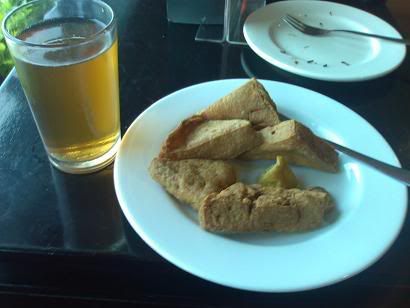 ::: tofus and iced lemon tea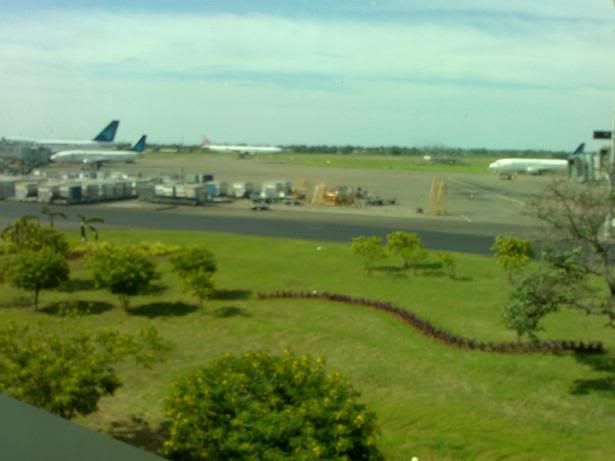 ::: one spot at Soekarno-Hatta Int'l Airport Terminal 2 Area. You can see 1 Garuda's Boeing 747-400 parking, 1 Garuda's Boeing 737-400 was ready for taxiing, 1 Garuda's Boeing 737-300 was being pushed back, and China Airline's Airbus A-340 taxiing to runway 27/R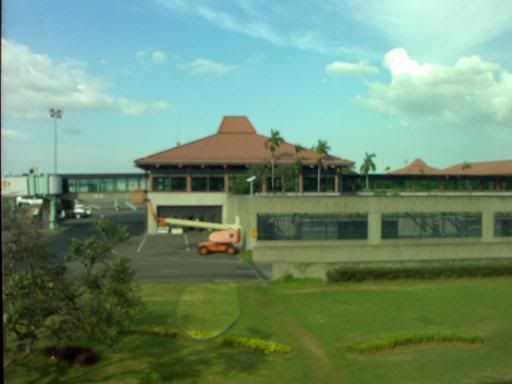 ::: Gate F-1 at Terminal 2F (taken from the executive lounge)
::: Welcome to Adisucipto Airport Yogyakarta. You can see 1 Adam Air's Boeing 737-408 PK-KKT and 1 Mandala's Airbus A-320-232 PK-RME parking
::: Garuda Indonesia's Boeing 737-36N reg code PK-GGT flight number GA 212 which brought me to Jogja after parking at Adisucipto Airport Yogyakarta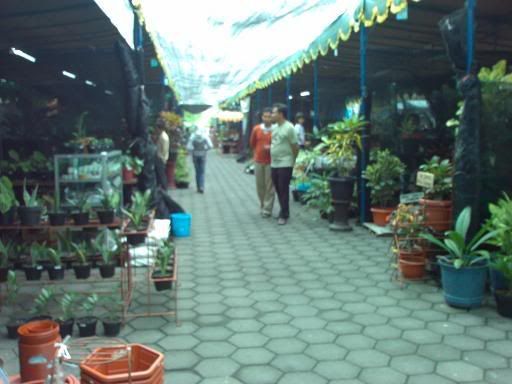 ::: Plant Exhibition at Magelang St.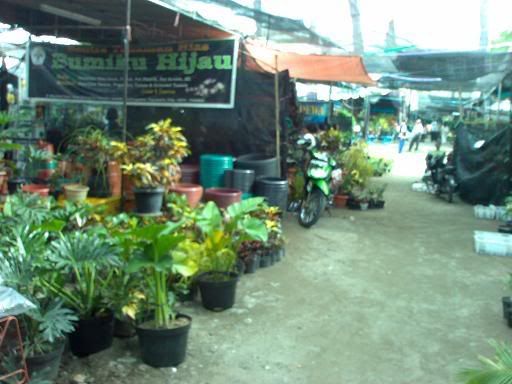 ::: Plant Exhibition at McDonald Soedirman Parking Area

BAHASA INDONESIA
Jadi, kemarin aku balik lagi deh ke Yogyakarta. Aku naik pesawat dari Jakarta, makanya kemarin pagian gitu jam 11 aku naik travel tujuan Bandara Internasional Soekarno-Hatta, Jakarta. Sekitar jam 1.50 siang aku sampe di bandaranya. Aku udah beli tu tiket penerbangan GA 212 yang berangkat jam 4.30 sore. Nah, Garuda kan ada penerbangan lain tujuan Yogyakarta (GA 210) yang harusnya berangkat jam 2.50 siang tp telat jadi baru berangkat jam 3.30 siang. Aku nanya aja ada gak kursi yg kosong di tu penerbangan GA 210, dan ada SATU!! haha... . Jadi sementara aku mau ganti penerbangan tu ke GA 210, eh ternyata disuru bayar Rp 191.000,oo. Grrr... . Enak aja, jelas lah aku gamau dan mending ngirit Rp 191.000,oo dan menunggu di executive lounge di Terminal 2F dengan gratis.
Jadi, jam 2.20 siang aku check-in di konter GA 212, trus jalan ke Ruang Tunggu Eksekutif Mandiri, hehe... ;) (kan aku pinjem kartu kreditnya papaku jadi bisa masuk ruang tunggu eksekutif itu dengan gratis, hehehe... :D). Disana ya aku santai2 aja dan makan tahu, wafel, omelet, hahaha... . Jam 4.05 sore ada panggilan naik pesawat untuk GA 212 dan aku ya ninggalin tu ruang tunggu trus menuju gate-nya (F-4). Aku naik ke pesawat (Garuda Indonesia Boeing 737-36N kode registrasi PK-GGT nomer penerbangan GA 212) dan jam 4.30 tepat pesawatku lepas landas melalui landasan pacu 27/R Bandara Soekarno-Hatta. Sialan neh, pesawatku mendaratnya di landasan pacu 27 Bandar Adisucipto (aku harap mendarat di runway 09 soale kalo mendarat di runway 09, berarti kita terbang di atas kota Yogyakarta, haha... :D) jam 5.28 sore.
Btw, hari ini tadi aku nemeni papaku pergi ke 2 pameran taneman (di Jalan Magelang dan di Parkiran Mc Donald). Arrgghhh, panas bgt tu dan aku gak gitu menikmati.... . Terakhir aku ke pameran taneman adalah pada
waktu ini
.