ENGLISH
Last Thursday I watched the seventh episode of
TARA 2
. All teams stayed in Korea, they just went from Busan to Seoul. As we (forumers) had predicted before, twas a NEL, hehe (and next leg there would be an "

Intersection

"). WTF, Marc & Rovilson were #1 again!! Arrrgggghhhh.... . Now it's boring, damn it. #1 five times consecutively?? Damn!! Anyway, Henry & Terri came in last and they got penalty. The shocking news is that twas not a '

marked-for-elimination

' penalty but a '

taking-away-all-money

' penalty.
Hmm, personally I think the penalty was wrong since there would be an equalizer next leg. That equalizer would make this penalty not-so-burdening since Henter could beg for money at the airport, on board, or sumwhere else. If twas a '

marked-for-elimination

' penalty, they still got burden on their shoulders which was they gotta come in first OR they would get a 30 minutes penalty, hmmm... . I think the penalty placing was reversed with the one Edwin & Monica had on the first leg. Since there was no equalizer on the 2nd leg, then why should they get a '

marked-for-elimination

' penalty? They were already in last, no chance to catch up (no equalizer), and there was no point for adding another 30 minutes on their shoulders... ;) The penalty became useless
Anyway, I think next leg, there would be an intersection (following the pattern on TAR 10 and TAR 11, an

intersection

in top 6 in a leg after a NEL). So, according to some spoilers, it's gonnabe in Prague, Czech Republic. Take a look at the pic below (pic #3) which was taken by a local on 17th July 2007, hehe... ;) We can see Adrian & Collin (look at their clothes) and an

intersection

sign (compare with pic #4, the

intersection

sign on TAR 10 (Madagascar Leg)). Haha, so I think it's gonnabe in Prague. Wow, they went to Europe!! Interesting!! :)
Anyway, for my daily life update, wait for my next entries, hehehe... ;)
::: Pamela on the

Road-Block
::: Paula & Natasha on the "

Too Heavy

"

Detou

r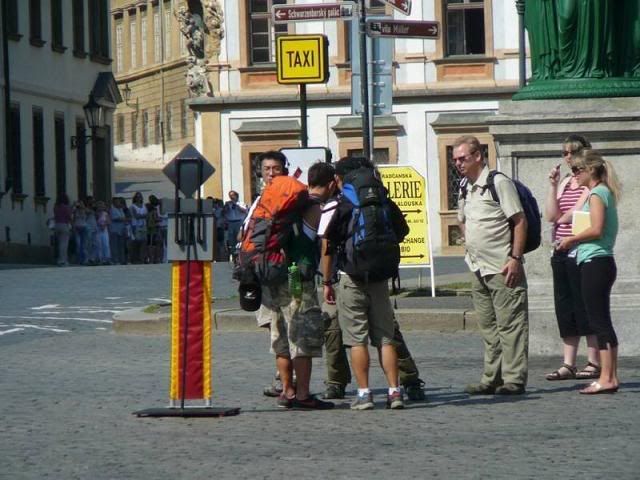 ::: A Spoiler. A picture of Adrian & Collin near a clue-box taken by local in Prague, 17th July 2007. We can also see an

intersection

sign there
::: An

intersection

sign on TAR 10 (Madagascar Leg), compare it w/ the sign on pic #3 above

BAHASA INDONESIA
Kemarin Kamis aku nonton episode ketujuh dari
TARA 2
. Semua tim tetep di Korea, cuma mereka mesti pergi dari Busan ke Seoul. Seperti yang kita (forumers) prediksikan sebelumnya, ini adalah babak non-eliminasi (NEL), hehe (dan babak berikutnya akan ada yang namanya "

Intersection

"). WTF, masa Marc & Rovilson sih yang juara #1 lagi!! Arrrgggghhhh.... . Sekarang kan jadi membosankan, sialan. #1 lima kali berturut-turut?? Sial!! Ngomong2, Henry & Terri yang terakhir tuh dan kena penalti. Yang mengejutkan adalah penaltinya tu bukan penalti '

ditandai-eliminasi

' tapi penalti '

semua-uang-diambil

'.
Hmm, menurutku nih, penaltinya kurang tepat sasaran deh soale kan di babak berikutnya akan ada equalizer. Nah, equalizer itu kan akan membuat penaltinya jadi nggak-terlalu-membebani Henter tuh soale mereka jadi bisa minta2 duit di bandara ato di pesawat kan, ato dimana kek. Nah, kalo misalnya penaltinya itu '

ditandai-eliminasi

', mereka kan tetep punya beban di pundak mereka. Mereka harus sampai di pitstop pertama atau mereka akan kena penalti 30 menit, hmmm... . Aku rasa sih penempatan penaltinya terbalik sama yang didapet Edwin & Monica di leg 1. Karena nggak ada equalizer di leg 2, trus kenapa mereka mesti dapet penalti '

ditandai-eliminasi

'? Lha mereka udah di belakang, nggak ada kemungkinan buat nyusul (ga ada equalizer), dan nggak berguna kan nambahin beban 30 menit kalo mereka udah di belakang. Penaltinya jadi gak berguna
Ngomong2, menurutku di babak selanjutnya, akan ada intersection (mengikuti pola yang ada di TAR 10 sama TAR 11 tu,

intersection

di 6 besar dan 1 leg setelah NEL). Makanya, berdasarkan bocoran, babak berikutnya akan ada di Praha, Republik Ceko tuh. Liat deh gambar di atas (gambar #3) yang diambil oleh orang lokal pada tanggal 17 Juli 2007, hehe... ;) Kita bisa melihat Adrian & Collin (liat aja bajunya) dan tanda

intersection

(bandingkan dengan gambar #4, yg nunjukin gambar tanda

intersection

di TAR 10 (babak Madagascar)). Haha, jadi besok akan ada di Praha tuh. Wah, mereka pergi ke Eropa!! Menarik!! :)
Ngomong2, posting tentang sehari-hari saya, hmm, tunggu posting selanjutnya yah, hehehe... ;
)