ENGLISH
Yesterday afternoon I went back to Bandung. Well, because Merpati ceased Jogjakarta - Bandung flight for a while (because of one of their aircrafts is broken down), so I decided to take a flight first to Jakarta then went to Bandung cacthing a travel. Okay, so yesterday at 12.45 PM I went to Adisucipto Airport.
At 2.15 PM I boarded my flight (Garuda Indonesia GA 209 Boeing 737-4MO reg code PK-GZM). Anyway, apparently I was on the same flight with GUS DUR (the 4th former president of Indonesia)!! Hahaha... ;) Then my flight was an important flight, LOL. At 2.30 PM we took off thru runway 27 Adisutjipto International Airport. At 3.20 PM our flight landed thru runway 25/R at Soekarno Hatta International Airport. Then, after taking my luggages, I went to the travel counter and took the travel to Bandung. It departed at 4.10 PM (the guy said the departure was gonnabe at 5 PM and I was like "What??", lucky he was wrong). We arrived at Bandung at 7 PM
Anyway, today I had my FRS at campus. Most of my final scores have been announced (except Linear Algebra, but I'm pretty sure I'll get A for this subject... :D). So, my score :

Probability Theory (Final Score : 91 = A), Financial Math (Final score : 80.8 = A), Math Method (Final Score : 96.4 = A), Physics (Final Score : 91 = A), Computation (Final Score : 96 = A), Advance Calculus (Final Score : 89 = A)

. Haha, so I get GPA 4.00 for my third semester!! Yaay!! hehehehe... ;) Anyway, so for next semester I'm taking 22 credits (maximum: 24 credits).
Btw, now the Building 10 in Unpar is under-construction, hmmm...
Yesterday I watched the eighth episode of
TARA 2
. All teams left Korea and went to Prague, Czech Republic (they used Frankfurt as a stop-over, arrgghh, what's that for?). It was a NEL again and Henry & Terri were saved again!! Hmmm... . Next leg they would incur a 'marked-for-elimination' penalty tho). Apparently the intersection would be next leg, hmm... . The weird thing is that Paula & Natasha departed #4 before Ann & Diane while on leg 6, it's clear that Ann & Diane finished #4 and Paula & Natasha #5, hmm...). Btw, yesterday I got another AGs from The Desperate Housewives, Ann & Diane!! hehehe... :) So, now I have had AGs from Ann, Diane, Marc, Rovilson, Paula and Terri, hehe... ;)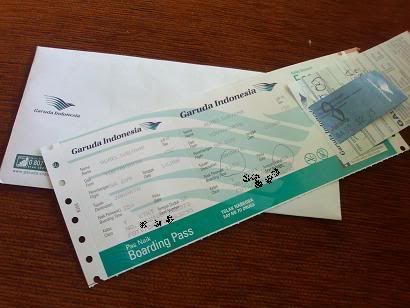 ::: My Boarding Pass & Ticket
::: Adisucipto Airport's Executive Waiting Lounge (I used my dad's credit card to enter this lounge, hohohoho... :D)
::: Mandala's Airbus A-320 from Banjarmasin (wah, A-320 can land in Jogja, GR8!!)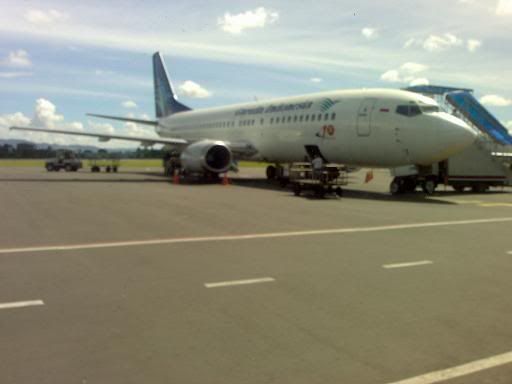 ::: Garuda Indonesia Boeing 737-4MO reg code PK-GZM flight number GA 209 which brought me to Jakarta
::: Henry @ The

Road-Block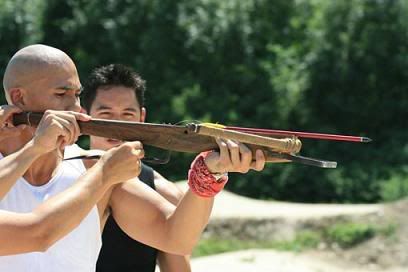 ::: Rovilson & Marc on the BOW

Detour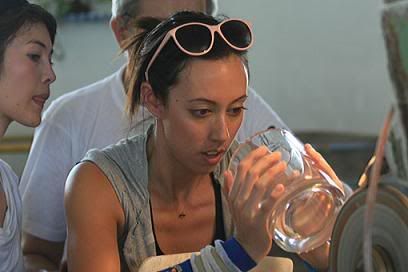 ::: Natasha & Paula on the BLOW

Detour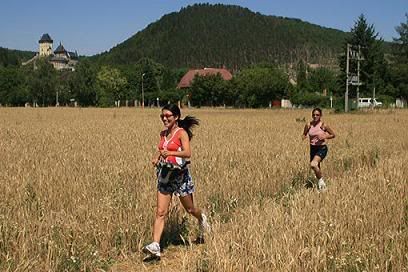 ::: Ann & Diane running to the pitstop. They gave me their AGs yesterday!! Thanks to Riki!
::: Diane's (upper) and Ann's (below) AGs for me. THANKS Riki!! :)

BAHASA INDONESIA
Kemarin siang aku balik ke Bandung. Ya karena Merpati menghentikan sementara penerbangan Jogjakarta - Bandung (gara2 1 pesawatnya rusak tuh), jadinya aku milih naik penerbangan ke Jakarta dulu trus ke Bandung naik travel. Oke, jadi kemarin jam 12.45 siang aku ke Bandara Adisucipto.
Jam 2.15 siang aku naik ke pesawatku (Garuda Indonesia GA 209 Boeing 737-4MO kode registrasi PK-GZM). Eh, ternyata aku satu pesawat sama GUS DUR (mantan presiden ke-4 Indonesia) loh!! Hahaha... ;) Ternyata penerbangan saya adalah penerbangan super penting, LOL. Jam 2.30 sore kita lepas landas dari runway 27 di Bandara Adisucipto. Jam 3.20 sore kita mendarat melalui runway 25/R di Bandara Soekarno-Hatta Jakarta. Trus habis ngambil bagasi aku jalan ke konter travelnya dan naik travel deh ke Bandung. Berangkatnya jam 4.10 tuh (orangnya malah bilang kalo berangkatnya bakalan jam 5, aku ya "Hah??", untung dia salah). Kita sampe Bandung jam 7 malem.
Ngomong2, hari ini aku perwalian di kampus. Kebanyakan nilai akhirku ud keluar (kecuali Aljabar Linear, tp aku lumayan yakin deh dapet A di matkul ini... :D). Jadi, nilai akhirku :

Teori Peluang (Nilai akhir : 91 = A), Mat Keuangan (Nilai akhir : 80,8 = A), Metoda Matematika (Nilai akhir : 96,4 = A), Fisika (Nilai akhir : 91 = A), Komputasi Matematika (Nilai akhir : 96 = A), Kalkulus Lanjut (Nilai Akhir : 89 = A)

. Jadi ya IPK saya semester ini 4,00 deh!! Yaay!! hehehehe... ;) Semester besok aku ngambil 22 sks nih (maksimalnya kan 24 sks)
Btw, skarang Gedung 10 beneran lagi dibangun tu di Unpar, hmmm...
Kemarin aku nonton episode kedelapan dari
TARA 2
. Semua tim pergi dari Korea ke Praha, Republik Ceko (mereka singgah doank di Frankfurt tuh, arrgghh, untuk apa?). Dan kemarin adalah babak NEL lagi dan Henry & Terri selamat lagi!! Hmmm... . Babak berikutnya mereka akan dikenai penalty 'ditandai eliminasi' tuh). Ternyata intersection-nya bakalan di babak selanjutnya, hmm... . Yang aneh adalah Paula & Natasha berangkat nomer 4 sebelum Ann & Diane padahal di babak 6, Ann & Diane kan sampe di pitstop #4 dan Paula & Natasha #5, hmm...). Btw, kemarin aku dapet AGs lagi loh dari The Desperate Housewives, Ann & Diane !! hehehe... :) Jadinya skarang uda punya AG dari Ann, Diane, Marc, Rovilson, Paula, dan Terri deh, hehe... ;)