ENGLISH
Haha, these days have been really 'full' for me. Some relatives come from Jakarta and Surabaya and I of course accompanied them to go to some places in Yogyakarta. On Friday evening we had dinner at Mie Kadin. It's a Javanese Noodle, hehe, just like Doring.
Then, on Sunday we went to Boyong Kalegan (again, for me), hehe... :) Actually the meal in Boyong is not really delicious. However the owner was really smart by not only creating a restaurant but also a recreational site. Some others restaurants are actually a lot more delicious than Boyong but since the owners only created restaurants, nothing more (no more plus(es)), they are nearly to bankruptcy now. Sunday evening, we had dinner at Cok Diam Fried Rice (it's only a 'warung' on the curb of the street, not a big restaurant). I dunno, but I think usually the fried rice is a lot more tasty than last evening, I dunno why
Today is my grandma's 77th birthday!! Congratz!! hehe... ;) So, this morning we went to Parangtritis Beach (where my grandpa's ashes were 'sent' about 11.5 years ago). We thought today is a perfect moment because all my grandparents' children are now in Yogya, hehe... ;) So, at 10 AM we went there. Unluckily, it was raining pretty hard!! Arrrghhh... . So, eventho we already arrived at the beach, we gotta wait for abt 1 hr. Then, we went back to Jogja and had lunch at Soeharti Restaurant. There will be a celebration tonight, and the update will be posted later, hehe... ;)
::: Mie Kadin
::: "
Mie Kuah
"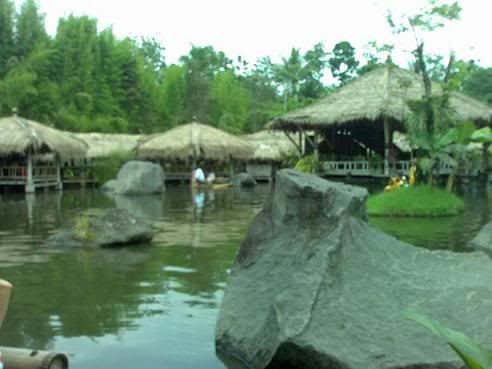 ::: Boyong Kalegan
::: Cok Diam Fried Rice
::: Fried Rice @ Cok Diam
::: Parangtritis Beach - 1
::: Parangtritis Beach - 2

BAHASA INDONESIA
Haha, akhir2 ini bener2 'penuh' neh buat saya. Sodara2 dari Jakarta dan Surabaya dateng semua dan tentu saja kan aku ya nemeni mereka pergi ke beberapa tempat di Yogyakarta. Jumat malem kita makan malem di Mie Kadin. Ini adalah Mie Jawa tuh, hehe, mirip kaya Doring lah.
Trus, di hari Minggu kita pergi ke Boyong Kalegan (lagi, untuk saya), hehe... ;) Sebenernya makanan di Boyong tu nggak begitu enak loh. Tapi pemiliknya pinter tuh dengan nggak cuma membangun restoran aja tapi juga sebuah tempat rekreasi. Beberapa restoran lain makanannya itu jauh lebih enak dari Boyong, tapi ya pemiliknya cuma bikin restoran gitu doang, ga lebih (ga ada nilai plus-nya), makanya mereka hampir bangkrut tuh. Minggu malam, kita makan di Nasi Goreng Cok Dian (cuma warung di pinggir jalan gitu, bukan restoran besar). Gatau sih, biasanya nasi gorengnya lebih enak dari semalem deh, tau deh kenapa
Hari ini adalah ulang tahun ke-77 dr nenek saya!! Selamat!! hehe... ;) Jadi, pagi tadi kita pergi ke Pantai Parangtritis (dimana abu-nya kakek saya kan dilarung disitu sekitar 11,5 tahun yg lalu). Kita kira hari ini tuh pas soalnya kan mumpung semua anak dari opa-oma ada di Yogya semua, hehe... ;) Jadi, jam 10 pagi kita kesana. Malangnya, hujan deres tu disana!! Arrrghhh... . Jadi, walau kita udah nyampe tu di pantainya, tp ya tetep mesti nunggu sekitar 1 jam deh sampe hujan reda. Trus kita balik ke Jogja dan makan siang di Restoran Suharti. Akan ada perayaan sih nanti malam, dan update akan diposting kemudian, hehe... ;)