ENGLISH
Finally, yesterday I went back to Bandung. My flight was GA 209 which on schedule departed at 1.45 PM. So, yesterday morning my friend and I hanged out first. We had brunch at Kiko Restaurant. Then, we went to Bakpia 75 to buy some hand-gifts for my friends in Bandung... :)
At 12.30 PM I went to the airport. Since I still had many times, I went to an art shop and saw a plane miniature there, hehe... :) I really like the Garuda's Boeing 737 (both 300 and 400 series) miniature and bought the 737-400 series, haha... :D Then, I went to the executive lounge and apparently, the lounge is a hotspot area!! hahaha... :) Okay, so I turned my lapty on and browsed the net. Several minutes later, there was an announcement saying that Garuda Indonesia GA 208 would be late landing at Jogjakarta, of course, affecting the GA 209 flight. It was delayed for about 40 minutes. Well, for me it's not really bad since that meant I wouldn't have to wait for a long time in Jakarta for my travel to Bandung, hehe... :)
Then, at 1.50 PM, Garuda Indonesia GA 208 landed from Jakarta thru runway 09. At 2.20 PM, we boarded the plane, Garuda Indonesia Boeing 737-36N reg code PK-GGU flight number GA 209. At 2.35 PM we took off from runway 27. At about 3.25 PM, we landed at Soekarno-Hatta International Airport thru runway 25R. If at
this time
, I was on the same flight with Gus Dur, yesterday I was on the same flight with
Mamiek
, haha... :) Then, at 4 PM my travel departed and arrived at Bandung at 7 PM.
Anyway, today was my first lecture day, hehe... :) Since it's still my first day so it's not really serious tho, hehe... :) Anyway, now my Algebra Linear score has been published, I get an A, hahaha... :) So now it's official that my 3rd semester GPA is 4.00, LOL. About my schedule this semester, hmm, I think I'll post later, haha.. . But it's pretty good that Saturday is my OFF Day now... :D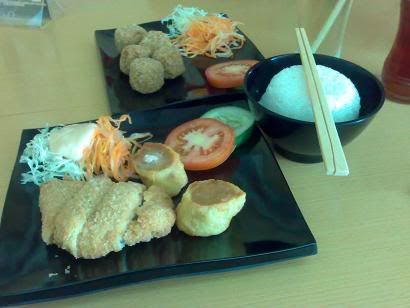 ::: my meal at Kiko Restaurant
::: my Garuda Indonesia Boeing 737-400 PK-GZF miniature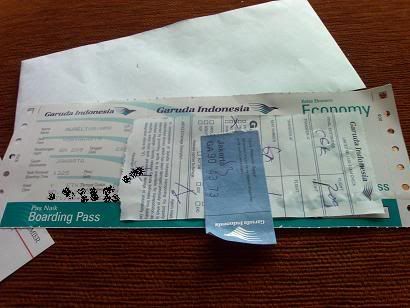 ::: my boarding pass and ticket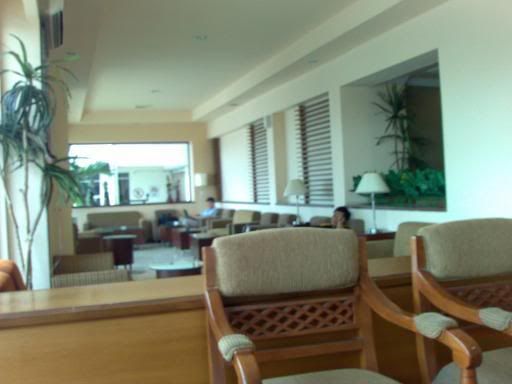 ::: executive lounge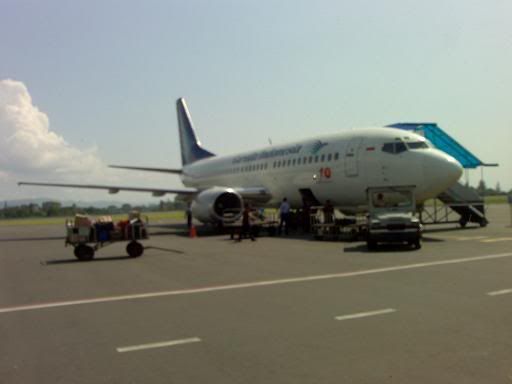 ::: Garuda Indonesia Boeing 737-36N reg code PK-GGU flight number GA 209 which brought me to Jakarta

BAHASA INDONESIA
Akhirnya, kemarin aku balik ke Bandung deh. Penerbanganku adalah GA 209 yang menurut jadwal sih berangkarnya jam 1.45 siang. Jadi, kemarin pagi aku sama temenku jalan2 dulu deh. Pertama kita makan pagi di Restoran Kiko. Trus, kita pergi ke Bakpia 75 buat beli oleh2 buat temen2ku di Bandung... :)
Jam 12.30 siang aku pergi ke bandara. Karena ada banyak waktu, aku jalan2 deh ke art shop dulu dan liat miniatur pesawat disana, hehe... :) Aku suka tu sama miniaturnya Garuda Boeing 737 (seri 300 dan 400) dan akhirnya beli yang seri 400, haha... :D Trus aku pergi ke executive lounge-nya dan ternyata tuh lounge hotspot loh!! hahaha... :) oke, aku nyalain laptopku dan internetan deh. Beberapa menit kemudian, ada pengumuman bahwa Garuda Indonesia GA 208 akan terlambat mendarat di Jogjakarta, tentu saja, berakibat pada penerbangan GA 209 tuh. Jadinya tertunda deh selama sekitar 40 menitan gitu. Hmm, untuk aku nggak jelek2 amat sih soalnya itu berarti aku nggak harus menunggu lama di Jakarta untuk travelku ke Bandung, hehe... :)
Trus, jam 1.50 siang Garuda Indonesia GA 208 mendarat melalui runway 09. Jam 2.20 siang kita menaiki pesawat, Garuda Indonesia Boeing 737-36N kode registrasi PK-GGU nomer penerbangan GA 209. Jam 2.35 siang kita lepas landas dari runway 27. Sekitar jam 3.25 siang, kita mendarat di Bandara Internasional Soekarno-Hatta di runway 25R. Jika pada
waktu ini
aku sepesawat dengan gus Dur, maka kemarin tuh aku satu pesawat sama
Mamiek
loh, haha... :) Trus jam 4 sore travelku berangkat ke Bandung dan sampe jam 7 malem.
Ngomong2, hari ini adalah hari kuliah pertama saya, hehe... :) Karena masih hari pertama ya jadinya nggak serius2 amat deh, hehe... :) Oya, nilai Aljabar Linearku akhirnya udah keluar loh, dan saya dapet A, hahaha... :) Jadi sekarang resmi deh kalo IPK saya semester kemarin itu 4,00, LOL. Tentang jadwalku semester ini, hmm, kapan2 aja deh nulisnya, haha... . Tapi yang bagus adalah Sabtu akan menjadi hari LIBUR saya... :D