ENGLISH
Today my friends and I hanged out together. At first we went to Ramai Department Store first to pick up one of my friends (grr, he was late tho). Then, we went to Ambarrukmo Plaza. Well, actually my friend was looking for a
screen-guard
and so we accompanied him. Then, he also 'insisted' us to eat snow-ice, haha... ;) I had never eaten snow-ice before but I knew twas expensive and at first I didn't really want to go there, but hell yeah, okay so I went there. I ordered Cappucino Al Pacino Snow Ice (apparently, twas from Taiwan).
After that, we went to Merpati's Office to ask for my
Easy-Flyer
Card. Well, it's now being processed tho. Damn, they still can't give me the exact date when the Bandung - Jogja flight will be reopened again. Then, we went to Galeria since my friend wanted to buy the Indonesian version of Harry Potter 7 at Toga Mas Bookstore. There, we also went to Time Zone. Anyway, in TZ I was damn so lucky. Well, I got the bonus point (jackpot) on my first trial of a machine, wkwkwkwkw.... LOL. In the end, I exchanged all the tickets I got w/ a CD-Case. After that we had dinner at Kona Restaurant (near Galeria). I ate Bulgogi there. Then, we went back home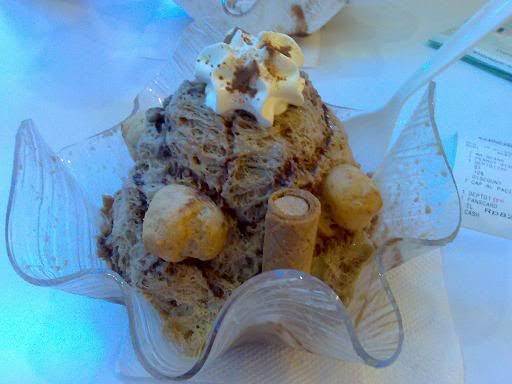 ::: Cappucino Al Pacino Snow-Ice, price: Rp 26,500.oo (+ 10% tax)
::: Bulgogi I ate this evening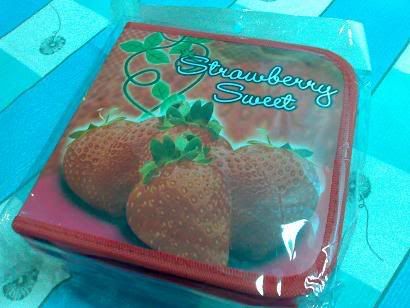 ::: CD-Case I got from TZ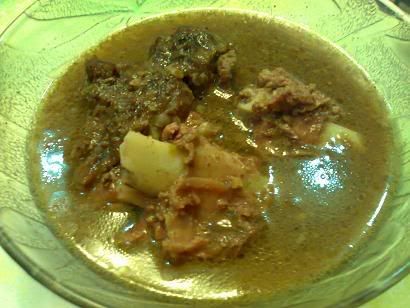 ::: konro

BAHASA INDONESIA
Hari ini aku sama temen2ku jalan2. Pertama2 ya kita ke Ramai Department Store dulu tu buat jemput temenku (grr, telat tu dia). Trus kita ke Ambarrukmo Plaza. Hmm, sebenernya temenku tu lagi nyari
screen-guard
adan ya udah kita temeni aja dia. Trus dia jg 'memaksa' kita buat makan snow-ice, haha... ;) Aku blon pernah makan snow-ice sih sebelumnya tp aku tau kalo itu mahal dan pertamanya ya rada males sih pergi kesana, tp ya udahlah, sekali2, trus kita kesana. Aku pesen Cappucino Al Pacino (ternyata dari Taiwan tuh).
Habis itu kita pergi ke kantornya Merpati untuk minta Kartu
Easy-Flyer
-ku. Hmm, sekarang lagi dalam proses deh. Sial, mereka masih blum bisa ngasi tau kepastian kapan rute Bandung - Jogja akan diaktifkan lagi. Trus kita ke Galeria karena temenku mau beli Harry Potter 7 versi Indonesia di Toko Buku Toga Mas. Disana, sekalian aja deh kita ke Time Zone. Ngomong2, gila neh, di TZ aku beruntung bgt loh. Masa aku dapet bonus (jackpot) di percobaan pertama dari suatu permainan, wkwkwkwkw.... LOL. Akhirnya aku nuker aja semua tiketnya dg tempat CD. Habis itu kita makan di Restoran Kona (deketya Galeria). Aku makan Bulgogi. Trus kita balik deh.