ENGLISH
Grrr, Merpati sucks, they can't give me the certain answer whether the Bandung - Jogja flight is gonnabe reopened this Thursday or not, grrr... . Therefore yesterday I went to Garuda Indonesia office and bought a ticket to Jakarta. Apparently, starting today, the fuel-surcharge is gonnabe raised by Rp 20,000.oo (so, because I bought the ticket yesterday it means that I saved Rp 20,000.oo, hehehe... :D). Okay, so next week I'm going back to Bandung via Jakarta catching Garuda Indonesia GA 209 on 22nd January.
Btw, yesterday I also watched the second to last episode of
TAR 12
. All teams left Osaka Japan and went to Taipei, Taiwan. TK & Rachel got to perform a Speed-Bump, but yet they were saved by the equalizer, haha... . In the end, because of bickering and wrong strategy, Nathan & Jennifer were last and got eliminated. Wah, poor them. Anyway, Ronald & Christina won the leg!! Yeah!! Now, Ronald & Christina for the win!! :)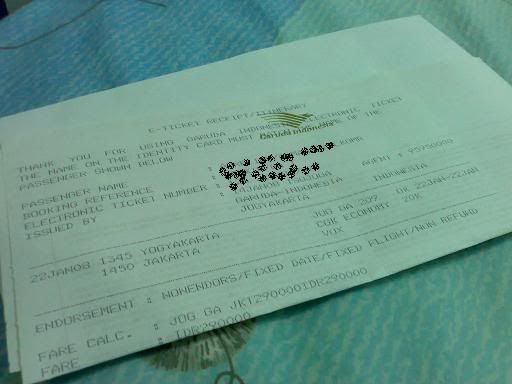 ::: My Garuda Indonesia ticket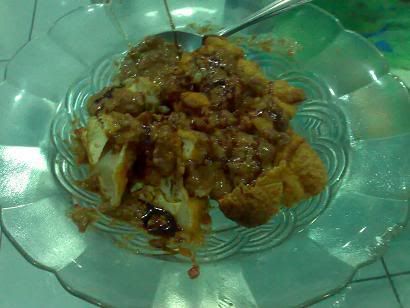 ::: batagor I ate yesterday
::: Ronald & Christina at KIX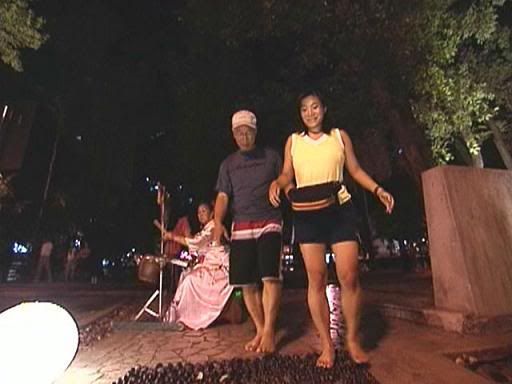 ::: Ronald & Christina at the Earth Detour in Taipei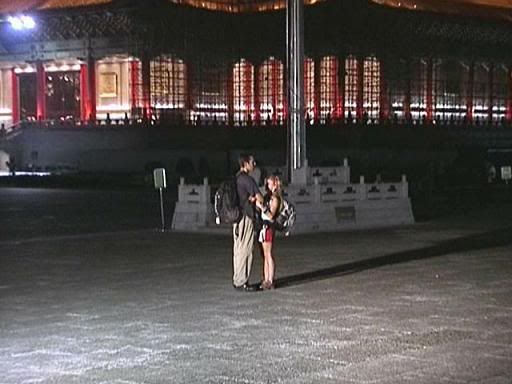 ::: eliminated Nathan & Jennifer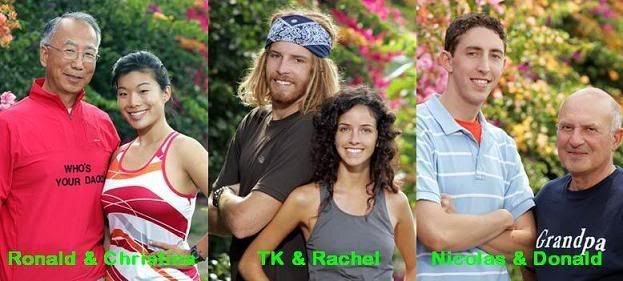 ::: Ronald & Christina, TK & Rachel, and Nicolas & Donald, the final three teams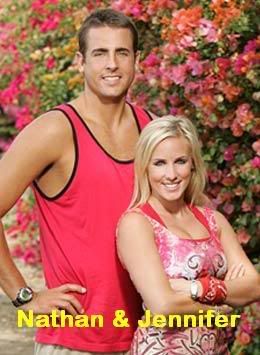 ::: Nathan & Jennifer, the last team to be eliminated

BAHASA INDONESIA
Grrr, Merpati nyebelin bgt, mereka gabisa ngasi kepastian apakah rute Bandung - Jogja akan dibuka besok Kamis apa enggak, grrr... . Makanya kemarin aku kan ke kantornya Garuda Indonesia dan beli tiket deh ke Jakarta. Ternyata, mulai hari ini, fuel-surcharge-nya akan dinaikkan Rp 20.000,oo tuh (jadi, karena aku beli tiketnya kemarin ya jadinya aku ngirit sekitar Rp 20.000,oo deh, hehehe... :D). Oke, maka minggu depan aku bakal balik ke Bandung via Jakarta deh naik Garuda Indonesia GA 209 tgl 22 Januari.
Btw, kemarin aku jg nonton episode kedua terakhir dari
TAR 12
. Semua tim meninggalkan Osaka Jepang dan pergi ke Taipei, Taiwan loh. TK & Rachel harus ngelakuin Speed-Bump tp mereka selamat karena equalizer, haha... . Akhirnya, karena ribut sendiri dan salah strategi, Nathan & Jennifer jadi yg terakhir dan tereliminasi deh. Wah, kasian ya. Oya, Ronald & Christina kemarin nomer 1 loh!! Yeah!! Go Ronald & Christina!! :)