ENGLISH
Last Thursday, I wacthed the ninth episode of
TARA 2
. All teams still stayed in Czech Republic. There was an
Intersection
. Adrian & Collin were intersected with Marc & Rovilson, Ann & Diane with Pamela & Vanessa, and Paula & Natasha with Henry & Terri. Poor Paula & Natasha, they gotta wait for 5 hours before Henry & Terri arrived. I really like they way Paula cheered Natasha when they were waiting. I think it would be more interesting if Pamela & Vanessa decided to wait for Paula & Natasha instead of working with Ann & Diane, hehe.... ;)
Anyway, the
Roadblock
Task (jumping from a tower to a pool) wasn't that scary, but what happened to Vanessa really made it a lot scarier (she lost her memories temporarily). Wow... . Paula & Natasha were smart by choosing Snap
Detour
. I forgot that Henry & Terri got a 30 minutes penaly, and I was worried whether Henter could pass Paula & Natasha or not (I shouldn't be worry since Henter got 30 mins penalty but I forgot), haha... ;) It's great Paula & Natasha made it and Henter got eliminated. But grr, for the seventh time in a row, Marc & Rovilson were #1 again, grrr.....
Anyway, yesterday I went to a barbershop and got my hair cut and colored, haha... ;) Then, because my bag in Bandung is now too 'old' and 'teared' pretty badly, so yesterday I bought a new bag, haha. It's pretty expensive actually Rp 240,000.00. Yesterday evening I went to Malioboro Mall after dropping my bro by at a hotel to have a CL (Candlelight) exercise for his friend's b'day party today. I had dinner at pizza hut and ate beef fettucini and meat lovers pizza, haha... ;) I also ta chicken fave pizza.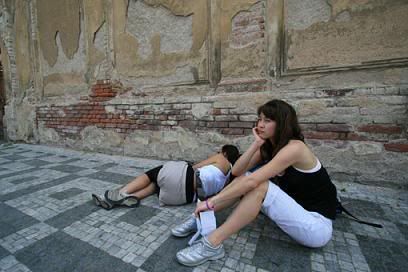 ::: depressed Paula & Natasha while waiting for Henry & Terri at the intersection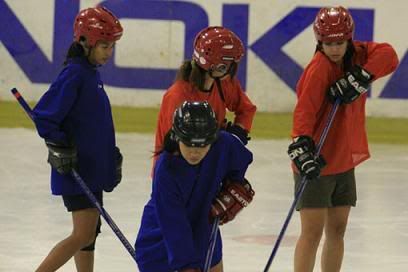 ::: intersected Ann & Diane and Pamela & Vanessa at the hockey task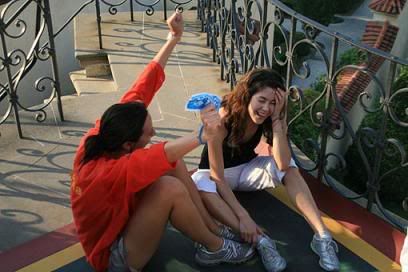 ::: "
Paula & Natasha, you are still in the race!
"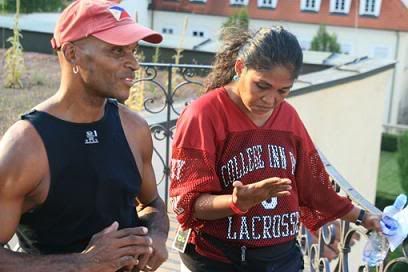 ::: "
Henry & Terri, I'm sorry to tell you that you have both been eliminated from the race
"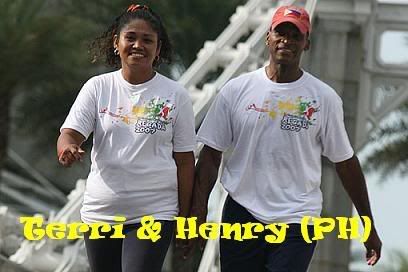 ::: Henry & Terri, the fifth team to be eliminated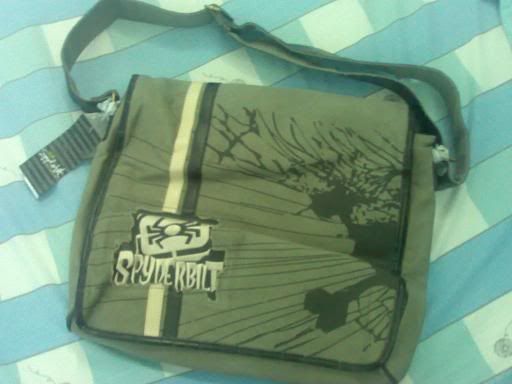 ::: my new bag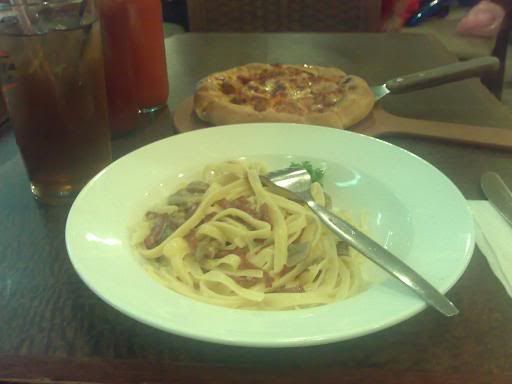 ::: my meal at pizza hut yesterday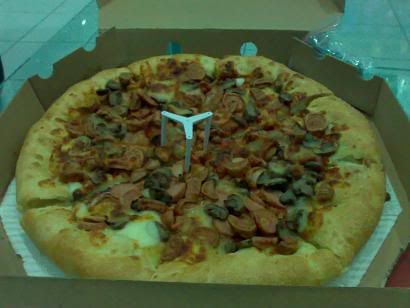 ::: chicken favorite pizza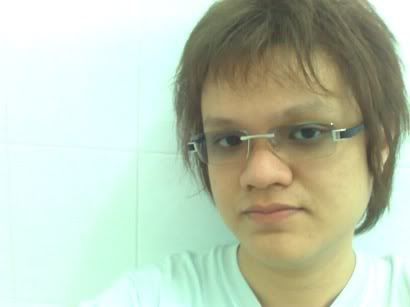 ::: narcist time (1)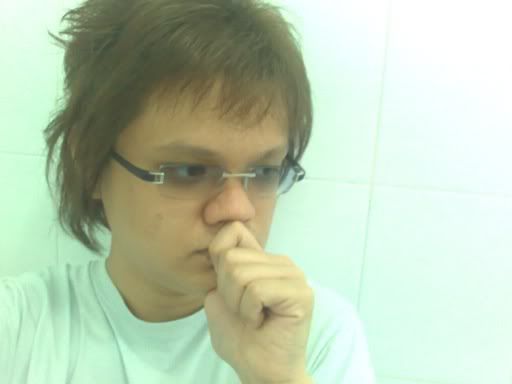 ::: narcist time (2)

BAHASA INDONESIA
Kemarin Kamis, aku nonton episode kesembilan dari
TARA 2
. Semua tim tetep tinggal di Republik Ceko. Adrian & Collin bergabung dalam
intersection
dengan Marc & Rovilson, Ann & Diane dengan Pamela & Vanessa, dan Paula & Natasha dengan Henry & Terri. Kasian tuh Paula & Natasha, mereka musti nunggu 5 jam sebelum Henry & Terri tiba. Aku suka tuh gimana Paula menyemangati Natasha selama menunggu itu. Aku rasa sebenere bakal menarik yah kalo misale Pamela & Vanessa mutusin untuk menunggu Paula & Natasha daripada gabung dengan Ann & Diane, hehe.... ;)
Ngomong2, Tugas
Roadblock
-nya (lompat dari menara ke kolam) nggak serem2 bgt sebenernya, tp apa yg terjadi pada Vanessa itu yg bikin serem (dia kehilangan ingatan untuk sementara). Wow... . Paula & Natasha pinter tu dengan memilih tugas
Detour
, SNAP. Aku lupa e kalo Henry & Terri mendapat penalti 30 menit, makanya aku kemarin deg2an kalo Henter bisa nyalip Paula & Natasha apa enggak (haruse sih ga usah khawatir soalnya kan Henter ada penalti 30 menit tp aku lupa), haha... ;) Bagus bgt tuh Paula & Natasha berhasil dan Henter tereliminasi. Tapi grr, masa nih untuk tujuh kali berturut2 Marc & Rovilson nomer #1 sih, grrr.....
Oya, kemarin aku pergi ke salon dan potong rambut serta ngecet lg neh, haha... ;) Trus karena tasku di Bandung udah terlalu 'tua' dan 'sobek' lumayan parah, makanya kemarin aku beli tas yang baru, haha. Lumayan mahal jg sebenere, Rp 245.000,00 loh. Kemarin sore aku pergi ke Malioboro Mall habis nurunin adikku di sebuah hotel buat latian CL (Candlelight) soale temennya kan hari ini ulang tahun. Aku makan malem di Pizza Hut dan pesen fettucini sapi dan pizza meat lovers, haha... ;) Aku jg ngebawa pulang pizza chicken favorit.