ENGLISH
So, last Monday evening, we celebrated my grandma's 77th birthday at Silla Restaurant (after taking some photos at my house (photos will be uploaded later, IF I'm not lazy to do so nor forget to do it, LOL)). Well, it had been really long for me since the
last time
I ate at Silla, hehehehe... :) I remembered there was a great menu at Silla but I didn't remember the name, hmm... . So, I made a guess and twas right!! hahahaha... ;) Then, we went back home
Tuesday morning, I accompanied my father to survey a small place in west Jogjakarta. Well, just surveying tho, hehehe... ;) Then, we went back home. At Tuesday afternoon, my relatives from Surabaya went back to Surabaya. Tuesday evening, my family and relatives from Jakarta went to Mie Doring (Javanese Noodle, the same one as we ate
2 weeks ago
. Last night, I had 'mie kuah', hehehe... ;) Actually I like Doring better rather than Mie Kadin, hmm...
Today, my relatives from Jakarta went back home. Hah, now they're all back!! Hehehe, I finally can take a rest for a while. So, this evening, just as usual, I went to Malioboro Mall, and after that had dinner at Bakso Ito.

Btw, I'm so happy, I just got AGs (autographs) from the racers of TARA 2 (Paula, Marc, Rovilson, and Terri) when they had a Christmas Gathering in Manila last December, huahahaha... (proud). Thanks to blue from AXN Forum!! :-) Look at the pic below
Anyway, tomorrow afternoon I'm going back to Bandung catching
Garuda Indonesia
GA 209 to Jakarta first, then catching a travel to Bandung... ;) On Saturday, I'm going back to Yogyakarta...
::: Some meals at Silla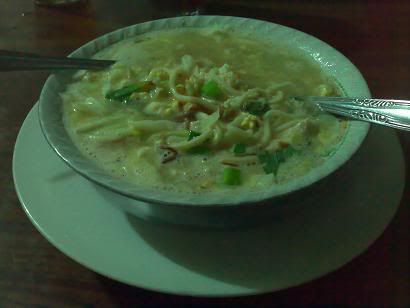 ::: "

Mie Kuah

" at Doring
::: my own-made omelette... ;)
::: Bakso @ Bakso Ito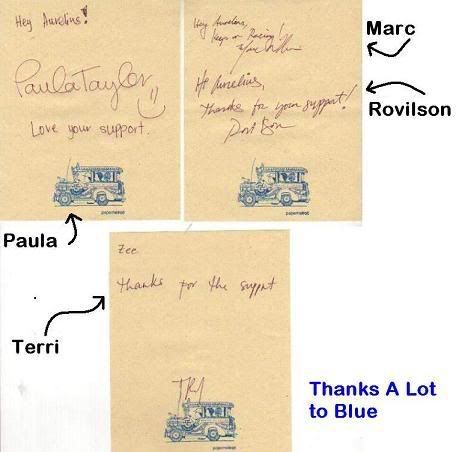 ::: AGs for me from Paula Taylor, Marc Nelson, Rovilson Fernandez, and Terri Reed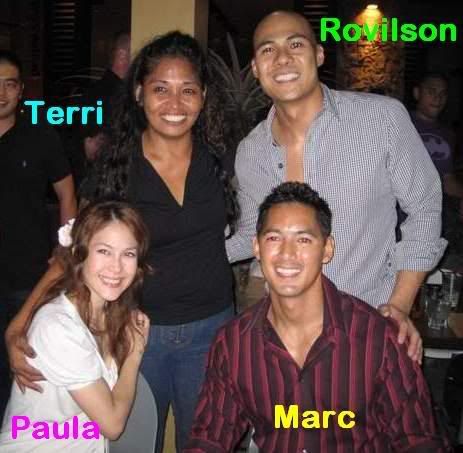 ::: racers who gave me their AGs (thanks to blue)

BAHASA INDONESIA
Jadi, Senin sore kemarin, kita merayakan ultah oma-ku yg ke 77 di Restoran Silla (tentu setelah foto2 dulu deh di rumah (foto2 akan aku upload deh kapan2 kalo ga males dan ga lupa tentunya, LOL)). Hmm, udah lama bgt loh sejak
terakhir kali
aku makan di Silla, hehehehe.... :) Aku inget ada menu enak di Silla tp lupa namanya, hmm... . Jadinya, aku ya nebak2 aja dan ternyata bener!! hahahaha... ;) Trus kita balik deh ke rumah
Selasa pagi, aku nemeni papaku untuk survey beberapa tempat gitu di Yogyakarta barat. Cuma survey doang sih, hehehe... ;) Trus kita balik ke rumah. Selasa siang, sodaraku yg dari Surabaya balik tuh ke Surabaya. Selasa malem, keluargaku dan sodaraku dari Jakarta makan malem deh di Mie Doring (mie Jawa gitu), sama kaya yang kita makan pada
2 minggu lalu
. Selamam aku pesennya 'mie kuah', hehehe... ;) Sebenernya aku sih lebih suka Doring tuh daripada Mie Kadin, hmm...
Hari ini, sodaraku dari Jakarta balik kesana. Hah, mereka udah balik semua!! Hehehe, akhirnya bisa nyantai2 bentar deh. Jadi, sore ini kaya biasanya aku ya ke Malioboro Mall tu dan habis itu makan di Bakso Ito.

Btw, seneng bgt neh, aku baru aja dapet AG (autograph) loh dari racers-nya di TARA 2 (Paula, Marc, Rovilson, dan Terri) waktu mereka ada Gathering Natalan di Manila Desember kemarin, huahahaha... (bangga bgt). Makasih ya buat blue dari Forum AXN!! :-) Liat de gambarnya di atas.
Ngomong2, besok siang aku akan balik ke Bandung naik
Garuda Indonesia
GA 209 ke Jakarta dulu, trus naik travel ke Bandung... ;) Sabtunya aku balik ke Yogyakarta lagi sih...