ENGLISH
Last Thursday I watched the sixth episode of
TARA 2
. All teams left Fukuoka, Japan, and went to Busan, Korea. Marc & Rovilson were damn so lucky and placed #1 again, for the 4th time consecutively (dang it, now it's getting boring). Henry & Terri yielded Marc & Rovilson who were actually in front of them, so the yield was useless. In the end, Daichi & Sawaka got eliminated. poor them... :(
As you can read at my previous entry, Merpati canceled Jogja - Bandung flight until 15th January while I gotta go to Bandung at 10th January for FRS. Okay, yesterday afternoon I went to Merpati's Office to recash my ticket. It was normal, no argument, they apologized to me, but they didn't give any compliment, dang it. Then, I decided to buy tickets to Jakarta first then catch a travel to Bandung (I don't wanna catch a train, it sucks). Okay, so I went to
Garuda Indonesia
's Office and bought tickets. The good news is that eventho the tickets are more expensive than Merpati's (yea, that's for sure, LOL), I got the cheapest fare for Jogjakarta - Jakarta flight, hehehehe.... ;) So, I'm going to Bandung at 10th January catching Garuda's GA 209 at 1.50 PM to Jakarta, and back to Jogja at 12th January catching Garuda's GA 212 at 4.30 PM.
Btw, these last two days, some relatives were still in Jogja. So, yesterday evening we went to Ambarrukmo Plaza. After that we had dinner at a "Mie Jawa" (Javanese Noodle) 'warung'. This afternoon we went to Boyong Kalegan (Indonesian Restaurant) near Pakem, Yogyakarta. It's a fish restaurant... ;) This evening, they went back to Jakarta. So, after that I could go to Malioboro Mall, just as usual, and had dinner there... ;)
::: "

Daichi & Sawaka, I'm sorry to tell you that you have both been eliminated from the race

"
::: Sawaka & Daichi, the fourth team to be eliminated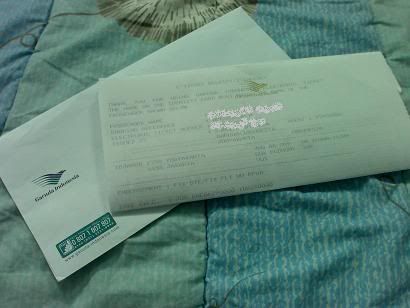 ::: My Garuda Indonesia e-ticket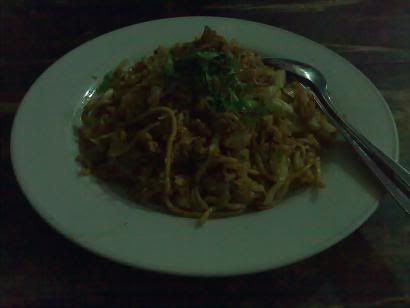 ::: "
Magelangan
" (Fried Rice + Fried Noodle)
::: Boyong Kalegan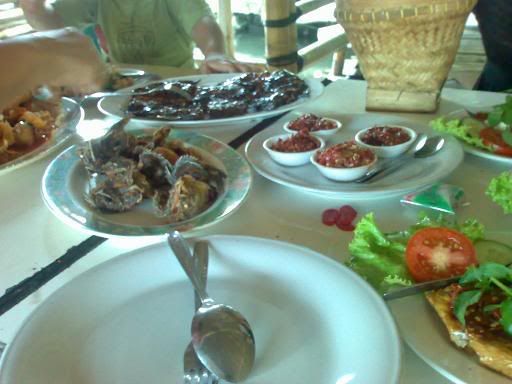 ::: Our Meal at Boyong Kalegan
::: my dinner today (Vegetables, Sirloin Terriyaki)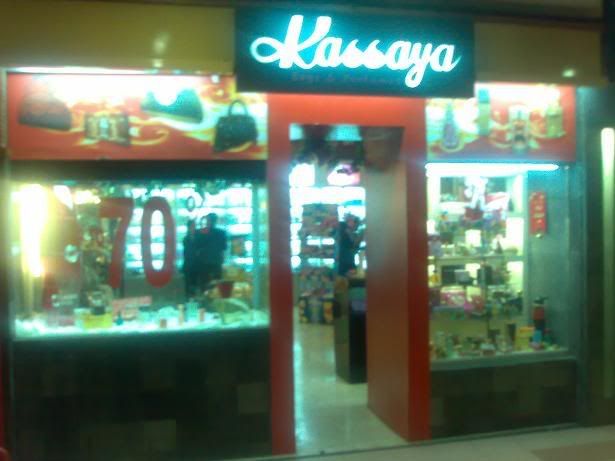 :::
Kassaya
Malioboro Mall

BAHASA INDONESIA
Kamis kemarin aku nonton episode keenam dari
TARA 2
. Semua tim meninggalkan Fukuoka, Jepang dan pergi ke Busan, Korea. Marc & Rovilson bener2 beruntung bgt tu dan lagi2 nomer #1 (sialan, kan jadi membosankan neh). Henry & Terri menge-yield Marc & Rovilson yg sebenernya di depannya mereka, makanya yield-nya jadi gak berguna. Akhirnya, Daichi & Sawaka tu tereliminasi. kasian ya.. :(
Seperti yg bisa dibaca di posting sebelumnya, Merpati membatalkan rute pesawat Jogja - Bandung sampe 15 Januari, padahal aku kan mesti ke Bandung tanggal 10 Januari buat FRS. Oke, kemarin siang aku pergi ke kantornya Merpati untuk menguangkan kembali tiketku. Biasa sih, ga pake ribut, mereka minta maaf, tapi ga ada komplimen lebih tuh, sial. Trus, aku memutuskan untuk beli tiket ke Jakarta dulu aja deh trus naik travel ke Bandung (saya males banget kalo mesti naik kereta, nyebelin bgt tu). Oke deh, trus aku pergi ke kantornya
Garuda Indonesia
dan beli tiket. Berita bagusnya, walaupun harganya lebih mahal dari Merpati (ya iyalah, LOL), aku dapet harga termurah deh untuk rute Jogjakarta - Jakarta pp, hehehehe... ;) Jadi aku bakal ke Bandung tanggal 10 Januari naik Garuda GA 209 jam 1.50 siang ke Jakarta, trus balik lagi ke Jogja tanggal 12 Januari naik Garuda GA 212 jam 4.30 sore.
Btw, dua hari belakangan ini, beberapa sodara masih di Jogja. Makanya, kemarin malem kita pergi ke Ambarrukmo Plaza. Habis itu kita makan malem di warung Mie Jawa. Siang tadi kita makan siang di Restoran Boyong Kalegan (Restoran Indonesia) di deketnya Pakem, Yogyakarta. Sore tadi mereka balik ke Jakarta. Makanya habis itu aku bisa ke Malioboro Mall seperti biasa dan makan malam disana... ;)