ENGLISH
Huh!! Finally now one exam is left, which is Financial Math. This morning I had a Probability Theory exam and I think I did well. Anyway, Financial Math is the only subject which I need to really be careful (well, because I just don't "click" with my lecturer's style of teaching). Arrggghhhh.... . Wish Me Luck. Btw, this might be the last entry before homecoming next Sunday!! hahaha...
Btw, yesterday I wacthed the fifth episode of
TARA 2
. All teams went from Auckland to Tokyo, Japan. Haha, Daichi & Sawaka now got the homeland advantage. However, there were too many equalizers this leg (2) while we acually only needed one. After all the tasks in Tokyo Japan, they had to go to Fukuoka catching a bullet train. Wtf, that equalizer made what they did in Tokyo were useless, whether they had a lead or on the backpacks. Hmmm... . Anyway, this leg was a superleg or also known as a double-length leg which is aired on 2 episodes! haha.. . So far, Ann & Diane reached the virtual pitstop first, the other teams, we don't know.
::: Adrian & Collin following the Cosplay Gal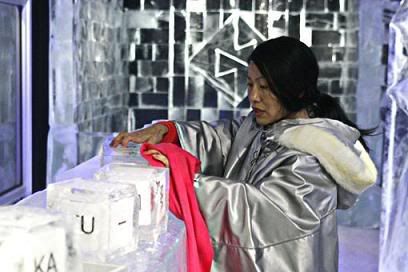 ::: Ann on The

Road-Block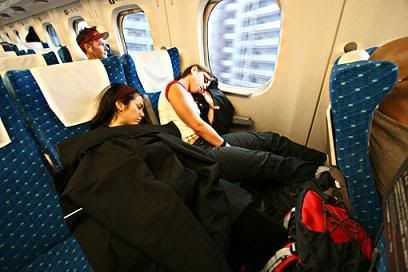 ::: Vanessa & Pamela on the train to Fukuoka (waah, whatta great train)

BAHASA INDONESIA
Huh!! Akhirnya sekarang tinggal satu ujian yang tersisa, yaitu Matematika Keuangan. Pagi ini aku ada ujian Teori Peluang dan kayanya aku bisa deh ngerjain dengan lumayan. Nah, ngomong2, Matematika Keuangan ini satu2nya mata kuliah yang aku harus bener-bener berhati-hati (soale aku ga gitu cocok sama metoda ngajarnya dosenku sih). Arrggghhhh.... . Doakan saya yah. Btw, ini mungkin jg posting terakhirku sebelum mudik besok Minggu loh!! hahaha...
Btw, kemarin aku nonton episode kelima dari
TARA 2
. Semua tim meninggalkan Auckland dan pergi ke Tokyo, Jepang. Haha, Daichi & Sawaka sekarang dapet keuntungan lokal nih. Masalahnya, menurutku

equalizer

-nya kebanyakan (2) padahal cuma dibutuhin 1. Habis semua tugas di Tokyo mereka mesti naik kereta peluru pergi ke Fukuoka. Nah, sialan tu,

equalizer

itu kan membuat tugas yg mereka lakukan di Tokyo ga berguna, mau mereka memimpin apa ketinggalan ya sama aja. Hmmm... . Ngomong2, babak ini juga merupakan

superleg

ato dikenal dengan babak yg panjangnya dobel yg ditayangkan dalam 2 episode! haha.. . Sejauh ini, Ann & Diane mencapai

pitstop

palsu-nya pertama, tapi tim lain gatau deh.