ENGLISH
Hahaha, finally today is the last ordinary Wednesday this semester. As you can read at many of previous entries, Wednesday this semester is the busiest and most exhausting day for me since I had lectures from 7 AM up until 5 PM. Since next week is already the final-exams week, so today is officially the last s*ck Wednesday!! hahaha....
Anyway, this morning I got up at 6.43 AM and I think I didn't sleep really well last night. As a result, I was SO sleepy on my first lecture and couldn't concentrate... :( Dang It. Okay, since I had a 2 hrs break from 9 AM till 11 AM, so I decided to go back to my boarding house and had a sleep for about 1 hr, hehe... ;) That worked!! Eventho during my sleep I had an annoying dream (I dreamt about getting up late today (at almost 3 PM)), hahaha.... .
Btw, since Bandung has been SO HOT these days in the afternoon, plus since in the last 3 days there have been a temporary canteen (until next Friday, I already asked the seller there), so I bought ice cream there every afternoon, hahaha.... ;) The weather has been so weird, in the afternoon it's SO HOT, but a few hours later it rains, hmm...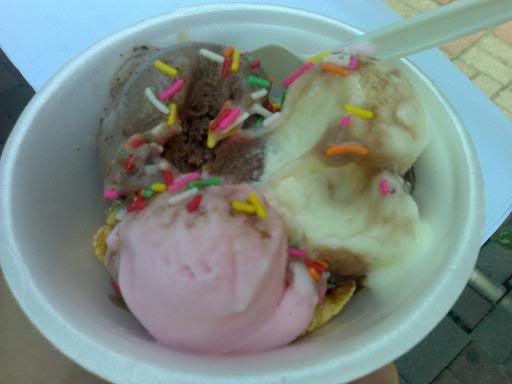 ::: half-eaten Ice Cream

BAHASA INDONESIA
Hahaha, akhirnya hari ini adalah hari Rabu biasa terakhir saya semester ini. Seperti yang bisa dibaca di banyak posting2 sebelumnya nih, Rabu semester ini adalah hari paling sibuk dan melelahkan buat saya soale aku ada kuliah dari jam 7 pagi sampe jam 5 sore. Nah, karena minggu depan udah minggu ujian akhir, jadi hari ini adalah hari Rabu sial*n terakhir!! hahaha....
Ngomong2, pagi tadi aku bangun jam 6.43 pagi dan aku rasa aku nggak nyenyak deh tidurnya semalem. Nah, sebagai hasilnya, aku SANGAT ngantuk bgt tadi di kuliah pertama dan gabisa konsentrasi... :( Sialan koq. Oke, karena aku ada istirahat 2 jam (dari jam 9 pagi sampe jam 11), aku memutuskan buat balik ke kos dan tidur lagi sekitar sejam-an, hehe... ;) Ternyata berhasil!! Walo pas tidur aku malah mimpi yang menyebalkan sih (aku mimpi kalo aku bangunnya telat (hampir jam 3 sore)), hahaha.... .
Btw, karena Bandung akhir2 ini SANGAT PANAS di siang hari, plus karena 3 hari belakangan ini ada kantin sementara (sampe Jumat besok kata si penjualnya), jadi aku beli es krim deh di kantin sementara itu tiap siang, hahaha.... ;) Lha cuacanya juga aneh banget tuh, di siang hari PANAS BGT, beberapa jam kemudian malah hujan, hmm...