ENGLISH
Well, for me this week is a really busy one. Lemme continue my Monday Story first, hahaha...
Monday afternoon at 12.15 PM my bro cs checked out the hotel. We then continued our plan which was having lunch at Kampung Daun Resto. It's pretty far from Bandung. We arrived there at about 1 PM and ordered our meal. It is quite expensive and the food is not that special, but the place is beautiful, hehehe... . At 2.30 PM we left Kampung Daun and went to Paris Van Java (they didn't find what they were looking for the day before). At PVJ I also bought new sandals since my old one are now aging. Then at 4.30 PM we left PVJ and went to Kartika Sari Dago to buy some gifts. After that we had dinner at a Sundanese Restaurant (Resep Dapurku (translate: "My Kitchen's Recipe")). At 7 PM I brought them to the Railway Station and their vacation in Bandung (and Jakarta) for 4 days was officially over. At 7.30 PM I went back home (their train departed at 8 PM (Night Lodaya Express)).
Well, these Tuesday and Wednesday I have been pretty busy at my campus. Well, organizing three upcoming events at one time is really really exhausting!! hahaha... :) I gotta supervise people, encourage them, solve and anticipate problems, do my own tasks, negotiate, etc. Haaahh!!!
Plus, since I felt there was something wrong with my car but I didn't know what was wrong, so yesterday afternoon I brought my car to the autoshop. Yea, there were some errors on some parts of the car and yesterday they were all fixed. I should check my car in the next three days. If nothing bad happens then it's fine... :) I will also replace my old broken CD Player on my car. I plan to change it with the new one, not a CD player but a device which can play mp3s, have USB ports, MMC ports, capable of mp4, and a DVD Player (but no screen since it's so expensive, LOL). I'm gonna get that probably 2 weeks ahead...
Tomorrow I'm gonna have a meeting with General Consulate of Republic Indonesia in New York and some heads of American Indonesia Chamber of Commerce and also some businessmen and investors from New York. Hahaha, of course this is an event I will never miss, LOL (who knows people who attend the meeting will get free trip to New York, LOL (
dreaming mode: on
)).
Anyway, yeaaah, in some minutes Star World is gonna start airing the sixth season of The Apprentice:
The Apprentice LA
. Hahaha... . I'm so excited!!
::: one spot at Kampung Daun
::: Iced Moccachino
::: my Rp 35,000.oo meal at Kampung Daun
::: another spot at Kampung Daun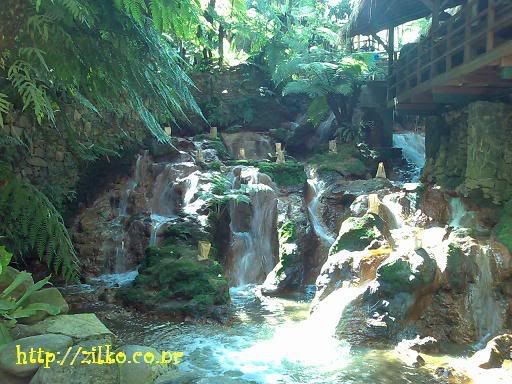 ::: another spot at Kampung Daun (artificial waterfall)
::: my meal at Resep Dapurku
::: my new sandals

BAHASA INDONESIA
Hmm, untuk aku minggu ini juga adalah minggu sibuk neh. Biarkan aku melanjutkan cerita Senin ku kemarin deh ya, hahaha...
Senin siang jam 12.15 siang gitu adikku dkk check out dari hotel. Kita kemudian melanjutkan rencana yaitu makan siang di Resto Kampung Daun. Lumayan jauh sih dari Bandung. Kita sampai disana jam 1 siang dan pesen makanan kita deh. Harganya lumayan mahal dan makanannya menurutku biasa aja, tapi suasananya sih lumayan lho, hehehe... . Jam 2.30 siang kita meninggalkan Kampung Daun dan pergi ke Paris Van Java (sehari sebelumnya waktu mereka kesana mereka nggak nemu barang yang mereka cari). Di PVJ aku malah ikutan beli sandal dah soalnya yang lama juga udah tua banget sih, hahaha... . Trus jam 4.30 sore kita meninggalkan PVJ dan pergi ke Kartika Sari Dago soalnya mereka mau beli oleh2. Habis itu kita makan malam di Restoran Sunda (Resep Dapurku). Jam 7 malam aku nganter mereka ke stasiun dan resmilah liburan mereka ke Bandung (dan Jakarta) selama 4 hari berakhir. Jam 7.30 malam aku balik dah (kereta mereka berangkatnya jam 8 malam (naik Lodaya Malam)).
Hmm, Selasa dan Rabu ini bener2 melelahkan neh untuk saya di kampus. Hmm, mengerjakan tiga acara yang akan datang bersamaan tu bener2 melelahkan dah!! hahaha... :) Aku harus mengawasi kerjaan orang, menyemangati mereka, mengatasi dan mengantisipasi masalah yang ada, mengerjakan tugasku sendiri, negosiasi, dll. Haaahh!!!
Plus, karena aku rasa ada yang salah ni sama mobilku tapi aku nggak tau deh error-nya dimana, makanya kemarin siang aku membawa mobilku ke bengkel. Yea, ada beberapa yang rusak dan harus diganti tuh dan sekarang sih sudah dibenerin. Aku masih perlu memerhatikan mobilku selama 3 hari nih. Kalo nggak ada yang terjadi berarti baik-baik saja... :) Aku juga akan mengganti CD Player rusak di mobilku ah. Aku mau mengganti dengan yang baru, bukan dengan CD player tapi dengan sebuah alat yang bisa mainin mp3, memiliki colokan USB, colokan MMC, bisa mainin mp4, dan ada DVD Player nya juga loh (tapi belum punya TV nya neh, mahal uy, LOL). Mungkin aku akan dapat barangnya 2 minggu lagi...
Besok aku akan ada rapat neh sama Konsulat Jenderal Republik Indonesia di New York dan beberapa pimpinan dari American Indonesia Chamber of Commerce dan juga beberapa pengusaha dan investor dari New York. Hahaha, tentu saja ini kesempatan yang nggak akan aku lewatkan, LOL (sapa tau kan orang yang datang di rapat besok akan dibayarin untuk jalan2 ke New York, LOL (
lagi ngimpi ceritanya
)).
Ngomong2, yeaaah, dalam beberapa menit Star World akan menayangkan musim keenam dari The Apprentice:
The Apprentice LA
. Hahaha... . Seneng bgt neh!!