ENGLISH
Well, these both two days have been exhausting, hahaha... ;) To summarize what happened so none of you will be confused, now my bro and his friends are in Bandung having a mid year vacation.
Thursday evening we arrived at Bandung. As planned before, we had dinner at Paskal Hyper Square Bandung. It was so chilly, as predicted, hahaha... :) At around 10 PM we went back home (they went to their hotel) since we had been exhausted. Friday morning till afternoon they had their own schedule since I was also busy with mine. I had something to do on my campus and I gotta take care of it (eventho it still hasn't been done by now, damn!!). Friday evening, we went to The Sierra at Dago Pakar. The last time I had dinner there was
this time
, about 1 year 8 months ago, hahaha.... . I ate Hungarian Something Soup and Beef Ranchero Australian T-Bone Steak. Of course, twas pretty high-class (read: expensive, LOL).
Saturday (today) was also pretty tiring. In the morning we had breakfast at Nasi Hainam Restaurant at Jalan Kelenteng. Of course, twas delicious but pretty expensive, Rp 22,000.oo per portion, damn!! Then they had a plan to go to Jalan Riau to go to some Factory Outlets there. Of course I was too lazy to walk from one FO to another. So I decided to bring them there and brought myself to a cafe where I used to go before I connected my boarding house room with internet. Yea, I browsed the net using hotspot connection on a cafe while they were going from one FO to another, hahaha... ;) At 1.30 PM we went back home. At 5 PM we went to Paris Van Java Mall. We just hung out there and had dinner at Ta Wan Restaurant (well, no pics, sorry, hehehe... :D). Then, we watched a new movie, Hancock. Review will be written later on since now I'm too tired, hahaha... :) But it was pretty funny eventho I'm not really impressed. Score: 3 out of 5. At 10.30 PM we went back home.
Anyway, tomorrow (Sunday) I'm going to Jakarta all day long, hahaha... :) Another tiring day... :(
Btw, the final of the single games on
Wimbledon
this year are cool!! Again, Roger Federer will battle against Rafael Nadal tomorrow. On the Ladies Final, we had sisters match, Serena vs Venus Williams!! hahaha... :) I'm so happy, exactly as I hoped (eventho undeniably, Zheng Jie from China played really well this year). Well, Venus won in the end tho. So this year is her fifth Wimbledon's Victory.
::: one spot at Paskal Hyper Square
::: Fish and Chips, my meal at Paskal
::: Bandung Night View (taken from The Sierra, Dago Pakar)
:::

Hungarian

Something

Soup

(bread in the shape of ball filled with soup, tasty!! :) )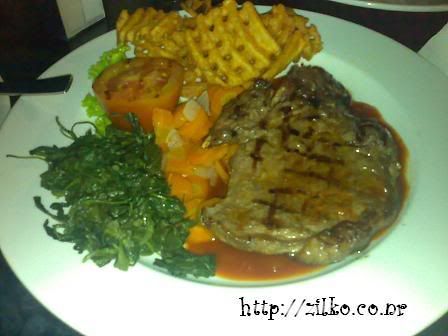 :::

Beef Ranchero Australian T-Bone Stea

k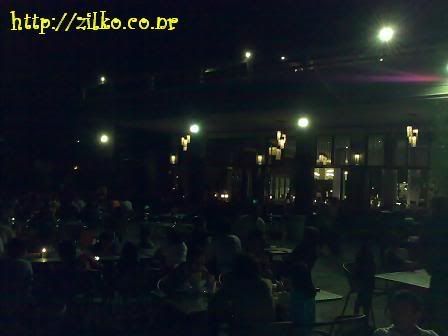 ::: one spot at The Sierra, Bandung
::: nasi hainam I ate this morning
::: bakso (meatballs) and tea I had on the hotspot cafe this afternoon
::: Venus vs Serena Williams on Wimbledon Final This Year (photo taken from the
official website
)

BAHASA INDONESIA
Hmmm, dua hari ini bener2 melelahkan neh, haha... ;) Untuk meringkas apa yg terjadi jadinya nggak pada bingung, jadi sekarang ini adik saya sama teman2nya lagi liburan di Bandung dalam rangka liburan tengah tahun ceritanya.
Kamis malam kita sampai di Bandung. Seperti rencana, malamnya akhirnya makan malam di Paskal Hyper Square Bandung. Udaranya dingin tuh, sesuai dugaan sih, hahaha... :) Sekitar jam 10 malam balik deh (mereka balik ke hotel) soalnya udah capek sih. Jumat pagi sampe siang mereka ada acara sendiri begitu juga dengan saya. Saya harus mengurus beberapa hal di kampus tuh dan harus diurus segera neh (walau sayangnya sampe sekarang masih belum beres juga, sial!!). Jumat malam kita makan malam di The Sierra, Dago Pakar. Terakhir kali aku makan disana ya
waktu ini
, sekitar 1 tahun 8 bulan yang lalu, hahaha... . Kemarin aku makan

Sup Hungarian

apa gitu sama

Beef Ranchero Australian T-Bone Steak

. Tentu saja tempatnya

high-class

(baca: mahal).
Sabtu (hari ini) juga melelahkan neh. Pagi tadi makan pagi di Restoran Nasi Hainam di Jalan Kelenteng. Tentu saja, rasanya sih enak tapi harganya tu lumayan mahal, Rp 22.000,oo seporsi, siyal!! Trus kan mereka ada rencana mau jalan-jalan di Jalan Riau tu untuk menjelajahi Factory Outlet disana. Tentu saja dong aku malas untuk ikutan jalan dari satu FO ke FO lain. Makanya aku memutuskan untuk nganter mereka kesana dan aku sendiri sih mendingan ke kafe yang sering aku datangi sebelum masang koneksi internet di kos. Yup, aku internetan di kafe hotspot selagi mereka jalan-jalan di FO, hahaha... ;) Jam 1.30 siang kita balik. Jam 5 sore kita pergi ke Paris Van Java Mall. Kita ya jalan-jalan aja sih disana dan makan malam di Restoran Ta Wan (hmm, nggak ada gambar, sorry... :D). Trus kita nonton film, Hancock. Review film ini akan aku tulis kemudian soale sekarang capek banget neh, hahaha... ;) Filmnya cukup lucu sih walau aku nggak sampe terkesima. Nilai: 3 dari 5 dah. Jam 10.30 malem kita balik.
Ngomong2, besok (Minggu) aku akan pergi ke Jakarta neh seharian, hahaha... :) Hari yang melelahkan lagi deh... :(
Btw, final babak single dari
Wimbledon
tahun ini keren loh!! Sekali lagi Roger Federer bertemu Rafael Nadal di final besok. Di Final Perempuan, kita memiliki pertandingan antar saudri, Serena vs Wenus Williams!! hahaha... :) Aku senang sih, soalnya sesuai harapan (walau harus diakui Zheng Jie dari China tahun ini mainnya bagus bgt). Hmm, akhirnya yang menang Venus tuh. Jadi ini adalah gelar Wimbledon kelima-nya.