note : to be consistent with
the previous chapter
of this story, I will only write this entry in English.
Previously on First 2010 Vacation : Bal
i
: Zilko and his friends went to Bali last January for a vacation. On day one, they explored the southern part of Bali. They went back to their hotel with satisfied feeling.
Day 2 (Saturday, 16 January 2010)
Originally we had a plan to watch a Barong Dance as our first activity that day, but then we decided to drop it out because we wanted to save more money. I mean, yeah, it was still like a week ahead, so saving money could be wise :-) Pak Gede picked us up at 8.30 AM.
We then directly headed to our first destination: Ubud. On the way, as we passed the eastern part of Denpasar City - hmmm, I am still not sure tho whether it was part of Denpasar City or not, but it was in the east part of the island :D - we decided to stop by at Sanur Beach since to reach the beach we only needed to make a right turn, and tadaa, there we were. Well, the beach kinda reminded me of Ancol Beach in Jakarta, tho it was relatively cleaner a bit. Well, we didn't spend that much time there and we continued our trip.
On the way to Ubud, Pak Gede asked us whether we wanted to make a stop at Monkey Forest or not. Well, we thought:
"We are here, so why not?
". So, we made a stop at Sacred Monkey Forest Sanctuary, not far from Ubud. Well, I don't really remember how much we should pay, but I am sure it was not the most expensive entrance fee we gotta pay, hahaha. Anyway, Monkey Forest was literally a forest, with monkeys (for sure, you don't have to be that genius to know that, LOL). The monkeys were relatively tame, at least they didn't try to steal our belongings, like cameras, glasses, etc just like other monkeys in other well-known sanctuary(ies) in Bali were rumored as. The place was beautiful, as there was a small temple down there. It's just that I think, the place was kinda small. I mean, with that entrance fee, we expected to enter a bigger monkey forest, haha... .
::: Monkeys at The Sacred Monkey Forest Sanctuary, Ubud.
We then left Monkey Forest and went to downtown Ubud. Pak Gede parked his car, and our first agenda was "lunch". It was 11.30 AM. Well, we found it a bit hard to find a restaurant or a warung which looked "wallet-friendly" in Ubud. Sure, there were several restaurants, but they offered "luxurious" price, haha... . Finally, we found a chinese food restaurant which looked "wallet-friendly". Well, the restaurant was kinda dark and no other customer was in there, so it was a bit a not-so-convincing first impression. Well, they offered normal price for chinese food and we ordered our meals. Several minutes later, when our orders came, apparently, the portion of those foods we ordered was HUGE!! I was like "
What?? We should have ordered as a group had we known this
". Well, okay, we had already ordered and we must eat them all. I was kinda starving tho at that moment so it wasn't really a big problem actually, LOL. Anyway, after lunch, we had several minutes to spend in Ubud. Well, I had no interest in entering the art market tho, that's why I decided to walk back to our car while my friends stopped at the art market. However, on the way, I saw a "Buy One Get One" promo from a well-known brand store. I decided to take a look at them, since I still had several minutes to kill anyway, so it wouldn't hurt to window-shop. However, I ended up with buying two shirts (one was free though because it was a "Buy One Get One" promo), since the price was kinda low for that brand, haha...
Our next destination was Kintamani, a small village on a plateau overlooking Batur Lake and Batur Mount. Some minutes before arriving at Kintamani, our driver asked us to go to a buffet restaurant. Well, this was the last thing I wanted to happen. I knew that drivers had a "conspiracy" with some restaurants, where the restaurants would give them some cash if they brought visitors to the restaurants. As a result, the restaurants charged the customers more, a.k.a, they were expensive restaurants, hahaha... . Well, it was actually all back to us, the visitors, whether we wanted to have meal there or not, right?? Anyway, I asked our driver about the buffet price and it was Rp 80,000.- plus 20% tax, so it was Rp 96,000.-. I had two objections, first of all, it was expensive and way over budget for a meal, second, we just had (huge) lunch at Ubud, so we were full!!! Well, lucky enough we didn't have to buy the buffet package as we could order just drinks instead. Well, the drinks of course were also expensive, but nominally, they were way below Rp 96,000.- per drink, haha. Since we had good drivers, okay, we thought we could take that, to let him get some cash for living while we still didn't need to spend Rp 96,000.- per pax for a buffet lunch ;-).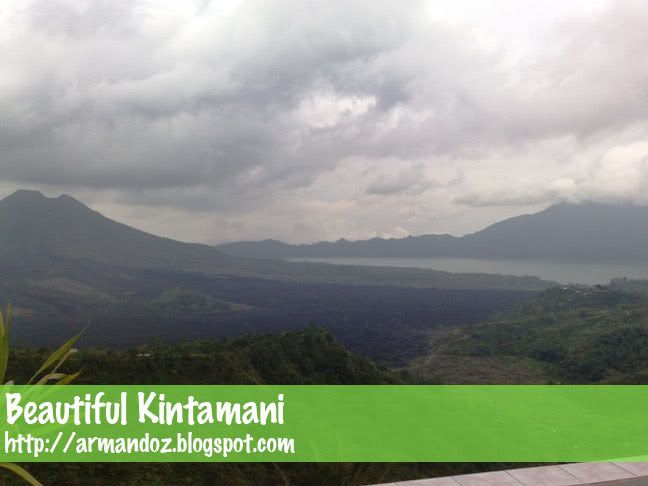 ::: A very beautiful and chilly Kintamani.
Anyway, Kintamani was SO beautiful. The weather was cloudy at that time and adding it up to the chilliness of that place, it felt like we were back in Bandung, haha. Plus, the scenery was awesome. We could see Batur Lake right next to Batur Mount. Well, traditional and secluded village of Trunyan was also visible. There, we especially enjoyed the chilly air, as it was so different with other parts of Bali where usually it was hot and so tropical. After enjoying our time and the atmosphere for about an hour, we left Kintamani.
We had two next destinations, Tampak Siring Palace and Goa Gajah. Well, apparently, for safety reason, now we can't enter the palace in Tampak Siring. Well, it was such a shame tho because I am so anxious in getting to know a presidential palace, haha. Instead, we went to a temple next to the palace, named Tirta Empul Temple. Well, there's nothing much I can say about the temple tho, because temples in Bali are all in the same trait basically. Anyway, the special thing about our visit there is that there was a traditional ceremony held there where people washed themselves in a pond and they believed it would erase their sins. It was actually really nice to witness such a traditional ceremony :-) After getting around, we left Tirta Empul Temple and went to Goa Gajah. Well, again, nothing much to say about it.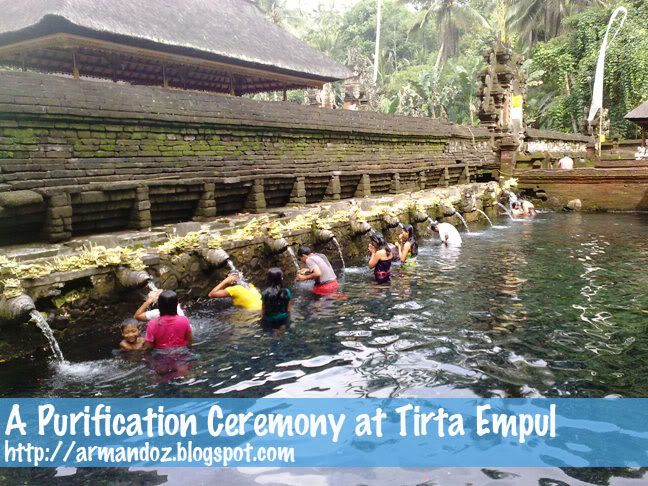 ::: A traditional purification ceremony. They believed this ritual would erase their sins.
On the way back, we made a stop at Kuta Beach. Unfortunately, it was cloudy and we couldn't see the famous sunset there. That evening, we had a capsa (bridge) league, it was fun and really entertaining :-)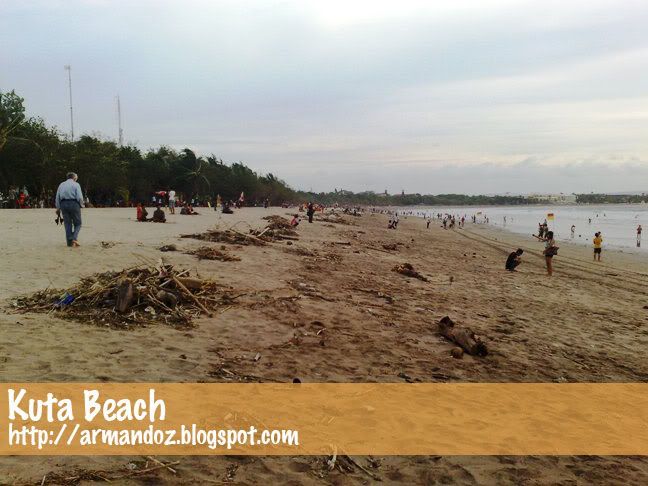 ::: Kuta Beach. Yeah, it was dirty because apparently, days before, there was a pretty severe storm, causing all trashes to be dragged to the coastline.
Day 3 (Sunday, 17 January 2010)
Our main destination this day was to reach Lovina Beach by evening. Lovina Beach is located in the northern part of Bali while Legian, our starting point that day, in the southern part of Bali, so yeah, we had a long way to go this day.
After having an expensive breakfast (well, not that I want to show off that I had expensive breakfast, it was so unfortunate that we had to have one :-D) near our hotel, Pak Gede picked us up, and we headed north. Our first stop was Taman Ayun Temple, yeah, another Balinese temple. Nothing much to say about the temple but it had a pretty shady park and it was surrounded by water. Right next, we headed to Bedugul. Our first thing in our to do list was brunch. Strangely, I still vividly remembered the buffet-restaurant incident I had during
my previous visit to Bali
. To add more strangeness, apparently I still remembered that restaurant!! haha... :-) Well, it also meant that I vividly recalled there was a cheap food stalls right across that restaurant which charged only Rp 5,000.- for a portion of Ayam Betutu (Betutu Chicken), a local delicacy in Bali, several years ago. Because I still remembered the restaurant, of course I could locate those food stalls :-) Unfortunate enough, the Ayam Betutu stall had been closed as I couldn't find any. Instead, we found a Nasi Campur stall, charging Rp 8,000.- for a portion of Nasi Campur. Well, it was well priced so we decided to have brunch there. The Nasi Campur was tasty actually, and it was the tastiest Balinese Nasi Campur I had during this trip to Bali. Anyway, I was lucky at that time because apparently that day they only cooked little amount of rice because of bad weather the previous days. I was lucky to still get some rice, while some of my friends couldn't get it, because of the limited stock, haha. Anyway, after brunch, we went to Ulun Danu Temple, another temple located at the edge of Bratan Lake. Well, I think, it was one of the most photogenic places I visited in Bali. There were so many nice and beautiful spots to shoot.
::: Balinese Nasi Campur and Bakso.
::: Bratan Lake.
::: Ulun Danu Temple at Bedugul. The site was really photogenic and beautiful, plus, the air was so chilly!!
After satisfying ourselves by taking pictures at that temple, we left Bedugul and headed north to Lovina. We took a detour to go to Munduk Waterfall first. I had never visited it before so I was kinda excited. On the way, we dropped by at a post overlooking the beauty of "twin" lakes, Buyan Lake and Tamblingan Lake, located to the north of Bratan Lake. Again, it was so chilly there. Then, we continued our trip to Munduk Waterfall. Apparently, we had to walk down about 500 meter through a narrow path to reach the waterfall. The waterfall was kinda strange because it looked so "straight", as like there was a manmade duck behind it, LOL. Well, our trip back to our parking place was super exhausting as we literally had to climb back that 500 meter narrow path, haha... .
::: Buyan Lake, one of the two twin lakes.
::: Tamblingan Lake, one of the two twin lakes.
::: At Munduk Waterfall
We finally arrived at Lovina Beach at around 4.30 PM and got a bad news, the weather was not really friendly. I was afraid that we wouldn't be able to watch wild dolphins the next morning, as the only main reason why we traveled that far away from Kuta/Legian to Lovina was to watch wild dolphins. Therefore, not being able to watch dolphins was not an option as that would make our trip completely wasteful. Lucky enough, they said we still could watch the dolphins as long as the boat captains thought it was still safe enough, and they warned us that the waves might be "big". Okay, what the heck with waves, I thought, and we made a deal to go dolphin-hunting (NOT literally :-D) the next morning.
::: Lovina Beach, with its dark (black) sand.
After taking a rest for a while, we decided to play around at the beach. Well, Lovina Beach was not as busy nor crowded as Kuta Beach, and the sand was black. Then, we swam at the hotel's pool. That evening, we went out to look for a restaurant to have dinner. We found a chinese and Indonesian food restaurant, which would turn out to be a sucky restaurant. We ordered our food, and not until 1 hour 30 minutes later, the meal wouldn't be served in our tables!! Crazy, right?? Some other customers even decided to leave the restaurants before their orders were served (no wonder). We almost did the same thing, but they said our orders had been cooked and 2 minutes later they served our orders.
We then went back to our hotel and got to bed immediately, as we had a very early morning to start the next day.
to be continued...