ENGLISH
This year New Year's Eve is a lot different with some previous New Year's Eves. The main different is: this year I celebrate it just in Jogja (I don't go anywhere this holiday... :( ). I still remember, last year I celebrated the New Year's Eve at Kuala Lumpur and two years ago at Bangkok.
Last night I went to a party titled "New York New York. End of The Year Party" at Quality Hotel Jogjakarta. I arrived at 19.30 PM and then I had dinner first. The dinner was quite delicious. I ate fried rice, lemonade friend chicken, fish wellington, roasted beef, spaghetti, and lasagna. It sounds a lot right? But it's not that many I think.... . At 21.30 PM I finished having dinner, and the room had already been full of people.
Finally the party started. A band came up and sang some song, then a group of comedians showed up (with their corny jokes), and also there was something like 'fashion show'. While we were waiting for the midnight, the band sang some songs again and people danced on the dance-floor.
At 11.58 the last song finished and people started to count down (well, I mean they started counting down about 30 seconds before the time). Five... Four... Three... Two... One....... Then at the time all people blowed their paper-trumpets and said,"Happy New Year" to each other... . It was very very crowded at that time....
Then, after that the first doorpirze session started. Unfortunately, I didn't get any. (the prizes were quite interesting actually>> voucher to stay at some five-stars hotels, airline ticket, etc...). Then, the band sang some songs again and an over-confident 'granny' (I mean a middle aged woman) with her 'unfit' clothes sang 2 songs and also danced!!! At 1.30 the second and main session of doorprize started. The prizes were interesting (the main prize was: Jogjakarta - Kuala Lumpur - Jogjakarta airline ticket by Garuda Indonesia plus staying at Quality Hotel KL for some days (I don't remember how many days)). Unfortunately, I didn't get it. Then, the party finished and I went back home...
the room before the party started
spaghetti-lasagna-fish wellington-roasted beef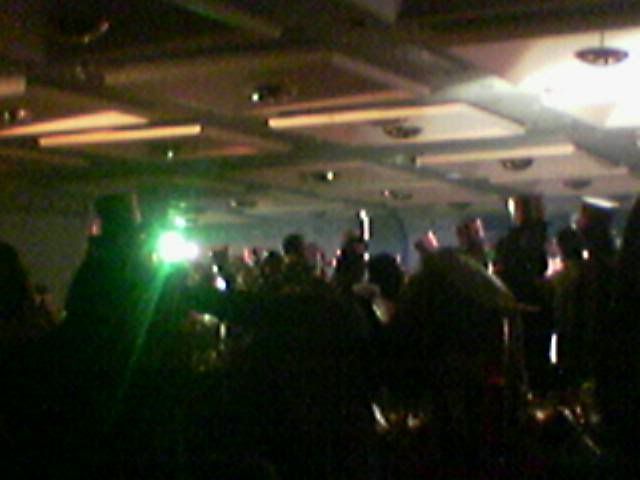 people dancing on the dance floor

INDONESIAN

Malam taon baru taun ini jauh berbeda dengan beberapa malam taun baru sebelumnya. Perbedaan utamanya: taun ini aku ngerayainnya di Jogja doank (aku nggak kemana-mana liburan ini... :( ). Aku masih inget, taun lalu aku malam taun baruan di Kuala Lumpur, trus dua tahun lalu di Bangkok.

Tadi malem aku pergi ke pesta yang judulnya,"New York New York. End of The Year Party" di Hotel Quality Jogjakarta. Aku sampe jam 19.30 malem trus makan malem dulu. Aku makan nasi goreng, ayam goreng lemon, ikan wellington, daging panggang, spaghetti, sama lasagna. Kedengarannya banyak kan? Tapi nggak sebanyak itu koq aku pikir... . Trus jam 21.30 malem aku selesai makan, trus ruangannya dah penuh orang.

Akhirnya pestanya dimulai. Sebuah band muncul trus nyanyiin beberapa lagu, trus sekelompok pelawak muncul (dengan lawakan-lawakan jayus mereka), dan juga ada semacam 'fashion show' gitu. Sambil nunggu jam 12 malem, bandnya nyanyiin beberapa lagu lagi dan orang-orang nari di dance-floor.

Jam 11.58 lagu terakhir selesai dan orang-orang mulai menghitung mundur (maksudnya menghitungnya ya sekitar 30 detik sebelum waktunya gitu...). Lima... Empat... Tiga... Dua.... Satuu.... . Trus di waktunya semua orang niup terompet kertas mereka dan ngucapin,"Met Taun Baru" ke orang-orang. Pas itu bener2 rame....

Trus, habis itu sesi doorprize pertama dimulai. Sayangnya aku nggak dapet apa-apa (hadiahnya lumayan menarik juga >> voucher menginap di beberapa hotel bintang lima, tiket pesawat, dll...). Trus bandnya nyanyiin lagu lagi sama ada nenek (maksudnya perempuan setengah baya gitu) over PD dengan bajunya yang nggak cocok nyanyi 2 lagu sama nari!!! Trus jam 1.30 pagi penarikan doorpirze kedua / yg utama. Hadiahnya menarik loh... (hadiah utamanya: tiket pesawat Jogjakarta - Kuala Lumpur - Jogjakarta dari Garuda Indonesia plus menginap di Hotel Quality KL untuk beberapa hari (aku lupa tepatnya berapa hari)). Trus pestanya selesai dan aku pulang ke rumah...