ENGLISH

I was so busy these two days (Monday and Tuesday). I felt so exhausted and thought that I felt sleepy all the time.

On Monday, we had a chemistry exam. I think it was well (although I'm not sure with some answers). Well, Monday is the hardest day during the week. Therefore, after getting back from school every Monday I always feel sleepy and what I wanna do is just taking a nap. Anyway, after getting back home yesterday, just like usual, I felt asleep and I was so tired. However, I thought I needed to open my email, and I surfed the net. Well, apparently, I have to arrange some things. Therefore, I rang Jakarta in the afternoon asking for some infos. Then, I had to call a bank to ask for a bankdraft. Everything was fine fortunately. I finished arranging all things at 4 PM, and I was so tired and sleepy. Then, I took a nap just form 45 minutes because at 6 PM I had to go to my TOEFL preparation.

At 6 PM, I had my TOEFL class. Just like usual, it ended at 7.30 PM. Then, I went back home after getting to the gas station since my car's fuel tank was 'very thirsty to drink'. After that, it was not over yet. I still had to schedule my TOEFL test in Jakarta. Then, after I paid the test, I was able to feel relieved.

On Tuesday, I had to get up 30 minutes earlier since my parents were going to Jakarta in a morning flight. Well, I guess you know how I was. I was like a zombie which had just been woken up and had no fire. I was so sleepy during the schoolday this morning.

Then, after getting back school, I was still not allowed to feel relieve by jumping onto my beloved bed. I had to go to the bank to manage my bankdraft. It was not hard and complicated actually, but I had to queue and this took most of the time. After getting the bankdraft (well, the process of getting the bankdraft took 1 hour of time), I had to photocopy it first as the holder. I went to a small photocopy center, but unfortunately, the machine was broken down (well, how come they called themselves 'photocopy center' when their machine was broken down??). Then, I decided to go to a big photocopy center, and had 2 copies of the bankdraft. Then, it was not over yet. I went to DHL to send those documents. Well, after that I could feel relieved.

After getting back home at 3.15 PM, again I couldn't enjoy my beloved bed. At 4.30 PM I had my English class, and we had final exam. So, during that time I had to prepare myself. However, the class ended late since I had my final presentation today (which is supposed to be taken next Thursday, but because I can't be there on Thursday, I took it today). It ended at 6.50 PM. Well, then I went to Mc'D and bought take away burgers then picked my brother up from his English class. At 7.45, I arrived at home. I was also starving because I had not been eating since 5.45 AM in the morning. I ordered pizza and lasagna. They look tasty, right? (look at the pic below).

Well, tomorrow I'm going on a retreat with my school until Saturday at Tawangmangu. It means that I will not touch a machine called computer for 3,5 days. So, I won't be online until Saturday.... :( I will yell you what happen there after I come back, and hopefully I can take some interesting pics there... :)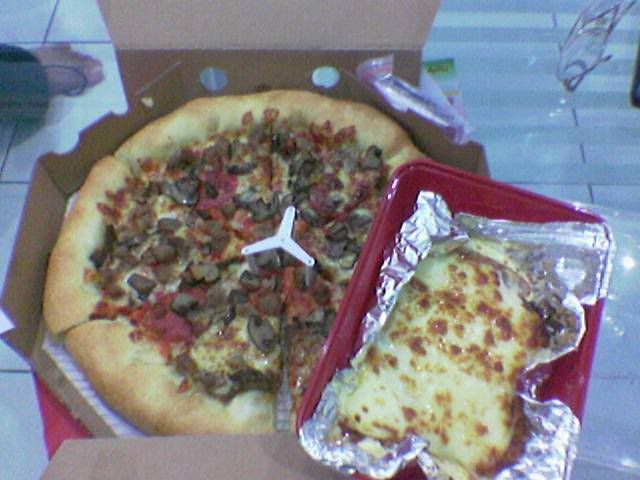 INDONESIAN

Aku sibuk banget 2 hari ini (Senen dan Selasa). Aku capek banget dan aku ngerasa kalo aku tuh ngantuk sepanjang waktu.

Di hari Senin, aku ada ulangan kimia. Kayaknya sih ok2 aja (walaupun aku nggak yakin dengan beberapa jawaban). Senen tuh hari terberat selama seminggu. Makanya, habis pulang sekolah tiap Senen, aku selalu ngerasa ngantuk dan apa yang pingin aku lakuin cuma bobo. Tapi, habis pulang sekolah kemarin, kayak biasa, aku ngerasa ngantuk dan capek banget. Tapi, aku ngerasa kalo aku perlu buka email, jadilah aku main internet. Ternyata, aku mesti ngurus beberapa hal. Jadi, aku telpon Jakarta siangnya nanya beberapa info. Trus aku telpon ke bank untuk minta bankdraft. Semuanya ok2 aja untungnya. Aku selesai ngatur semua tuh jam 4 sore dan aku ngerasa capek dan ngantuk banget. Trus, aku tidur selama cuma 45 menit soalnya jam 6 aku mesti pergi ke kelas TOEFLku.

Jam 6, aku ada kelas TOEFL. Kayak biasanya, selesainya jam 7.30 malem. Habis itu aku pulang ke rumah habis pergi ke pom bensin soalnya tangki bensin mobilku tuh lagi 'haus banget pingin minum'. Habis itu, semua ternyata belom selese. Aku mesti njadwal TOEFL tesku di Jakarta. Trus, habis bayar, aku baru bisa merasa lega.

Di hari Selasa, aku mesti bangun 30 menit labih pagi soalnya ortuku pergi ke Jakarta naik pesawat pagi hari ini. Menurutku kamu tau deh aku gimana pagi ini. Aku kayak zombie yang baru aja dibangunin dan kayak nggak ada semangatnya gitu.Aku ngantuk banget di sekolah pagi ini.

Trus, habis pulang sekolah, aku masih belum diijinkan untuk lega dengan lompat ke kasurku tercinta. Aku mesti pergi ke bank untuk ngurus bankdraftku. Nggak susah-suah amat ato rumit ternyata, tapi aku mesti ngantri dan ini yang ngabisin banyak waktu. Habis dapet bankdraftnya (ternyata proses untuk ngedapetinnya 1 jam), aku mesti fotokopi sebagai pemegangnya. Aku pergi ke tempat fotokopi kecil, tapi sayangnya, mesinnya rusah (koq bisa-bisanya sih mereka nyebut dirinya tempat fotokopi padahal mesinnya rusak??). Ya udah, akhirnya aku mutusin buat pergi ke tempat fotokopian yg lebih besar. Trus, itu belum selesai. Aku pergi ke DHL buat ngirim semua dokumen. Habis itu, aku baru bisa lumayan lega.

Habis sampe rumah jam 3.15 sore, lagi-lagi aku nggak bisa menikmati kasur tercintaku. Jam 4.30 sore aku ada kelas Inggris dan ada ujian akhir. Jadi, selama waktu itu aku mempersiapkan diri. Ternyata, kelasnya selesai telat soalnya aku presentasinya hari ini (harusnya sih besok Kamis tapi kan aku besok Kamis gabisa, jadinya diganti hari ini). Kelasnya selese jam 6.50. Trus aku pergi ke Mc'D buat beli burger lewat drive thru nya. Habis itu aku mesti njemput adikku dari les Inggris. Jam 7.45 akhirnya aku sampe rumah. Aku laper banget gara-gara nggak makan sejak pagi. Aku pesen pizza sama lasagna. Keliatan enak kan? (liat gambar di atas)

Besok aku pergi ikut retret sama sekolah di Tawangmangu sampe Sabtu. Itu artinya aku nggak bakalan memegang mesin bernama komputer selama 3,5 hari. Jadi, aku nggak bakalan online sampe Sabtu.... :( Aku akan crita apa yg terjadi disana habis aku pulang, dan moga-moga aku dapet beberapa gambar menarik disana....