note : this will be another post only posted in English
Finally, about an hour ago, the first grandslam of they year, the
2010 Australian Open
was concluded. A lot of things happened in this tournament, and it actually has been a lot more interesting than the same tournament last year, I think.
::: Serena Williams posing with her trophy after winning women's singles final against Justine Henin in three sets, 6-4, 3-6, 6-2.
On the women's side, yesterday the dream final between first seeded Serena Williams and wildcard Justine Henin took place. I made a tiny guess
here
, predicting Serena Williams had a tiny advantage over Justine Henin and that Serena might win the tournament. Well, my prediction went on correct. Serena Williams beat Justine Henin in a very exciting three setter, by 6-4, 3-6, 6-2. Serena lost her momentum in the second set, causing Justine Henin to take it 6-3. Serena quickly regained her momentum at the third set after leading 2-1. It was really a dream and perfect final for the women's singles. The match was tough and there were so many amazing points made by the two players. Well, this final was so different with last year's final, where Serena Williams easily crushed Dinara Safina 6-0, 6-3. I agree with Serena, Justine is back, and she definitely will make the competition much more interesting :-)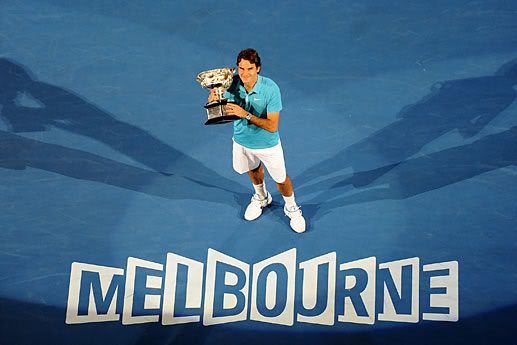 ::: Roger Federer with his trophy after winning men's singles final against Andy Murray in straight sets.
On the men's side, the final was between Roger Federer, three times Australian Open champion and already collected 15 major titles in his pocket, and Andy Murray, yet to win a major title. Well, I really wanted Andy Murray to win the title, which would relieve the burden on his shoulders (no British man has won a major title since 1936) and prove that he can be number 1. Beside, I am also kinda bored with Roger Federer's dominance on the game. However, the burden turned out to be too much for Murray, I think. This is reflected by his play in the final, which I personally think it was not his 100% best. He made too many unnecessary errors, giving away points for Federer. He got a little better in the third set, but it still wasn't enough, and still wasn't his best as he got broken while leading 5-3. Federer in the end won 6-4, 6-3, 7-6(11), through a very tight tiebreak in the third set. Well, Andy Murray actually deserves to win a grandslam title. He got every technique needed. He just needs more time and may be some more mental skill to play his best under enormous pressure.
::: Andy Murray drinking during his final match against Federer.
Anyway, in the end, congratulations for Serena Williams and Roger Federer to win the first grandslam title this year!! :-)
note : all pictures taken from the official website, link above.