Previously on 2010 Year-End Trip : Italy : Zilko and his friends went to Italy for a Christmas break. After spending more than one week in Italy, now they were ready to leave Firenze for Venezia.
After a not so nice experience in Firenze (mainly related to the hostel), we could not wait to leave Firenze. Plus, our next destination was Venezia, where we would stay in the most expensive hostel in our trip to Italy (because it would be during New Year's Eve). This made us more eager to leave the city. So that was it, this day (Thursday, December 30), after breakfast, we directly went to Firenze Railway Station.
Then, a nightmare occurred. We arrived at Firenze Station at around 10.30 AM. We went to the ticket machine and looked for train tickets to Venezia. The thing was, ALL tickets to Venezia departing prior to 7.30 PM had been SOLD OUT (even first class tickets). Finding no other option, we bought tickets for that departure time. It meant that we had like 9 (NINE) hours to kill in Firenze! We felt like this city loved us so much that it would not let us go! At first we planned to kill our time in a local McDonald's restaurant just accross the station. However, during lunch-time, we were shooed away because the restaurant was busy. So, we decided to wait in the waiting lounge. What we did during that time was: "studying"! Even, in a way I am a bit glad we had to wait that long since I made a significant progress on my assignment at that time! During this time, our hostel in Venezia called me and the guy on the other side of the phone was angry at me for not informing him that we would be late that day! I was shocked! I mean, sure, we were in a way "wrong" for forgetting to inform them. But still, we were customers! I mean, he could speak to us in a nicer way so that we would not feel like being under-attack! Beside, it was not our plan that we would be late arriving in Venezia! I was kinda mad!
Anyway, so eventually nine hours passed and we finally left Firenze. We took another Eurostar ride which cost a lot (Eurostar was the only train with available tickets that day). We arrived at Venezia at almost 9.30 PM. Once we got out the station, we were really WOW-ed!! It was VENEZIA!! I could not believe I WAS IN VENEZIA that day!! Well, Venezia had always been in my "must-visit-place" list so imagine how I felt at that time! Instead of the usual parking ramp and road, just outside the station there was a pathway and the grand canal! There was no road, thus no cars, buses, etc! What were there were: boats! Cool, eh?? Long story short, we finally arrived at our hostel after getting a little bit lost. And the good thing was, the hostel was REALLY good!!
::: One small canal in Venezia
The next day, December 31, was the last day of 2010. In the morning until afternoon we walked around Venezia, enjoying the beautiful city. We went back to our hostel to take a break for a while. At almost 4 PM, we left our hostel and explored the city even more. Well, since one friend was travelling on a wheelchair, it was quite a challenge to walk around the city. In every bridge, we had to do the following procedure: my friend stood up, one friend would then help her to jump crossing the bridge, and I would bring the wheelchair to the other side of the bridge. The thing was, none of the bridge was a flat bridge. They somewhat lied between arch bridge and moon bridge: It was arch bridge with steps on it. That was why we had to do those exhausting procedures everytime. Well, it was okay if there were just two or three bridges, but it was Venezia, a city also known as "City of Bridge"! There were TONS of bridges there! After this evening we knew next time we would take the waterbus instead :-)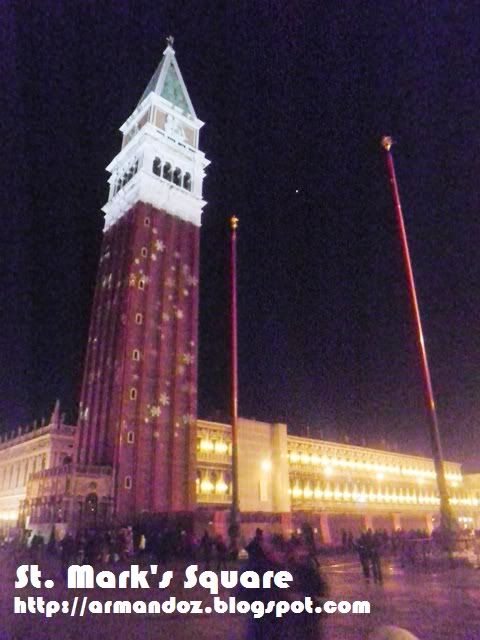 ::: St. Mark's Square
::: Somehow I managed to be part of this crowd during New Year's Eve.
::: New Year Countdown in Venezia.
New Year's Eve in Venezia was crazy! We were in St. Mark's Piazza and there were tons of people there. Up until the Countdown, it was okay, everything was pretty much under control. However, some two minutes after the countdown, everything went crazy!! Firecrackers were everywhere (many of them were ON the piazza), many people were drunk, etc. I remember thinking: "
Just get me out of here
" as it felt like I was literally in the middle of a war with hidden active grenades surrounding me and one wrong step: it exploded! In a way, I was kinda surprised and shocked with the craziness. I mean, yeah, I expected something to be "out of normal" during the New Year's eve, but not that crazy where situation could be very wild and kinda dangerous in a way. Anyway, at almost 2 AM, we left St. Mark's piazza, taking a ferry ride back to our hostel.
On New Year's Day, of course we got up kinda late. That day we only went around the city. Because it was winter, the day was really short and as a result we only had three or four hours daylight. Learning from our previous experience, we decided to buy our train tickets to Milan, our final destination city, in advance. Because it was still two days before departure, there were tons of options available. Now, to save budget, we chose to travel with regular train. Then, we saw that the price between second class and first class was not that much different. Considering it would be a 3+ hours trip, we decided to spoil ourselves a little bit by buying first class tickets :-) (beside, the first class price was still cheaper than Eurostar's second class price).
::: A gondola in Grand Canal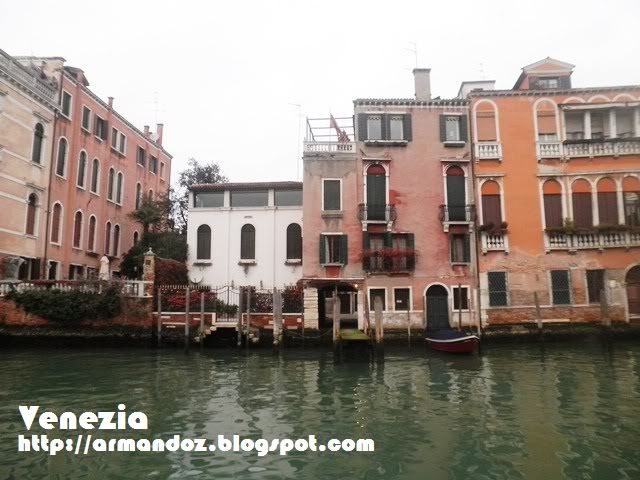 ::: Venezia
::: Waterbus Ride in Venezia
Anyway, we visited several places that day, including one museum whose ticket price was incredibly expensive. Our experience that day taught me that in Venezia, the beauty is not a particular place in the city, but it is the city itself. Going around Venezia is the best way to enjoy the unique floating city, and we don't have to pay for that :-) Later that evening, we watched a classical music concert! Yeah, a classical music concert!! Somehow I did that!! Well, surprisingly enough, it was not boring at all. In fact, it was kinda interesting! They played Vivaldi's masterpiece.
::: My first ever Classical Music Concert.
On Sunday, we went on a trip to two neighboring islands of Venezia: Murano and Burano. I like their names though, making people thinking that they are twin islands, lol. Murano was an island famous for its glass. Burano was another island which somehow resembles Venezia (with canals). Well, there was one unique thing about Burano: the buildings in the island were painted with colorful colors, makin them kinda nice to see :-)
::: Murano Glass. Note: these were the cheap ones.
::: In Burano.
The next day, we left Venezia for Milan. The trip was awesome. We were glad we decided to buy that first class tickets as the second class carriages were super full and looked a bit uncomfortable (compared to first class :D). On the way, the scenery was SO amazing though! There were mountains with snow (the Alps), passing some enchanting rivers, etc! Awesome scenery! This day, we also realized that this was our first (and only) train trip during the day. Our other train trips were evening trips.
::: An amazing view from the train, wasn't it?? :-) The mountain was the Alps.
Anyway, so we finally arrived in Milan. The city of Milan was, I felt, a little different. It was more metropolist than other cities we visited. We then went to our hostel catching a cab, and the cab was surprisingly not expensive! Once in the hotel, we got bad news. Our room was on the third floor and there was no elevator! The thing was, my friend was travelling on a wheelchair which meant that an elevator was a must! My friend did call the hostel before our trip and the hostel guy said they HAD an elevator! But well, there was nothing we could do at that point, right? We did complain, but what would it change? We saw no other option but to take that room anyway. Beside, it would only be just a one night stay in Milan. To make things worse, the hostel did not have a free wi-fi connection. If we wanted to use wi-fi, we had to pay! Crazy!! We were so upset that we ended up doing not so much things that day.
The next day was the last day of our trip to Italy. Our flight would depart at 6.10 PM so we had pretty much the whole day in Milan. That day, we were kinda not really in the mood to really explore the city. I don't know why but it seemed that things were not going our way in Milan. It was kinda difficult to find a place for breakfast, and the metro system was practically unreachable for us as there was no elevator or stuff for handicapped people to get down there. We just visited Duomo (the Cathedral) and that's it. After that, we just sat in a cafe and at 2 PM we left the city for the airport.
::: Milan's Duomo (Cathedral)
::: easyJet's Airbus A319-111 which brought us back to the Netherlands as EZY2729.
Our flight departed on time. It was easyJet's EZY2729 on an Airbus A319-111 reg code G-EZIZ. We landed at Amsterdam Schiphol Airport at around 8 PM, and that marked the end of our year-end trip to Italy.
THE END