ENGLISH
Exam week is over, it is time for a little bit of relaxation. So, a group of friends and I had this plan to go to
Keukenhof
today. Keukenhof is a famous garden in Holland for its beautiful tulips (and other flowers) they have every year. They only open during spring and we thought today was the best time to go.
We caught a 9.24 AM train heading for Amsterdam Centraal (but then got off at Leiden Centraal). The train was so fully packed. We found no empty seat and we ended up standing for the whole trip to Leiden! Crazy! From Leiden, we caught a bus to Keukenhof. Again, there were SO many people who wanted to go to Keukenhof that there was a really long line for the bus. Lucky somehow we managed to get to the front of the line for an upcoming bus, meaning that it would be easier for us to get seats :-D All that we concerned by this time was the potential long line to buy tickets on the ticket booths in Keukenhof. This made sense because today was one of the busiest days Keukenhof has due to the flower parade they had today.
Once we were in Keukenhof, our anxiety was proven to be irrelevant as there was no line in the ticket booths at all (because there were several booths). However, it was true that there were A LOT OF people there. I mean, yeah, A LOT OF people! I think there were more than 10 thousand people visiting Keukenhof today as also indicated by the huge number of cars and coaches that I saw today.
Anyway, Keukenhof was BEAUTIFUL! I mean, there is nothing like it in Indonesia. Along the way there and around the garden we could see a vast flat field planted with flowers in many colors. And they also put flowers with different color separately, making them look very neat and nice! The garden itself was great! It was huge and also neatly arranged! Well, there was not that many activity that we could do there, but enjoying the atmosphere was already really really nice. Even though at some point after walking around for hours we did not really care about the flowers anymore (because we had already seen like tons of them).
Talking about the flower parade, this parade was actually another reason why we picked today. It was said to be the biggest parade in Holland. So, who wouldn't want to see that? We heard it would start at around 3 PM in one of the main road nearby the garden. We went there at almost 3. We were kinda late as "too" many people were already there and basically had taken every single inch of good space to watch the parade. We were still a bit persistent at first, waiting for it patiently. One hour passed, still NO parade!! C'Mon! The weather then turned to be not so good anymore. Tired, we decided to leave the place as we would not have been able to see the parade like clearly anyway. And we can just watch it on Youtube later. So, we ended up leaving the garden without seeing the parade.
To get back to Leiden, we should also catch a bus. There was a line for our bus and we waited there. We missed the first bus available (because it had already been full) and had to wait for the next one. I read that during the weekend they operated like 8 buses per hour. It translated to 1 bus every 7 minutes 30 seconds in average, right? Okay, it was not supposed to be that bad, I thought. So, we waited...
Ten minutes
, no bus.
Twenty minutes
, still no bus.
Thirty minutes
, still no freaking bus.
Forty minutes
, finally a bus showed up! Apparently it got stuck in a traffic jam (due to the freaking delayed parade).
So we got to Leiden Station and caught a train back to Delft. That summed up my Saturday story now :-)
::: Keukenhof's Entrance. Yeah, there were this MANY people today.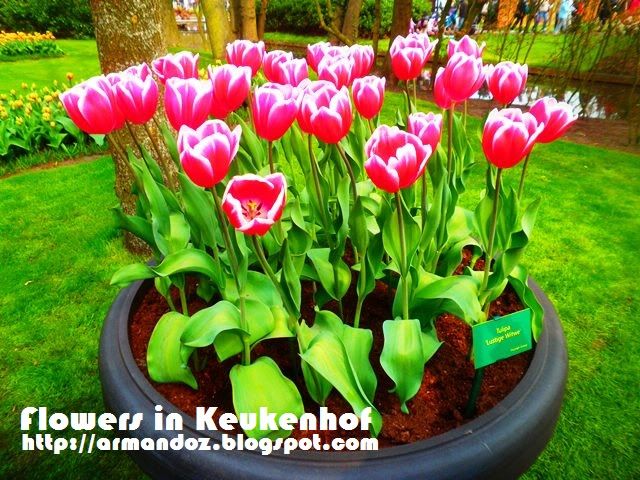 ::: Red flowers.
::: Another flowers.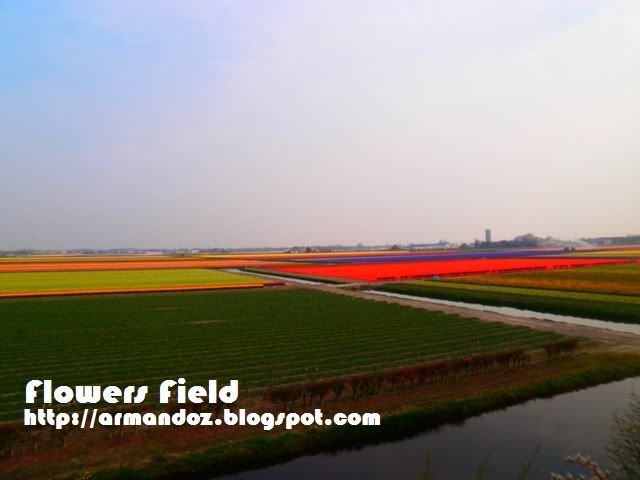 ::: A really cool scenery! Those colors were flowers!
::: A Windmill in Keukenhof.
::: More flowers.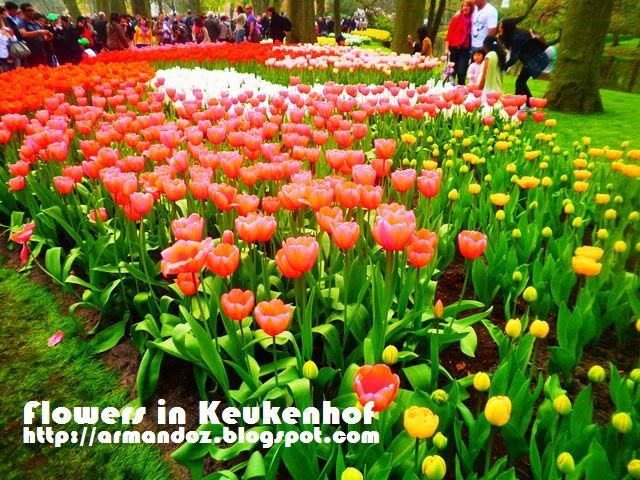 ::: Still more flowers!
::: Even more flowers!

BAHASA INDONESIA
Minggu ujian berakhir, artinya waktunya untuk sedikit relaksasi telah tiba. Nah, aku dan segrup teman-teman sudah berencana untuk pergi ke
Keukenhof
hari ini. Keukenhof adalah taman terkenal di Belanda yang terkenal akan tulip (dan bunga-bunga lainnya) yang mereka tanam setiap tahun. Mereka hanya buka di musim semi saja dan makanya kami berpikir hari ini adalah waktu yang tepat untuk pergi.
Kami naik kereta jam 9.24 pagi tujuan Amsterdam Centraal (tapi turunnya di Leiden Centraal). Eh keretanya penuh banget loh. Kami tidak menemukan tempat duduk kosong sama sekali dan harus berdiri deh sepanjang perjalanan ke Leiden! Gila! Dari Leiden, kami naik bus menuju Keukenhof. Lagi, karena BUANYAKK yang mau pergi ke Keukenhof, antrian untuk busnya panjang banget. Beruntung kami akhirnya berada di depan antrian untuk menunggu bus yang akan datang. Ini kan artinya kami bisa lebih mudah dalam mencari kursi kosong di dalam bus :-D Yang agak kami khawatirkan adalah potensi antrian panjang di loketnya Keukenhof. Ini masuk akal karena hari ini adalah salah satu hari tersibuk di Keukenhof karena mereka ada pawai bunga hari ini.
Begitu tiba di Keukenhof, kekhawatiran kami tidak terbukti karena nggak ada antrian di loketnya sama sekali (soalnya ada beberapa loket sih). Namun, benar bahwa ada BUANYAAKKK banget orang di Keukenhof hari ini. Maksudku, iya, BUANYAAKKK banget orang! Kira-kira 10 ribu orang ada deh di taman itu hari ini, seperti yang juga terlihat dari banyaknya mobil dan bus-bus pariwisata yang aku lihat tadi.
Ngomong2, Keukenhof memang INDAH sekali! Maksudku, nggak ada deh yang kaya gini di Indonesia. Sepanjang jalan kesana dan di sekitar tamannya ada tanah lapang yang luas dan rata yang ditanami berbagai macam bunga dalam berbagai macam warna. Sudah gitu mereka menanam bunga dengan warna berbeda secara terpisah, sehingga bunga-bunga itu kelihatan rapi gitu. Tamannya sendiri juga bagus banget! Sangat luas dan ditata dengan sangat rapi! Yah, nggak banyak aktivitas memang yang bisa dilakukan disana, tapi menikmati atmosfer dan suasana tamannya juga sudah enak banget koq. Walau di satu titik akhirnya kami sudah "muak" sama bunga-bunga lagi (soalnya uda ngeliat buanyak banget bunga).
Ngomongin tentang pawai bunga, pawai ini sebenarnya adalah salah satu alasan mengapa kami memilih hari ini. Katanya ini pawai terbesar di Belanda. Nah, masa nggak tertarik? Kami dengar pawai akan dimulai sekitar jam 3 sore di salah satu jalan utama di dekat Keukenhof. Jam 3an kurang kami kesana. Kami agak terlambat karena sudah "terlalu" banyak oraang yang datang dan pada dasarnya setiap sentimeter tempat yang bagus untuk nonton pawai sudah terambil. Awalnya kami sih masih bersemangat dan teguh, menunggu pawai itu dengan sabar. Satu jam kemudian berlalu, dan masih belum ada tuh pawainya!! Ayolah! Cuaca juga terus berubah agak kurang mengenakkan. Capek, kami memutuskan untuk pulang saja deh, toh juga nggak akan bisa lihat pawainya dengan jelas juga. Dan lagi, kan bisa nontonnya nanti aja di Youtube. Ya udah, akhirnya kami meninggalkan Keukenhof tanpa meliaht pawainya.
Untuk kembali ke Leiden, kami juga harus naik bus. Ada antrian untuk bus itu dan kami mengantri disana. Kami ketinggalan bus pertama (soalnya uda penuh) dan harus menunggu yang selanjutnya. Aku baca bahwa di akhir pekan mereka mengoperasikan delapan bus per jam. Artinya, satu bus rata-rata datang setiap 7 menit 30 detik kan? Oke, nggak papa lah, itu yang kupikir. Jadi, kami menunggu...
Sepuluh menit
, bus belum datang.
Dua puluh menit
, bus masih belum datang.
Tiga puluh menit
, mana ini busnya woi!!
Empat puluh menit
, akhirnya satu bus muncul! Ternyata bus itu terjebak kemacetan lalu lintas (gara-gara pawai sial itu).
Begitu sampai di Stasiun Leiden sih kita langsung naik kereta balik ke Delft. Dan disinilah cerita Sabtuku berakhir :-)