Previously on 2010 Year-End Trip: Italy :
Zilko and his friends went to Italy over the Christmas break. They spent their Christmas Eve eating Japanese food for dinner with a good (free) red wine and cake.
The thing was, we had been a bit worried about our agendas on the Christmas Day itself. Well, it is true that Rome (Vatican City to be precise) is the center of Catholicism and that is why Christmas is supposedly nothing to worry about. Well, the truth was quite the contrary. Because people there did celebrate Christmas, ALL places were closed on Christmas Day! By ALL, yes, I mean ALL: including Vatican City, ALL museums in Rome, Colosseum, etc. To make things worse, that day ALL public transports were inactive for some period of hours (three hours if I am not mistaken, from around 12 or 1 PM until 3 or 4 PM) because the government decided that public service people should spend those time with their families on Christmas Day. To make the already worse things even "worser" (from visitors' point of view), December 26th is also a national holiday in Italy! So people, do really think about your trip to Rome if you plan to go on these dates!
Luckily, we were not stupid people. We still planned to get what we could get that day: the city of Rome itself. It was true that many museums in the city were closed, but it did not mean the city was "closed", right? Even though we did not get in into something, we still could enjoy the city by going around it. Another luck was on our side, we had a friend who came from Rome and that day he was back home for the Christmas break. And he was really nice to offer to walk us around the city in the afternoon.
Anyway, you might wonder why we did not attend the famous and glorious Christmas Mass Liturgy in Vatican City on Christmas. Well, we had several reasons for that: (1) We did not have the "tickets" (yeah, to attend the mass, apparently we had to have the so-called tickets. Well, the tickets were free though but to get them, there were several procedures we had to follow. Plus, the procedures should have been started like months before); (2) I am not proud of this, but I was not really a morning-type person. To attend the mass liturgy, we had to get up like really early and somehow found a transportation to get there. FYI, we stayed in a different side of the city where it took us around 30 - 40 minutes to get to Vatican City; (3) The weather in Rome the past few days had not been nice. Drizzle constantly fell from the sky; Well, not that I do not want to attend the mass liturgy, but it seemed that in
this trip
it was too troublesome for us. But still, I might plan another trip to Rome someday in the future with the main agenda to attend the liturgy.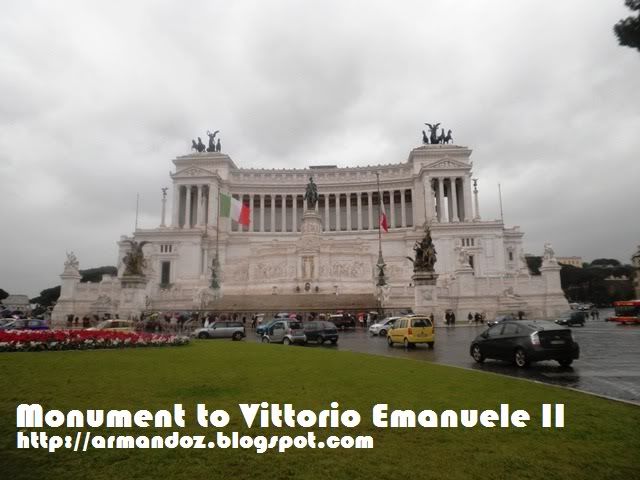 ::: Monument to Vittorio Emanuele II in Rome, Italy. It did look like the White House :-)
So, while waiting for our friend, we spent the morning pretty much around the Ancient Rome, a spot in Rome where the ruin of the old Rome were preserved. We did not (yet) enter the Colosseum and the Roman Forum (simply because they were closed) but we managed to get a glimpse of the old Rome (even though it was nothing compared to what we would see the day after when we entered the Roman Forum). Anyway, then we met our friend and we walked around the city. We had a nice coffee break in a cafe in front of the Pantheon (and yes, we did not enter the Pantheon this day because it was Christmas).
Having a friend who really knows the city around is always great, for many reasons: (1) There is no need to worry about getting lost. Sure; (2) He/She knows which places should be in our priority list to visit, as if you browse the information yourself, you might get confused and sometimes the information in the internet is just exaggerated (to attract people to come, of course); (3) He/She knows which restaurants we should go to, to have a nice, local, and decent meals; (4) He/She (supposedly) speaks the local language so just in case there is something involving locals, we do not have to really worry about the language barrier; and the most interesting one: (5) He/She can tell us many (interesting) stories about the city and some spots that we visit. Just like when our friend told us the following story when we passed this structure:
So once upon a time, there were two famous Roman architects: Bernini and Borromini. They were rivals and they hated each other. One day, they got jobs which employed them in Piazza Navona. Borromini's job was to build (and design) a church while Bernini's job was to build (and design) a fountain in front of it. Bernini decided to build a fountain sculptured with four gods circling it. The funny thing was that one of the god was in a position as the church would fall towards him! (you can see in the picture). It could be interpreted that Bernini did it on purpose to mock Borromini as he basically said: "
I think your building is really badly-designed and it will fall apart
", LOL.
We ended the day having a nice dinner in an Italian restaurant in Rome. I had a nice pasta and one of my friend had a really nice meal (I forgot the name).
The next day, many of the main interesting sites were open for public again. We dedicated this day for an Ancient Rome Tour, starting with THE Colosseum. People had been reminding us that we should get there really really early to avoid the long queing line as Colosseum was a really popular destination (no question why). But here was the thing: Travelling with someone in a wheelchair apparently had its own perks: (1) sometimes we could get an extra discount; (2) we could SKIP the queing line! The second one is my personal favorite, honestly :-) So we did not really bother about getting up that early to beat the line.
::: Just outside the Colosseum.
Anyway, when we arrived at the Colosseum, the warning was true. There was a ridiculously long queing line to the ticket booths. Then, some salesguys approached us trying to sell their guided tours to us. Of course the total price was a bit higher than if we bought tickets from the booth,
BUT
with this tour we got a guide who would tell us all interesting stories and history of the Colosseum (and the Roman Forum). Even, one of them said that because we were travelling with someone on a wheelchair, we could get some price reduction. Thinking that the price still made sense (we had to pay 16 euro each), we decided to join the local tour.
::: Inside the Colosseum
The tour was really fun. The guide was an Italian guy with heavy Italian accent with a really good sense of humor. And yeah, Colosseum was awesome! I do not know how to put it in words, but I felt SO happy that finally I stepped my feet in the Colosseum, a place that I had wanted to go for so so long time. Yes, finally I could check one site in my "must visited places before I die" list. The guide told us many interesting stuffs of the building, making the visit even more enjoyable as I soaked myself in the history of the structure.
The package of the tour we bought was including a visit to the Roman Forum. For this site, we had another guide, a Canadian lady who had lived in Rome for 9 years. Roman Forum is a site with the ruins of ancient Roman buildings. We even got access to get into the Palatino Hill, a hill which in the Roman Mythology was the place where Romulus and Remus were found by the wolf. The best place of this hill was the small garden on top of the hill overlooking the Roman Forum (and the city of Rome in the background).
::: A view from the Palatino Hill towards the Roman Forum.
This part of Rome really offered a different side of the city which was not related to the religiosity of the city. Even, in a way, some of the structures there (including the Colosseum) represented the non-religious acts the old Roman people did centuries ago. Seeing this side of the city was really interesting.
Later that day, we had some time to kill and we went around the city. We managed to get in the Pantheon, in where I think I met
Margaret Mountford
, one of Sir Alan's advisor in the tv-show: The Apprentice UK. I am so regretful now that I did not ask her to take a picture with me, hahaha. We also visited several spots in Rome, and the nicest one was the Trevi Fountain. This fountain is also a must-visited place in Rome, IMO.
::: The Pantheon.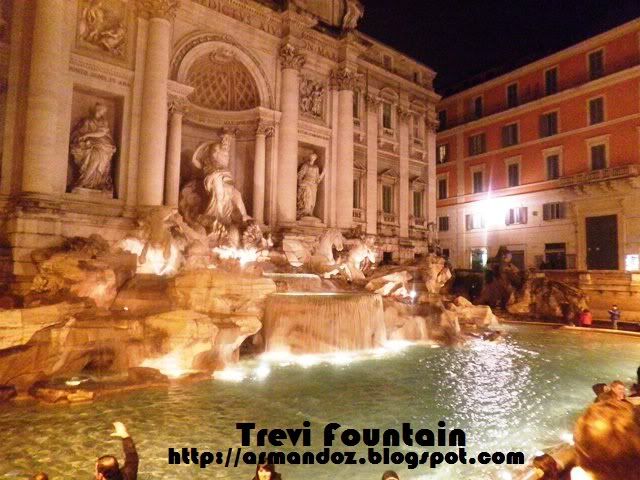 ::: Trevi Fountain. I did the ritual of throwing a coin to the fountain :-)
Anyway, that night we had dinner at another Italian restaurant in Rome. And I had one of the best pasta I have ever had in my life:
bucatini carbonara
! It was for 8 or 9 euro and I think it was meant for a share between two or three people, but I managed to finish it myself because I was soo hungry and it was soo delicious! I definitely want to eat this meal again when I come back to Rome!!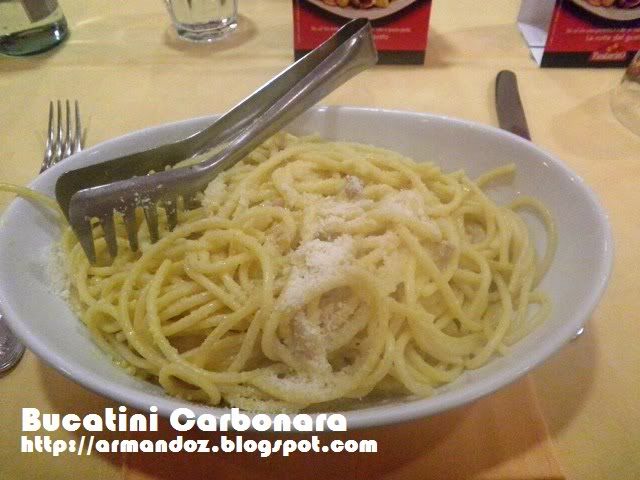 ::: A very delicious Bucatini Carbonara in Rome.
TO BE CONTINUED...