note:
due to its length, this entry will only be written in English.
Well, it has been a month now, and I have not written anything yet about my last year-end trip to Italy (well, except for
this one
) because of my hectic January. Anyway, let me get started.
As you should have found out through that link above, our first destination was actually Pisa, but because we already booked return-ticket to and from Milan, it meant that on the first day we had to travel a lot. Well, I did not mind traveling around a lot actually. However, it turned out that the first day of traveling to be a very unforgettable day with everything went wrong (details in that link).
Pisa
Fast forward, we arrived at Pisa at around 2 AM and of course we were so exhausted. We finally got to the hostel and because we picked a hostel which was literally just like 100 meter away from the tower, of course we SAW the tower getting there. The thing was, I had always wanted to visit the Pisa Tower. And that night, finally seeing it for the first time with my own eyes, I felt overwhelmed!! I remember feeling fired-up and excited, like all the exhaustion just disappeared (well, of course this was only because of some hormones or other things my body secreted due to this excitement that tricked my body to "forget" the exhaustion while it was actually still there). Anyway, I was so excited that after putting my stuffs down in the room, I just fleed to the Pisa Tower to enjoy it, at
THREE AM
in the morning!! Btw, I walked there with one friend and there was noone else there. Well, the last sentence was not really true, let me rephrase it: there was no "other tourist" there. We took some photos and decided to get a bit closer to the tower where a policeman somehow popped out from nowhere in the dark shooing us away. The exhaustion started to take the control of my body over from the adrenaline, and I decided to get back to the hostel.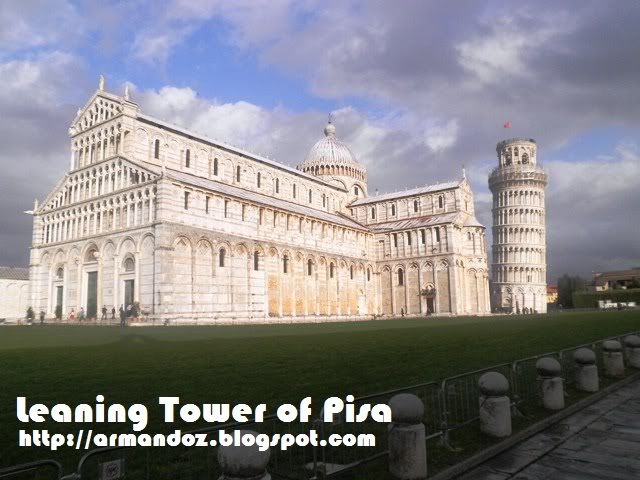 ::: The Leaning Tower of Pisa. The grand building in front of it was the Baptistry.
The next day, we got up a bit later in the day. Our agenda that day was to get around the Pisa Tower (and its complex) and then left the city, heading to Rome. Well, because we had a really late start in Italy, our schedule for this day was also a bit affected. We started getting around the tower at around 1 PM (our original schedule was at about 9 or 10 AM). Btw, I still remember that that day started awesomely for us: it was
HOT
!! Well, do not interpret the "hot" as in Indonesian standard for "hot" day. It was probably somewhere in the 10 degree. I even did not feel the urge to wear my winter jacket and I eventually just wore my short sleeved polo shirt. But then, the weather played around with us. At about 3 PM, it started raining! Dammit! hahaha...
Anyway, that day, tourists flocked the complex (of course). Well, nothing much I could write here as it was what it was: awesome!! Finally seeing THE Leaning Tower of Pisa with my own eyes: WOW!! (btw, looking at it with your own eyes: you will really feel its awesomeness, that the structure is really leaning and it looks like it is going to crumble!)
Rome
At about 4 PM, we arrived at Pisa Station to continue our journey to Roma. We bought tickets for train departing at around 6.15 PM and it was scheduled to arrive at 9.30 PM or so in Roma Termini Station. Our main goal that day was to finally get to our hostel.
Then, one small incident happened. We got in a "cab", which was not really a cab. For a 10 minutes ride, he charged us like 40 euro (he did not run the meter as there was NO meter in the cab). Well, I know that it was our mistake that we got in that "cab" in the first place, but it was the driver who played a good "trick" by standing in front of the real cabs just outside the station's exit door and approached us and acted like a real cab driver! After two long days and trips we had, of course we were kinda tired and it was easy to assume that he was a real cab driver.
Anyway, so of course we did not want to pay frickin' 40 euro. We were okay with just 15 euro max. He got mad. We were practically already in the doorstep of our hostel where he asked us to get back into his cab and he would drive us back to the station, and we would not have to pay anything. But come on. Please, who wanted to do that?? We knew that he was doing this thing to us because he knew we were tourists. So, we got an idea. We called the hostel guy and asked him to go down to the door to talk to this "cab" driver in Italian. The guy then came and the problem was solved and we paid only 15 euro, hahaha. Btw, the hostel guy was apparently Dutch :-)
The next day, we explored the city of Roma. Our main destination that day was the Vatican City. There was also a small funny incident that happened that morning. We asked an old guy on the street where the bus stop was. He explained to us, with heavy Italian accent. We then followed the direction he showed us but on the way, to make sure, we asked another guy. Apparently, the old guy was watching us and he got kinda mad that we asked another guy the same thing! Lol, it was kinda funny.
Anyway, so we finally arrived at THE Vatican City. It was drizzling that day, definitely not the best day to get around. We were a bit disappointed that the Vatican Museum was closed earlier that day (as it was the 24th of December) and of course we could not make it. We then made a plan to get back to Vatican City one more time before we left Roma. So, we took what we could get that day: St. Peter's Square and St. Peter's Basilica.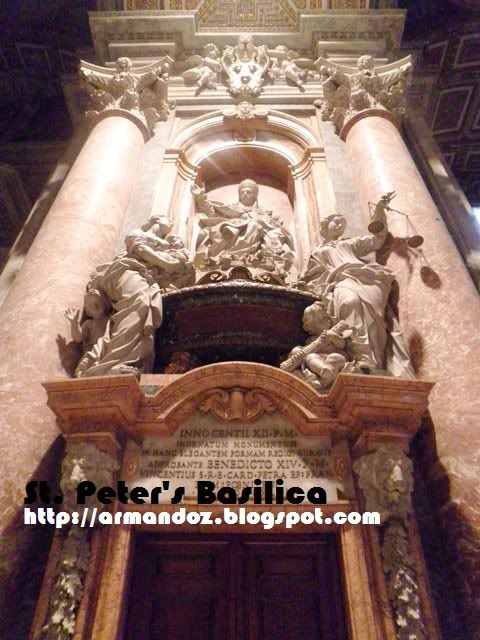 ::: One of many works of art in St. Peter's Basilica.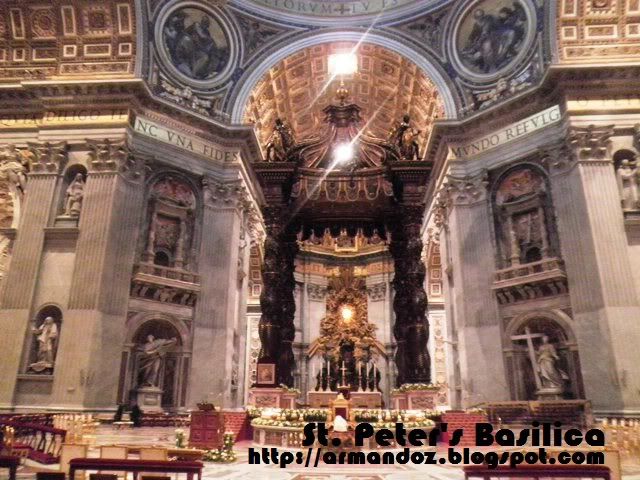 ::: St. Peter's Basilica
Well, St. Peter's Basilica REALLY resembled and represented the center of Catholicism. It was SO AMAZINGLY GRANDEUR!! I was really amazed with this building and all the art-works in it. I had never seen a church that beautiful and magnificent. In fact, maybe St. Peter's Basicila is the most majestic church in the world. I also (finally) saw the original
Pieta
with my own eyes. Visiting this place is also even more magical for those who have
read
or
watched
"
Angels and Demons
". In fact, I got the opportunity to visit the underground chamber where the graves of late popes were buried. Well, reading the novel, I imagined the chamber to be dark, cold, and kinda spooky. In reality, it was not. It was so bright, warm, but yet, solemn. The grave of Pope John Paul II was also there, and I prayed there. We were apparently the last few visitors allowed to get in to that underground chamber as the Vatican was getting ready for the Christmas. One of the guard even asked us to hurry up, saying: "
Hurry up! The pope is coming here!
". LOL.
::: St. Peter's Square
::: The underground chamber at St. Peter's Basilica. It was far from the spooky and cold atmosphere.
It was still drizzling when we got out, and it turned out that this bad weather would continue for the whole day. After having a quick lunch at 3 PM, we decided to walk to Castel Sant'Angelo which was pretty close to Vatican City. We got lucky that somehow, we walked at the Via della Conciliazione as it provided a majestic view of St. Peter's Basicila, as depicted in this picture: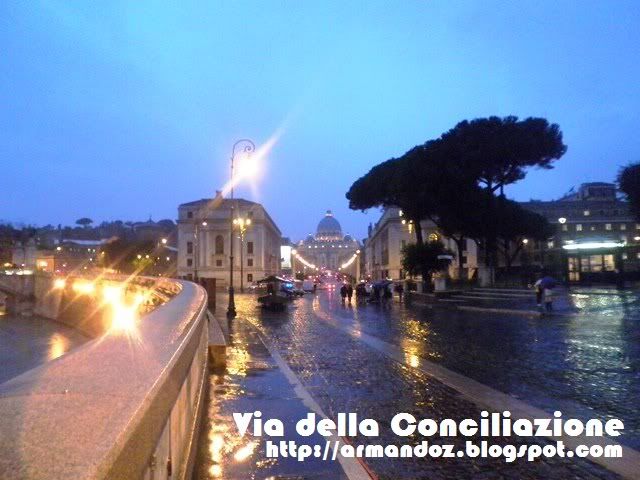 ::: A majestic view of St. Peter's Basilica from Via della Conciliazione (it is the wide street connecting St. Peter's Square and Castel Sant'Angelo).
See?? WOW!!! Anyway, Castel Sant'Angelo was also beautiful. There was a room which was wholly painted with Rennaissance-taste pictures. Well, at this point, I had not visited Sistine Chapel yet (don't worry, I will get there later), so I found this room was SO beautiful! And there was a narrow stairs which led us to a balcony on top of the castle, which would offer a spectacular view of the city, given that it was NOT raining.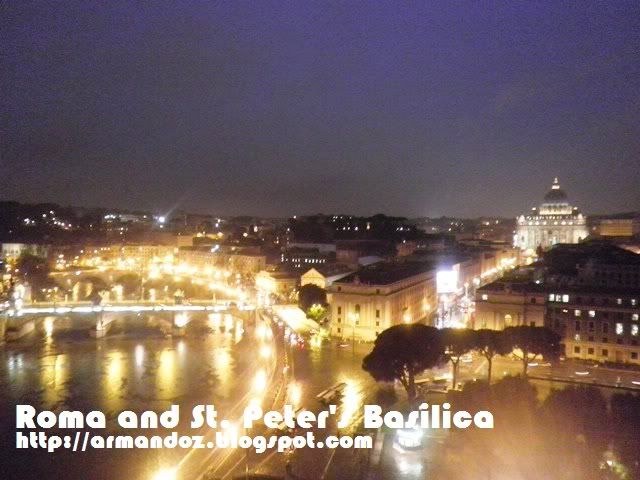 ::: A majestic view of Roma with its Tiber River and St. Peter's Basilica, as seen from the balcony of Castel Sant'Angelo.
::: The statue of Archangel Michael on top of Castel Sant'Angelo.
After Castel Sant'Angelo, we decided to get back to our hostel. We got a surprise from the hostel: we got a bottle of wine and a cake for free because it was Christmas Eve!! God bless our hostel!! It was awesome!! For dinner, we decided to look for an Italian restaurant nearby. The thing was, it was Christmas Eve!! And to make things worse, our hostel was located in a residential area of the city. What did these things mean? Well, these two factors combined together resulted in: "
all restaurants were closed during Christmas Eve
" but one restaurant: Sushi Tei. Yeah, Sushi Tei for God's Sake!! Finding no other option, we decided to take some meals away from this restaurant. For myself, I picked a gyoudon. And there we were, eating Japanese food for dinner in Italy during Christmas Eve. Interesting... .
TO BE CONTINUED...