ENGLISH
Hi all, I just got back from my awesome two-week trip to Italy over the Christmas break last night. As you might expect, I have so many stories to tell and let me catch up a little bit. By the way, this entry is practically just a repost of my note on Facebook I posted like two weeks ago, so maybe some of you have already read it :-)
One of the most interesting thing that happened during the trip was the adventure we had on the very first day. It was literally an adventure as many things went wrong simultaneously. Let me elaborate all of them, trust me, it is so adventurous and exciting! ;-)
FIRST
The first thing that went wrong was the flight. When we checked in at easyJet's desk, there was no indication something would go wrong. It was smooth, we got our boarding-passes with still on time time departure (9.30 AM), gate, etc. But then, because one of my friend had to travel with wheelchair and crutches, we had to report to the service desk first before getting through the security. There, the lady told us that our flight was delayed until 12.50 PM. We said no and that we just checked in and it was said it was on time. She insisted and said the announcement just came to the system so that was why when we checked in, it was still on time. We checked, and yes, it was delayed until 12.50 PM.
At first we thought it was the snow but then we realized something weird as no other flight was canceled for more than 1 hour that day. Finally, at around 1.15 PM, we were allowed to board the plane, an Airbus A319-111 reg code G-EZEB. On board, it was revealed that the reason behind the delay was that earlier that morning, the first officer (copilot) who was supposed to fly the plane got a really bad accident so that the company had to find another guy to fill in his job. Of course it took time.
Well, the accident that happened to that first officer apparently caused all these things to happen.
SECOND
We landed at around 3.30 PM at Milan Malpensa International Airport. Our next destination was Milan Central Station as we needed to go to Pisa that day. To get there, we chose to catch a bus as the bus-ticket seller said that it would only take around 45 minutes to get to the station. But then, in reality, it took NINETY minutes, freaking NINETY minutes, to finally arrive at the station!! We arrived there at around 5.45 PM, leaving us with only TWO train options to get to Pisa.
THIRD
Both options were not direct trip. We had to transit one time in both trips, and of course we picked the earlier one (and because the earlier one was some 4 or 5 euro cheaper). The first train was scheduled to depart at 7.05 PM and the transit was in a town called Genova. It was scheduled to arrive at 8.46 PM, and our connecting train would depart at 8.56 PM, which meant that we only had like 10 minutes to transfer.
BUT THEN, because the theme of the day was: "
we were screwed
", another thing went wrong. Our train departed at 7.30 PM from Milan, some 25 minutes behind schedule!! We only had like 10 minutes between trains and now we were suddenly 25 minutes behind schedule?? NIGHTMARE!!! Our only hope was that our connecting train would also be late for some 20 or 30 minutes. But then, because of that theme, it was not the case. When we arrived at Genova Station at around 9.15 PM, our connecting train had already gone. GONE!!! We were officially stranded in Genova, and it was not even a big town!! We looked at the train schedule and saw that the next train to Pisa would leave at 10.45 PM from Genova. Okay, this was our only feasible option, we had to wait for like 1.5 hours in Geneva Station.
The train arrived and we arrived at 12.50 AM in Pisa. "
Yeah, finally we are in Pisa
", that's what we thought at that point, not knowing that the day loved us so much that two other unfortunate things were still waiting for us.
FOURTH
We were in Pisa Station at around 1 AM and to get out, we had to climb down the stairs to cross the platforms and then climb another stairs up. If you read carefully, one of my friend was travelling with a wheel-chair, so this was a problem. Actually, there was an elevator for handicapped people, but there was a stupid regulation stating that the elevator could only be used for public between 6 AM and 10 PM AND that noone from Trenitalia was in charge that night (if there was one, we could have asked him to activate the elevator just that time to help my friend). We tried to look for different solution(s), but none was there. There was this ramp to cross the rail but it would only bring us one platform closer but not to the exit gate. So, it seemed that we had no other option than for my friend to climb down the stairs using her ass and we carried all the luggages.
FIFTH
About one hour after we arrived at Pisa Station, we finally made it to the gate. Another problem occured. We had to find a taxi. The only available taxi at that time was the small one, so we called our hostel to call us a bigger one. Some fifteen minutes later, a bigger taxi showed up, but he did not seem to have the intention to slow down looking for passengers waiting for him. He just came there, drove around the roundabout and just fleed. F**k!! We waived but because (I think) he did not really care, he did not see us. So we called the hostel again and asked the guy to call another cab. Some fifteen minutes more, finally the cab arrived and now finally he saw us!! We left the station at around 2.15 AM and arrived at the hostel at about 2.30 AM!!
Well, that was pretty much the end of that day. We left Delft at around 6.30 AM and arrived at our hostel in Pisa at 2.30 AM the next day!! It was kinda amazing that all these things (starting with an unfortunate fate for a first officer to a sucky cab-driver) could happen in the same day, in the trip of a specific group of people. Eventhough they all undeniably sucked, but the whole trip was a real adventure and it was super exciting!! Waaaay more interesting than just smooth and all-things-were-fine trip as this trip will always be remembered!!
Anyway, our hostel was only like 100 meter from the Leaning Tower of Pisa, so I could take a peek of the tower and the park (with the Baptistry) that night. And yes, it was really beautiful!! I remember feeling that all the things we had been going though that day worthed it!! (beside, the hostel was really good though :-D)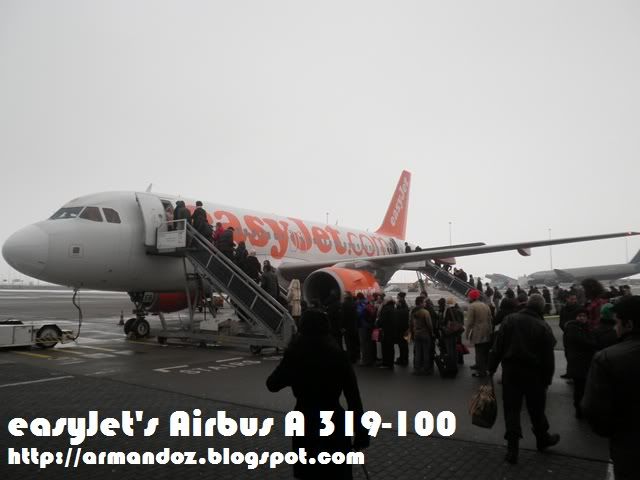 ::: easyJet's Airbus A319-111 reg code G-EZEB which brought us to Milan Malpensa Airport from Amsterdam Schiphol Airport as EZ 2724.
::: the train that took us to Genova Station from Milan Station which were late for 25 minutes.
::: one view at Genova Station.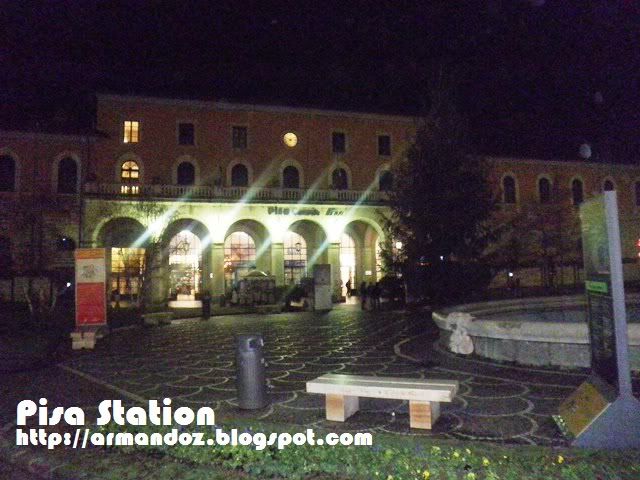 ::: Pisa Station. If you are curious enough, you can actually see the clock there pointing 1.50 AM!!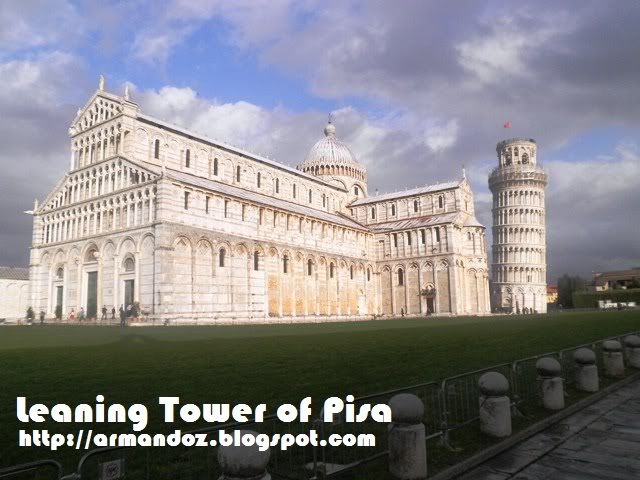 ::: The Leaning Tower of Pisa and the Baptistry. Beautiful!

BAHASA INDONESIA
Halo semua, aku baru saja balik dari liburanku yang hebat selama dua minggu di Italia nih semalam. Seperti yang mungkin bisa ditebak, ada banyak cerita untuk dibagikan dan izinkan aku memulai menuangkannya sedikit.
By the way
, di
posting
ini sebenarnya aku hanya mem-
posting
ulang
note
-ku di Facebook yang kutulis sekitar dua minggu yang lalu sih, jadi mungkin sebagian sudah pada baca :-)

Satu hal yang paling menarik yang terjadi selama liburanku adalah petualangan yang terjadi di hari pertama. Hari itu benar-benar sebuah petualangan karena banyak hal yang kacau secara bersamaan. Aku akan menguraikannya sekarang, dan percaya deh, cerita ini sangat seru dan mengasyikkan! ;-)

PERTAMA

Hal pertama yang kacau adalah penerbangan. Ketika kami check-in di konternya easyJet, tidak ada indikasi sesuatu akan berubah menjadi kacau. Semua berjalan lancar, kami mendapat boarding-pass dimana tertera waktu keberangkatan yang tepat waktu (jam 9.30 pagi), gerbang keberangkatan, dll. Namun kemudian, karena salah satu temanku harus bepergian dengan kursi roda, kami harus melapor ke meja servis dulu sebelum berjalan memasuki area keberangkatan. Disana, petugasnya bilang bahwa penerbangan kami ditunda sampai jam 12.50 siang. Kami berkata itu tidak mungkin karena kami baru saja check in dan waktu penerbangannya masih tepat waktu. Ia kemudian bersikukuh bahwa memang pengumumannya baru saja masuk ke sistem dan oleh karenanya pada saat check in, waktunya masih tepat waktu. Kami kemudian mengecek di layar keberangkatan, dan memang, penerbangan ditunda hingga jam 12.50 siang.

Awalnya kami mengira keterlambatan ini disebabkan oleh salju tapi kami kemudian mengamati bahwa hanya penerbangan kami lah yang ditunda lebih dari satu jam hari itu. Akhirnya sekitar jam 1.15 siang, kami dipersilakan naik ke pesawat, sebuah Airbus A319-111 kode registrasi G-EZEB. Di pesawat, akhirnya dibeberkan alasan di balik keterlambatan ini bahwa pada pagi harinya, kopilot yang seharusnya menerbangkan pesawatnya kecelakaan parah dan easyJet harus mencari kopilot pengganti untuknya. Tentu ini memakan waktu.

Yah, kecelakaan yang terjadi ke kopilot itu ternyata adalah awal dari semua hal yang terjadi pada kami hari itu.

KEDUA

Kami mendarat sekitar jam 3.30 sore di Bandar Udara Internasional Milan Malpensa. Tujuan kami selanjutnya adalah Stasiun Kereta Api Milan Sentral karena kami harus pergi ke Pisa di hari itu. Untuk pergi kesana, kami memutuskan untuk naik bus karena penjual tiketnya menginformasikan bahwa perjalanan dengan bus menuju stasiun akan memakan waktu sekitar 45 menit. Tapi kemudian, pada kenyataannya, waktu yang dibutuhkan adalah SEMBILAN PULUH menit, SEMBILAN PULUH menit saudara-saudara, untuk sampai di stasiun!! Kami tiba disana sekitar jam 5.45 sore, menyisakan hanya DUA pilihan kereta tujuan Pisa.

KETIGA

Kedua pilihan kereta itu bukanlah perjalanan kereta yang langsung, kami harus melakukan satu kali transit di keduanya, dan tentu saja kami memilih perjalanan yang pertama (dan juga karena perjalanan yang pertama lebih murah sekitar 4 atau 5 euro sih). Kereta pertama ini dijadwalkkan berangkat jam 7.05 malam dan transitnya adalah di sebuah kota kecil bernama Genova. Kereta dijadwalkan tiba di Genova jam 8.46 malam, dan kereta lanjutan akan berangkat jam 8.56 malam, yang artinya kami memiliki waktu 10 menit untuk pindah kereta.

NAMUN KEMUDIAN, karena tema hari itu adalah: "kami sial", hal lain berubah menjadi kacau. Kereta kami baru berangkat jam 7.30 malam dari Milan, yang artinya terlambat sekitar 25 menit!! Waktu transit kami hanyalah 10 menit dan sekarang kami sudah telat 25 menit?? MIMPI BURUK!!! Satu-satunya harapan adalah kereta lanjutan kami juga akan terlambat 20 atau 30an menit. Tapi kemudian, karena tema tersebut di atas, itu bukanlah hal yang terjadi. Kami tiba di Stasiun Genova jam 9.15 malam, dan kereta lanjutannya sudah berangkat. Kami ketinggalan kereta!! Resmilah kami terdampar di kota Genova, yang bukanlah kota besar. Kami kemudian melihat jadwal kereta dan kereta selanjutnya tujuan Pisa akan berangkat jam 10.45 malam dari Genova. Oke, hanya inilah pilihan memungkinkan bagi kami, kami harus menunggu selama 1,5 jam di Stasiun Genova.

Keretanya akhirnya tiba dan akhir kata kami tiba di Pisa sekitar jam 12.50 subuh. "Yeah, akhirnya kami tiba di Pisa", itulah pikiran kami pada saat itu, tanpa menyadari bahwa hari itu sangat mencintai kami sampai dua kejadian tak mengenakkan masih menunggu kami.

KEEMPAT

Kami tiba di Stasiun Pisa sekitar jam 1 subuh dan untuk keluar, kami harus menuruni tangga (untuk menyeberangi jalur kereta) kemudian naik tangga lain di pintu keluar. Kalau pada membaca dengan cermat, salah satu temanku bepergian dengan kursi roda, dan ini adalah satu masalah. Sebenarnya, ada lift untuk turun ke penyeberangan itu, hanya saja ada aturan tolol dimana lift hanya beroperasi antara jam 6 pagi hinggal jam 10 malam DAN tidak ada seorang petugaspun dari Trenitalia yang bertugas malam itu (kalau ada, kan kami bisa tuh memintanya mengaktifkan lift hanya sekali itu saja untuk membantu temanku). Kami mencoba mencari solusi lain, tapi nggak ketemu. Ada sih penyeberangan biasa antara jalur, tetapi penyeberangan itu tidak berlanjut sampai ke pintu keluar. Ya udah, nggak ada pilihan lain selain melakukan cara paling sederhana: temanku harus menuruni tangga itu satu per satu sambil duduk di lantai dan kami membawa semua barang bawaan.

KELIMA

Sekitar sejam setelah tiba di Stasiun Pisa, kami akhirnya berhasil mencapai pintu keluar. Masalah lain muncul. Satu-satunya taksi yang sudah siap di stasiun itu hanyalah yang taksi berukuran kecil, maka kami menelepon hostel kami untuk meminta taksi yang lebih besar. Sekitar lima belas menit kemudian, satu taksi yang lebih besar datang, tapi sopirnya seperti tidak ada niat untuk mencari penumpang yang sedang menunggunya. Ia cuma datang kesana, menyetir mengelilingi bundaran di depan stasiun, dan langsung pergi begitu saja. Si***n!! Kami tentu melambaikan tangan tapi (sepertinya) ia tidak begitu peduli, dan ia tidak melihat kami. Kemudian kami menelepon hostel kami lagi dan meminta orangnya menelepon taksi lagi. Sekitar 15 menit kemudian, akhirnya taksinya tiba dan akhirnya ia melihat kami!! Kami meninggalkan stasiun sekitar jam 2.15 subuh dan tiba di hostel jam 2.30 subuh!!



Yah, kira-kira itulah akhir hari itu. Kami meninggalkan Delft sekitar jam 6.30 pagi dan tiba di hostel kami di Pisa sekitar jam 2.30 subuh keesokan harinya!! Agak menakjubkan juga bagaimana semua hal ini (dimulai dengan nasib malang kopilot hingga sopir taksi menyebalkan) bisa terjadi di hari yang sama, di perjalanan sebuah grup. Walaupun semua hal ini sangat menyebalkan, tapi keseluruhan perjalanannya benar-benar sebuah petualangan dan sangat mengasyikkan loh!! Jauuuh lebih menarik daripada perjalanan yang lancar dan semua-hal-baik-baik-saja karena perjalanan ini justru akan lebih terkenang!!


Ngomong2, hostel kami berada hanya sekitar 100 meter dari Menara Pisa, jadi aku bisa mengintip menaranya dan tamannya (dengan katedralnya) di malam hari. Dan ya, Menara Pisa memang sangat indah!! Aku ingat merasa bahwa semua hal yang telah kami lalui hari itu setimpal dengan keindahannya!! (di samping fakta bahwa hostelnya bagus sih :-D)