pre-note:
this entry will only be written in English :-)
Last Sunday, this year's edition of the
Australian Open
, one of this year's grand slam tournaments, was concluded. As the first grand slam of the year, which is held in the end of January, of course this tournament is always very interesting to watch as we can expect a bit more upsets because some top players might still have not found their top forms yet. Anyway, let me elaborate my thought about this year's edition of the tournament.
Women's Singles
Even before the tournament started, about one month prior, there had been a big upset in the women's draw. The defending champion, Serena Williams, announced her withdrawal from the tournament because of the continuing rehabilitation of her foot injury. This left the women's draw to be extremely wide open: many players could be the champion. For me, before the tournament started, I had three players in my mind who were more likely to be the champion: Kim Clijsters, Caroline Wozniacki, and Venus Williams. Well, picking Venus Williams might be a "weird" one since she had been sidelined for most of the second half of 2010 due to knee injury, but she is one of the Williams sisters, of course she is still a contender to win the title. Even with that knee injury, she came so close to winning the US Open title last year.
::: Li Na of China
As the tournament progressed, I think my picks was proven to be a good one. Well, of course Venus Williams got eliminated in the third round, but it was because of an unexpected injury she suffered during her second round match (in a match that she miraculously still won). Both Caroline Wozniacki and Kim Clijsters made it to the semifinal where en route, Clijsters created a history by double-bageling a former world no.1 (Dinara Safina) in the first round, the first time ever in the open era it happened in a grand slam tournament. However, an underdog, Li Na of China, slowly and steadily dug deeper into the tournament. In the end, she beat the world no.1 Wozniacki after saving a match point to be the first ever Chinese player to reach a grand slam final. From the other side of the draw, Kim Clijsters emerged to be in the other side of the net.
Of course Kim Clijsters was the heavy favorite of this final match. Well, but then, it turned out that Li Na was mentally so strong! She was really calm in the first set, taking it 6-3! It was her first grand slam final, so it must have been very overwhelming for her, but she managed the pressure well. She definitely handled it way better than Dinara Safina two years ago (Safina lost the first set 0-6 to Serena Williams exactly two years before). However, in the second set, Clijsters proved why she had won three US Open titles and many other titles. She had all the experiences and she definitely took advantages out of that. While Li Na somehow could not maintain her level, Clijsters geared up and never looked back. She won the last two sets 6-3, 6-3 to claim her first ever Australian Open title.
::: Kim Clijsters with her Australian Open throphy.
Btw, there has been a rumor that 2011 might be Clijsters' last year on tour. It was getting more worrying when Clijsters did not say "
See you next year
" in her winning speech, hmmm...
Men's Singles
In the beginning, the men's draw was a bit more predictable. Robin Soderling and Andy Murray's ranking change (Soderling to number 4, Murray down to number 5) did not appear to be a major change as the two were still in the same quarter of the group (not like last year where Murray met Nadal in the quarterfinals). The favorite one was of course Rafael Nadal, who had won all three major proceeding this Australian Open and was chasing for "Rafa Slam" where IF he won this tournament, he would have hold all grand slam titles simultaneously (kinda like Serena Williams in 2003). The other favorites were familiar faces: Roger Federer, Novak Djokovic, and Andy Murray. Robin Soderling and Tomas Berdych followed silently behind them. My pick for the winner would be Roger Federer, Rafael Nadal, or Andy Murray, and maybe Novak Djokovic (it was tough to pick one of these guys though, because they were pretty much at the same level and they were all hungry to win a major title).
As the tournament progressed, all these players proved that they were the favorites. Nadal lost in the quarterfinal to David Ferrer because of an apparent injury. But aside from him, Federer, Djokovic, and Murray moved to the semifinals. Federer lost to Djokovic there, and I was so happy because finally we would have a major final with no Federer nor Nadal. Well, do not get me wrong. Not that I do not like both of them, but it is just that the two of them had been dominating grand slam for the past several years. Some new names to be in that league are of course a really nice addition as the competition is getting more open, right? Anyway, in the other side of the draw, Murray managed to make his way to his second straight Australian Open final.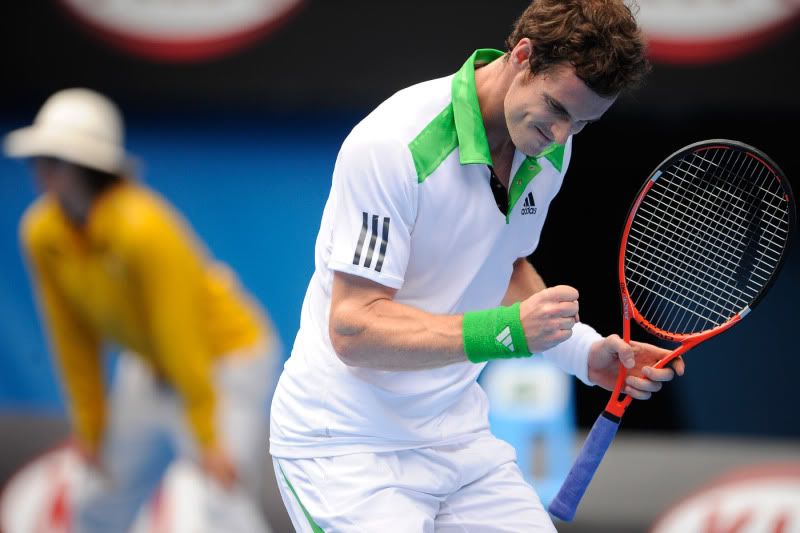 ::: Andy Murray celebrating after winning a point.
For the final, I really hoped Murray would win, as I think it was already a time for him to finally win a major title. It had been tough for him, with all the expectations from UK media, and I think it would be nice for him to finally release that burden. Beside, I think he had all he needed to win a major title and he was not facing Roger Federer this time. However, somehow in the final, he just shrank!! I did not what happened to him but it was clearly he was not even close to his best. Djokovic controlled pretty much everything on the match, winning it in straight sets. I still do not understand why Andy Murray, so far, always shrinks everytime he reaches a major final, hmmm. Well, it actually does not matter if he lost in the final, as long as he played his best effort and games in that final, but the thing is, he was not playing his best in that final. That is what's strange for me, hmmm... . I still hope Andy will win a major title soon :-)
Doubles
The Bryan brothers created a history by winning Australian Open for the third time in a row, and women's doubles' world no.1, Gisela Dulko and Flavia Pennetta, won the women's doubles title. I do not have many comments about this though, hehehe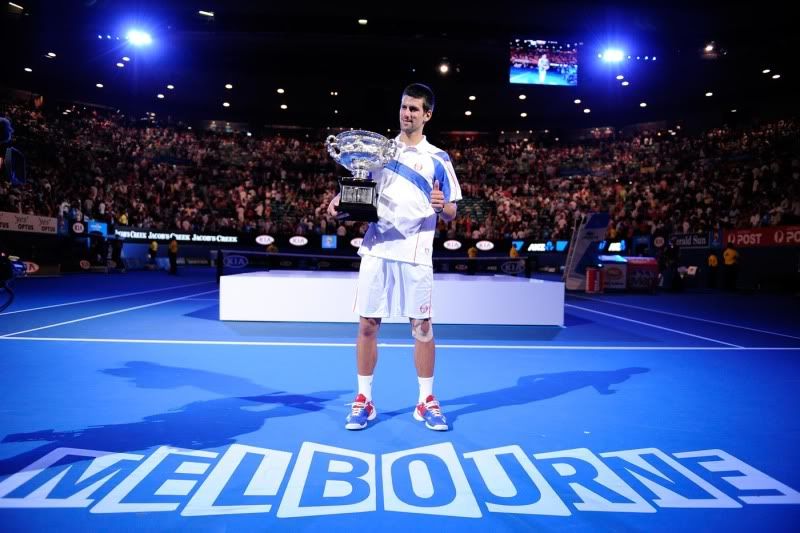 ::: Novak Djokovic and his Australian Open throphy.
Anyway, so finally, congratulations for Kim Clijsters and Novak Djokovic for winning Australian Open this year!! And also the Bryans, Gisela Dulko, and Flavia Pennetta!!
note :
All photos were taken from the official website, link above.