ENGLISH
Well, time really flies, one full month has passed since the year 2011 rang its bell for the first time. Well, I barely felt January though because I had a really hectic month with assignments and exams (you can tell, I am sure). And now, here we are, in the beginning of a whole brand new month: February.
Things have been going pretty okay for my in the new month. One result of my exam was published yesterday, and the result is: *
drumroll playing
* I
PASS
it! I am really happy that I PASS the exam and I am really grateful for that! But somehow I am not really satisfied with my grade. I think I could have done better and honestly, I am really considering about taking a resit (reexam) now. I mean, practically, there is nothing to lose for me because I already have that "pass" badge in my bag. If I do worse in the resit exam, I already have the "pass" badge and I am still safe. The only "loss" (if I want to see it that way) is that I will have to invest some time, energy, and effort to restudy all the materials again. So what do you think?
Anyway, finally I have been exam-free and assignment-free for almost one week now. Well, this statement is not really true though. I am taking a Dutch Course for Beginners now and it is kinda really demanding. We have to start working hard from day zero (we even have to pass a preliminary test before qualifying to join the class, and by passing, it is getting 80%). And the hard-working continues from day one (which was last Monday) and on as we have tests every time the class ends and we have to pass them. If we fail them, then we will have to retake them the next class, which also has its own set of tests. So, if we keep failing, the tests will start to pail up. Well, but for now I am kinda enjoying it though. Hopefully I can keep this spirit up the whole course. :-)
Well, to close this entry, apparently today is the Chinese New Year!!
Gong Xi Fa Chai
everyone!!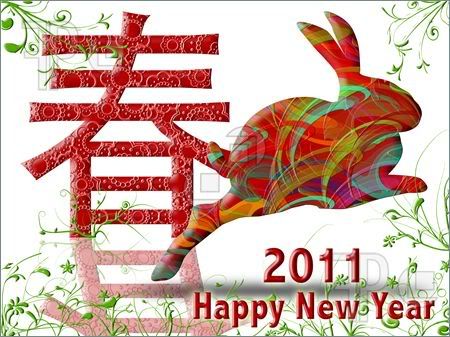 note :
pictures were taken from here and here.

BAHASA INDONESIA
Wah, waktu berlalu begitu cepat yah, nggak kerasa satu bulan penuh sudah berlalu semenjak bunyi bel tahun 2011 pertama kali dikumandangkan. Yah, aku sih nggak terlalu merasakan sebulan Januari lalu karena aku memiliki bulan yang sangat padat dan sibuk dengan semua tugas dan ujiannya (pasti pada sadar deh ya, aku yakin). Dan sekarang, disinilah kita, di awal bulan yang baru: Februari.
Hal-hal di sekitarku berlangsung dengan baik nih di awal bulan ini. Satu hasil ujian sudah diumumkan kemarin, dan hasilnya adalah: *
genderang berdendang
* Aku
LULUS
loh! Aku sangat bahagia aku LULUS ujian itu dan aku sangat bersyukur karenanya! Tapi kenapa ya koq aku nggak terlalu puas sama nilainya. Rasanya aku bisa mendapat nilai yang lebih baik deh dan jujur nih, aku sedang mempertimbangkan ambil ujian ulang sekarang. Maksudku, pada dasarnya, posisiku saat ini
nothing to lose
kan. Aku kan sudah memiliki tanda "lulus" nih. Jadi, kalau ujian ulangku lebih buruk, kan aku sudah "lulus" dan aman deh. Satu-satunya kerugiannya adalah (kalau mau dilihat sebagai kerugian) aku harus inves waktu, tenaga, dan usaha untuk mempelajari lagi semua materinya. Bagaimana nih pendapat kalian?
Ngomong2, akhirnya seminggu terakhir ini aku nggak ada ujian dan tugas untuk dipikirkan nih. Yah, kalimat sebelumnya itu nggak sepenuhnya benar sih. Kuarter ini aku mengambil kelas bahasa Belanda bagi pemula dan beban dari kelasnya lumayan juga. Kami harus bekerja keras mulai dari hari nol (kami bahkan harus lulus ujian awal dulu hanya supaya bisa ikut kelasnya, dan dengan lulus, maksudnya dapat nilai 80%). Dan kerja kerasnya berlanjut di kelas semenjak hari pertama dan seterusnya karena kami ada tes di setiap akhir kelas dan kami harus lulus tes-tes itu. Andaikata nggak lulus, tes harus diulang di pertemuan selanjutnya yang juga sudah ada agenda tes tersendiri. Dengan kata lain, kalau gagal terus, ya artinya tes-tes itu bakal selalu menumpuk deh. Yah, aku sih sekarang bisa menikmatinya koq. Mudah2an aja aku bisa tetap menjaga semangat ini sepanjang kursus :-)
Yah, untuk menutup posting ini, ternyata hari ini adalah Tahun Baru Ilmek!!
Gong Xi Fa Chai
semuanya!!