ENGLISH
Today is one of the historic days in my life. What happened today? Well, today I watched my first ever tennis tournament in my life! It was the
Rotterdam Tournament
in Rotterdam, not so far away from where I live now. Well, you might know that I am a fan of tennis and back in Indonesia, there was no easy opportunity for me to freely watch a tournament, namely a big one. This tournament in Rotterdam can be categorized as big tournament as it was part of the ATP World Tour 500, in term of level just below ATP Masters Series and Grand Slams.
Anyway,
my ticket
allowed me to watch both finals held today, singles and doubles. Actually, none of my favorite players made it to the final though (Andy Murray and Gilles Simon both lost in the first round of singles and the Murray brothers lost in the semifinals to Melzer/Petzschner in doubles). But still, I was so excited to finally watch my first tennis tournament!
So this morning I departed at around 10 AM from Delft and arrived there at Ahoy Stadium at almost 11 AM. As the first match would start at noon, I killed time by walking around the tennis complex. I was so excited! I mean, finally!! I got "wow"-ed. Anyway, when I reached the Centre Court (the main court), Jo-Wilfried Tsonga was practising there! The second "wow" striked me.
Btw, I got a little problem in finding my seat. My seat number was a little unusual as my ticket indicated it was in G1 area. I asked the official and they said there was NO G1 area, so they suggested me to try Gi instead as the area should be indicated with "two letters" instead of one letter and one number. I went to Gi, but the seat number did not match (seat with the number indicated in my ticket was not in Gi area). So I decided to ignore the area and just found a seat with my number as I recognized that the seat-numbering continued from one area to another, so there was a good chance the area meant really nothing in the seat-numbering system. However, I was (partly) wrong (and a bit unlucky) as I got the wrong seat. A Dutch man said that that seat was his as it was in area Gc, so mine was not supposed to be that one. So, where the hell was my seat?? I went to the other part of the stadium, and finally also found a seat with that number. I did not pay attention to the area as the double match was almost started. Noone was sitting on that seat and so I just sat there, enjoying the match. During the break, I checked the area, and yes, it was G1 area, hahaha. Btw, I just realized one thing: it might not be G1 afterall, it might be Gl
(Golf Lima)
!! See!! Gl, typed with several fonts, looked like G1!! Well, now it just makes sense!! hahaha
Btw, that Dutch man was really kind. During the break between the two final, I met him when I was walking to the cafe to buy a drink. He approached me and asked if I found my seat! Wow!!
Anyway, so I watched the two finals. The doubles final was cool. Jürgen Melzer and Philipp Petzschner defeated Michaël Llodra and Nenad Zimonjić by 6-4, 3-6, [10-5]. There were several great and entertaining points. It was a bit a shame that Zimonjic double faulted in the last two points, giving the victory to Melzer/Petzschner away. Btw, the match was led by Mohamed Kalyani. Well, this guy is really one of the most entertaining chair umpire in the world! :-)
As for the singles final, it was also a great match. Well, none of Robin Söderling and Jo-Wilfried Tsonga is my favorite player, so I was kinda in the neutral side today. Well, both players demonstrated a really high quality of play today. There were so many great points produced. In the second half of the match, actually Tsonga got the momentum. At one point, he even produced four consecutive aces, giving him one game free!! However, he did choke at one game in the deciding set, and this game proved to be the key to Robin Söderling's victory over him. Robin Söderling closed the championships with an ace and won 6-3, 3-6, 6-3.
Well, for my first tennis tournament, I think it went really well. All matched that I watched took three sets (good, it meant longer match so I got more match to watch with the same price of ticket, lol). And all of them were really good quality! I think I am coming back next year! Btw, I am also looking for some affordable upcoming tournaments nearby. I am currently eyeing at the Brussels Ladies Open next May, it will be a Premier level tournament for the women played on red clay. But I need to see the entry list first before deciding whether I should go or not, hmmm.
::: Doubles' Final match between Michaël Llodra/Nenad Zimonjić and Jürgen Melzer/Philipp Petzschner.
::: Jürgen Melzer/Philipp Petzschner defeated Michaël Llodra/Nenad Zimonjić by 6-4, 3-6, [10-5]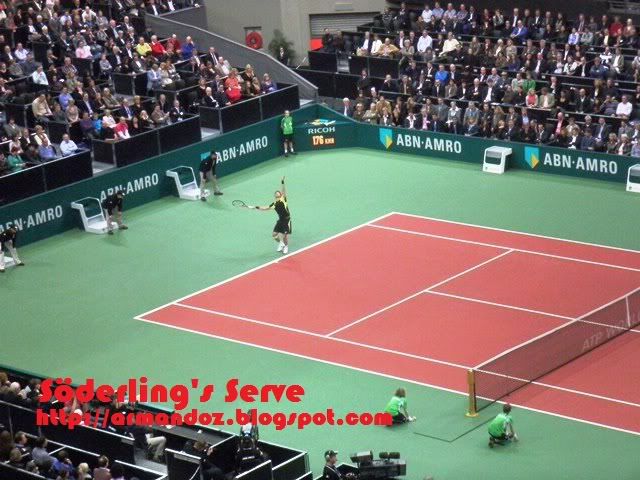 ::: Robin Söderling serving.
::: Closing ceremony of the 2011 ABM Amro World Tennis Tournament.
::: Robin Söderling was crowned as this year's winner, defending his title from last year.
::: Championships point for Söderling. Robin Söderling won this point, thus closing this year's tournament, with a beautiful ace.

BAHASA INDONESIA
Hari ini adalah hari bersejarah dalam hidupku. Mengapa demikian? Yah, karena hari ini aku untuk pertama kalinya seumur hidup nonton yang namanya turnamen tenis! Turnamennya adalah
Turnamen Rotterdam
di Rotterdam, nggak jauh dari dimana aku tinggal sekarang. Yah, mungkin pada tau lah kalau aku ini fans-nya tenis dan di Indonesia, nggak ada banyak kesempatan dimana aku bisa dengan mudah dan bebas nonton turnamen tenis, apalagi yang besar. Turnamen di Rotterdam ini bisa dikatakan besar, karena turnamen ini ada di level ATP World Tour 500, yang dari segi level hanya ada di bawahnya ATP Masters Series dan Grand Slams.
Ngomong2,
tiketku
memberikanku akses untuk nonton kedua final hari ini, tunggal dan ganda. Sebenarnya, pemain favoritku nggak ada yang amsuk final sih (Andy Murray dan Gilles Simon sudah kalah di babak pertama tunggal dan Murray bersaudara kalah di semifinal ganda dari Melzer/Petzschner). Tapi ya, masih aja dong aku bersemangat nonton turnamen tenis pertamaku!
Jadi, pagi ini aku berangkat jam 10 pagi dari Delft dan tiba di Stadium Ahoy sekitar jam 11 pagi. Karena pertandingan pertama baru mulai jam 12 siang, aku jalan-jalan dulu lah keliling komplkeksnya. Aku sangat bersemangat loh! Maksudku, akhirnya gitu!! Aku merasa "wow". Ngomong2, ketika aku sampai di
Centre Court
-nya (lapangan utama)m disana Jo-Wilfried Tsonga sedang berlatih! Yah, "wow" kedua menghampiriku.
Btw, aku mendapat masalah kecil dalam mencari kursiku. Nomer kursiku agak nggak biasanya karena tiketku menunjukkan kursiku ada di area G1. Aku bertanya ke panitianya dan katanya nggak ada tuh area G1, jadi mereka menyarankanku mencoba mencarinya di area Gi karena areanya diberi nama dengan "dua huruf" bukannya satu huruf satu angka. Aku kemudian mencarinya di Gi, tapi nggak ketemu soalnya nomer kursinya nggak ada yang cocok (nomer kursiku nggak ada di area Gi). Makanya kemudian aku memutuskan untuk mengabaikan areanya dan mencari kursi dengan nomer yang cocok denganku karena aku sadar bahwa nomer kursinya berlanjut dari satu area ke area lain, jadi ada kemungkinan sebenarnya area itu tidak berarti apa-apa dalam sistem penomoran kursi. Namun, ternyata aku (setengahnya) salah (dan agak kurang beruntung) karena aku duduk di kursi yang salah. Ada seorang Belanda yang berkata kalau kursi yang kududuki adalah kursinya karena kursi itu ada di area Gc, jadi kursiku ya bukan kursi itu. Nah, jadi dimana dong kursiku?? Aku trus jalan ke sisi lain stadionnya, dan akhirnya menemukan satu kursi dengan nomer itu. Aku nggak terlalu memperhatikan areanya karena pertandingan final ganda sudah mau dimulai. Nggak ada yang duduk disana ya udah aku duduk aja disitu, menikmati pertandingannya. Di saat istirahat, iseng aku mengecek areanya, dan bener, itu adalah area G1, hahaha. Btw, aku baru menyadari sesuatu nih: mungkin area itu bukanlah area G1 loh, mungkin aja adalah area Gl
(Golf Lima)
!! Lihat kan!! Gl, kalau diketik dengan beberapa
fonts
, kan kelihatan mirip banget sama G1!! Ah, akhirnya semua masuk akal sekarang!! hahaha
Btw, orang Belanda yang itu baik banget loh. Di sesi istirahat antara kedua final, aku bertemu dengannya lagi ketika aku lagi jalan ke kafe buat beli minum. Dia menghampiriku dan bertanya apakah aku akhirnya menemukan kursiku! Wow, ramah banget yah!!
Ngomong2, jadi aku menonton kedua finalnya. Final ganda keren juga tuh. Jürgen Melzer dan Philipp Petzschner mengalahkan Michaël Llodra dan Nenad Zimonjić dengan skor 6-4, 3-6, [10-5]. Ada beberapa poin yang hebat dan sangat menghibur. Sayang aja di dua poin terakhir Zimonjic melakukan double fault dua kali, memberikan kemenangan pada Melzer/Petzschner. Btw, pertandingan final ini dipimpin oleh Mohamed Kalyani. Yah, dan memang, orang satu ini memang salah satu wasit tenis yang paling menghibur di dunia deh!! :-)
Untuk final tunggalnya, pertandingannya juga keren banget. Yah, baik Robin Söderling maupun Jo-Wilfried Tsonga bukan pemain favoritku sih, makanya aku lumayan netral tadi. Keduanya bermain dengan sangat baik hari ini. Ada banyak poin keren yang dimainkan. Di setengah kedua pertaandingan, sebenarnya Tsonga yang lebih menguasai momentumnya. Bahkan, di satu poin, ia menghasilkan empat
aces
berturut-turut loh, memberikannya satu
game
dengan mudah!! Namun, ia agak "tersedak" sedikit di satu
game
di
set
ketiga dan memang akhirnya terbukti
game
inilah kunci kemenangan Robin Söderling's atas dirinya. Robin Söderling menutup turnamen dengan sebuah
ace
dan menang 6-3, 3-6, 6-3.
Yah, untuk turnamen tenis pertamaku, aku rasa turnamen ini keren banget sih. Semua pertandingan yang aku tonton berlangsung tiga
set
(bagus, artinya makin banyak dan lama pertandingan yang kutonton dengan harga tiket ini, lol). Dan semuanya juga berkualitas bagus! Aku rasa aku akan nonton lagi deh tahun depan! Btw, aku juga sekarang lagi mencari beberapa turnamen akan datang yang harga tiketnya terjangkau nih dan lokasinya dekat2 nih. Aku sih sekarang sedang memasang mata di turnamen Brussels Ladies Open bulan Mei nanti, sebuah turnamen level Premier untuk petenis wanita yang dimainkan di tanah liat merah. Tapi aku harus melihat daftar pemainnya dulu deh sebelum memutuskan akan pergi atau tidak, hmmm.