Previously on
First 2010 Vacation : Bali
: Zilko and his friends went to Bali for vacation. Having spent five days in Bali, they had two days left before going back to Bandung.
Day 6 (Wednesday, 20 January 2010)
One thing that I am kinda proud of this trip is that I came up with several (brilliant) ideas to save money or maximize the efficiency of our spent money, LOL. Well, at first, we had a deal to rent Pak Gede's car from Friday till Wednesday. We thought we would figure a way to go to the airport on Thursday and to go somewhere else. Well, I suddenly came up with a (brilliant) idea. WHAT IF we moved our schedule with Pak Gede from Wednesday to Thursday? The pros of this option were that we would not need to figure a way to go to the airport, which we WOULD go to anyway because we were going back to Bandung on Thursday, and we would not need to spend extra cash for it as it was all included in our initial deal with Pak Gede (renting his car for the whole day). Plus, we did not need to have a car on Wednesday. Having spent five days in Bali, we had not really enjoyed the beauty and atmosphere of Kuta Beach and the surrounding. We could actually take that as our main agenda on Wednesday. The con(s) of this option, well, I could not see any con of this option. That's why I think it was brilliant! LOL We just needed to call Pak Gede and saw whether he agreed with that offer or not. My friend called him, and it was a "YES"! Yeah!! Well, because of this strategy, at least we saved around Rp 100,000.- from our original "taxis" account.
Anyway, as we followed our sudden-but-brilliant plan, we would spend Wednesday walking around Kuta. With this option, we could actually have a really good sleep as we could wake up pretty late. Our agenda after waking up was of course having brunch. Well, that Wednesday was such a sunny day. Sunny day in a tropical beach town means super hot and super humid day!! Walking down the street in a sunny day was kinda torturing that day. We decided to hop from one shop to another just to get rest from the heat in an air-conditioned room, LOL. We finally made our final hop at Discovery Mall, having brunch there. Well, as we were having brunch, we found out that apparently, the best and the cleanest beach in Kuta was the beach behind Discovery Mall and some high-class hotels next to it!! The sand was white, the beach was clean, and somehow it was "calling" us to go swimming there - but of course we didn't because swimming was not in our to-do list this Wednesday, LOL. After brunch, of course we took pictures there but didn't do it for long simply because of the theme of that day: heat and humidity!!
::: A really beautiful and clean beach right behind Discovery Mall.
Considering about what to do next, we decided to walk around INSIDE the comfortable (because it was air-conditioned) Discovery Mall. This activity of course didn't last long because mall was a mall, nothing that special. We then decided to go back to our hotel, because outdoor activity was definitely a no-no, again because of the theme of the day: heat and humidity!! Our next scheduled activity was to go to Kuta Beach at around 5 PM, when it wouldn't be that hot nor humid anymore. To kill time, some friends decided to have a massage first, I didn't. Damnit, I should have taken that massage too, haha...
Anyway, at around 4.30 PM we walked to Kuta Beach. Well, we had kinda been late because people had already taken great and strategic spots to watch the famous sunset in Kuta Beach. Luckily we still managed to get a pretty good spot. It was such a beautiful day. It was sunny earlier that day and as a result, it was a clear evening. So, for the second consecutive day, we were lucky to get another sunset in Bali, especially this one was at the famous Kuta Beach!!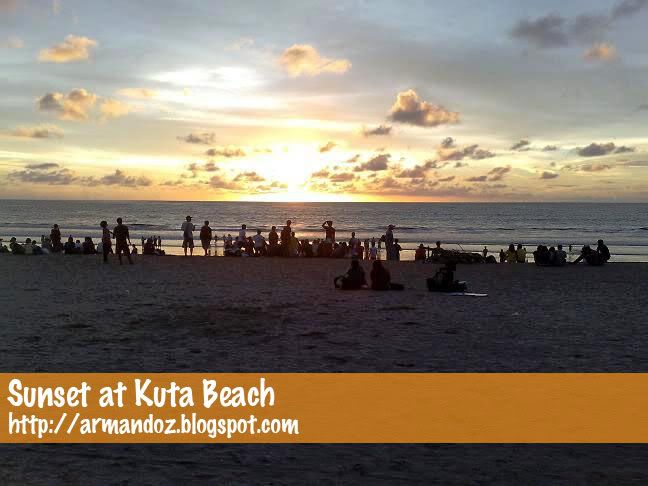 ::: The famous Kuta Beach during sunset.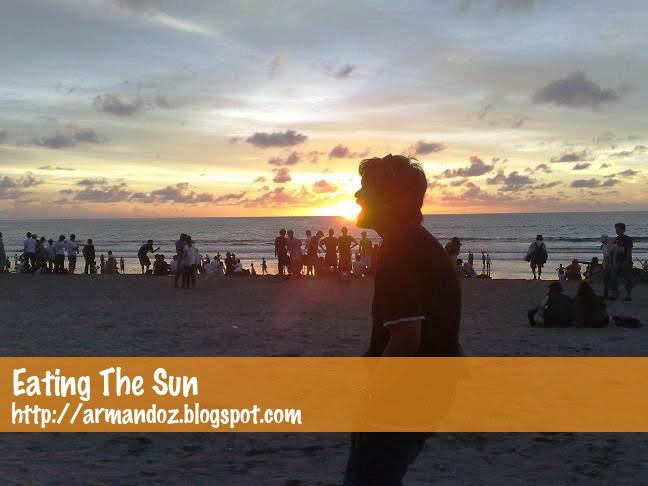 ::: Eating the sun, LOL.
After the sunset, we left Kuta Beach and headed to the Bali Bombing Monument at Legian Street. On the way, we walked through the famous Poppies Lane. Well, we enjoyed the atmosphere that evening. A lot of pedestrians were walking down the street, the hectic Legian Street with all those stores and art-shops. It was SO Bali, the atmosphere really brought us to holiday mode! :-) I think, you must feel that atmosphere, then you can say you have been to Bali! :-)
Day 7 (Thursday, 21 January 2010)
Pak Gede picked us up at 9 AM. Well, we also checked out at that time so we wouldn't have to go back to our hotel. We decided to bring our luggages with us because we would be charged around Rp 70,000.- per bag if we decided to leave them in our hotel. Anyway, our main destination this day was Besakih Temple, the biggest temple in Bali. However, my friends requested to go to Sukawati (again) on the way. Because it was not that far from our route to Besakih, we all agreed as long as they did quick shopping.
Then, I learnt something important: We can't trust women when they say they will do quick shopping. *sarcastic mode on* LOL. They consumed too much time at Sukawati (well, as I did before, I only waited in our car, chit-chatting with our driver) that we didn't have enough time left to make it to Besakih. Well, we had to drop Besakih from our list because if we still insisted to still visit it, we would have been in a hurry and anxious whether we would make our flight or not. That was a no-no in our vacation. It is useless to visit a place while you can't enjoy it because you are in a big hurry, rite?
::: One spot at Denpasar City.
So, we had to find alternative destinations to kill our time. It was near noon, so we decided to go to Denpasar to have lunch at the restaurant we dropped by several days prior. Plus, my friend wanted to go to Titiles to buy some gifts. Okay, so that was our first plan. We followed it up by going to Bali Galeria. Well, I think this was kinda funny. On
the last day
during my previous visit to Bali, I also went to Bali Galeria to kill time. I guess going to Bali Galeria to kill some time on the last day of my vacation to Bali has kinda been a tradition for me, LOL.
Anyway, after killing some time, it was 4 PM, time to leave Bali Galeria and headed to Ngurah Rai Airport. Some minutes later, we arrived at Ngurah Rai Airport, thus saying good bye with Pak Gede and his very warmth and friendly service. Anyway, we then checked in and found out that our flight had been delayed until 7.30 PM (originally it was scheduled to take off at 6.35 PM). Well, that sucked! But we could do nothing to fix it, rite? We just had to wait :( Lucky, Ngurah Rai Airport provided its passengers with free internet access. Different with the one provided at Husein Sastranegara Airport where the connection was so damn slow (it took MINUTES just to access Google's main page), the internet connection at Ngurah Rai Airport was great!! The downside was only that they didn't provide that many computers. All computers were occupied and we had to wait in line to use them, hmmm.
::: A monitor showing departure schedule that day. My flight was delayed!
Then, another announcement was made, stating that the flight to Bandung would be delayed for another hour, until 8.30 PM!! Wew, that was a two hours delay!! Well, we originally had plan to have dinner once we arrived at Bandung, but with this situation, there was no way we would execute that plan. We had to have dinner at the airport. Well, actually, according to the law in Indonesia, an airline should give their passengers meal as compensation when there is a 30-180 minutes delay. It was a 2 hour delay, but we expected nothing because we knew, AirAsia is a low cost carrier, there was a possibility they would not obey that rule. Our appetite could not be compromised any further and we decided to have dinner at a restaurant in the waiting lounge. Well, JUST AFTER we ordered our meal, there was an announcement for AirAsia's passengers heading for Bandung to take our compensation meals!! Damnit!! Had they announced it 3 minutes earlier!! Well, we still had positive thought, maybe it was just snack, and we continued our dinner at the restaurant. Well, it was not a cheap restaurant, you know, because it was inside an airport. After finishing our dinner, two friends went to the specified gate to take the compensation meal, and apparently, it was a FULL MEAL!! A "Rice Package" from McD including one bottle of mineral water!! Whoaaa!!! AirAsia was really professional, even though that still couldn't justify the delay.
::: An Indonesia AirAsia's Boeing 737-3Y0 reg code PK-AWP flight no QZ 7157 was ready to take off to Bandung. A Lion Air's Boeing 737-900ER was next to her.
Anyway, finally, at 8.15 PM, we were called to board the plane. It was Indonesia AirAsia's Boeing 737-3Y0 reg code PK-AWP flight no. QZ 7157. At 8.30 PM it took off from runway 27 Ngurah Rai Airport. It was a relatively smooth flight, even though it penetrated bad weather as it approached Bandung. We finally landed safely after circling the city of Bandung at runway 29. Thus, enabling us to see the view of Bandung city from above as we were approaching runway 29. After landing safely, our holiday to Bali officially came to an end...
::: Three Indonesia AirAsia's Boeing 737-300s, reg code PK-AWU, PK-AWQ, and PK-AWP being parked at Husein Sastranegara Airport at night.
Well, it had been a really fun and memorable holiday!!! I am looking forward to having another holiday like this!! :-)
THE END