ENGLISH
Friday morning, I got up at 6.15 AM to take my mom to Adisutjipto Airport and my lil' bro to school. At 7.05 AM, I arrived at home and continued my sleep, he3... :) I was so sleepy since that night I slept at 1.45 AM (after watching the 4th episode of The Apprentice season 5). O yea, I haven't written anything about The Apprentice, I promise I will... :D
At 8.30 AM, I got up and had breakfast, then took a shower. At 9.15 AM, I went to BCA (bank) to check some accounts. The night before, my mum transfered some ammount of money from my dad's account to hers to do a transaction. Weirdly, my dad's account had been reduced but that ammount of money still hadn't been added to my mom's account. Then, we tried another transaction (my mom transfered small ammount to my account) and it ended up the same thing. Therefore we were a bit relieved (the results were the same, if mine had been added, that was a problem... :D) since that means there are still possibilities the system was down or the transactions would be done the next morning. So, Friday morning since my mom was away to Jakarta, I went to the bank and checked those 2 transactions. Luckily, those were fine and according to the datas, those transactions were partly done the night before (the reduction) and the additions were yesterday morning... . Phiuhhh... :)
Later that day, I had home-made steak for dinner, he3... :) For me, home-made steak is the best steak ever, since the portion is large and also a lot cheaper... :P Later that evening, my grandma called a noddle-man who always passes my home every evening and asked my brother and I whether we wanted to eat noodle or not. Of course we do, wakakakakaka... lol. So, we ordered fried noodle and "
Mie Kuah
". At 8 PM, I watched the fifth spectacular show of Indonesian Idol.
The electricity here went off this whole morning up until 12.45 PM!! Huh!! So, for 2 weeks I have been in Jogja, the electricity has gone off 3 times!! :( :( This evening at 7 PM, I went to Adisutjipto Airport to pick my mom up from Jakarta (the flight she took was the same with I took
two weeks ago
, Garuda Indonesia GA 214). The flight was also delayed, but not as long as mine, "

only

" 35 minutes.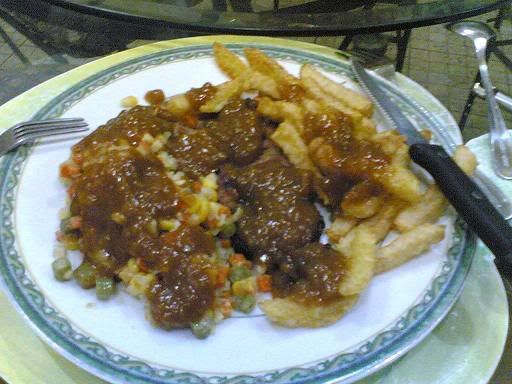 ::: Home-made Steak with BBQ Saucing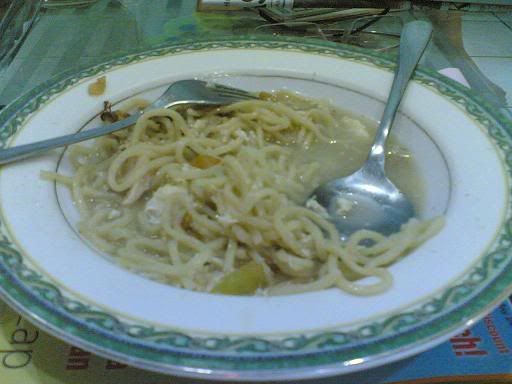 ::: half-eaten "
Mie Kuah
"

BAHASA INDONESIA
Jumat pagi, aku bangun jam 6.15 untuk nganter mamaku ke Bandara Adisutjipto dan adikku ke sekolah. Jam 7.05 pagi, aku sampe di rumah dan melanjutkan tidur saya, he3... :) Aku ngantuk banget soale aku baru tidur jam 1.45 pagi (habis nonton episode ke-4 dari The Apprentice musim 5). O iya, aku blon nulis apa pun tentang The Apprentice yah, aku janji aku bakal nulis deh... :D
Jam 8.30 pagi, aku bangun, trus makan pagi, trus mandi. Jam 9.15 aku pergi ke BCA (bank) untuk ngecek beberapa rekening. Malam sebelumnya, mamaku kan transfer sejumlah uang dari rekeningnya papaku ke rekeningnya untuk melakukan transaksi. Anehnya, rekeningnya papaku jumlah uangnya udah berkurang tapi sejumlah uang itu blom ditambahin ke rekeningnya mamaku. Trus, kita nyoba transaksi lainnya (mamaku transfer sejumlah kecil uang ke rekeningku) dan berakhir dengan hal yang sama. Makanya jadi sedikit lega (soale sama2 gitu hasilnya, klo tau2 tempatku langsung masuk kan malah gawat... :D) berarti ada kemungkinan sistemnya lagi error ato memang baru dijalanin pagi berikutnya kan. Jadi, Jumat pagi gara2 mamaku ke Jakarta, aku ke bank dan ngecek 2 transaksi itu. Untungnya, mereka baik-baik saja dan berdasarkan data, transaksi2 itu separuh dikerjakan malam sebelumnya (pengurangan) dan penambahannya memang baru paginya... . Phiuhhh... :)
Kemudian di hari itu, aku makan malam steak buatan rumah loh, he3... :) Untuk aku, steak buatan rumah tuh yg paling oke, soale porsinya kan gede dan juga jauh lebih murah... :P Malemnya, nenekku manggil tukang mie yang lewat di depan rumah tiap malem, trus nanya aku sama adikku mau nggak makan mie. Jelas mau dong, wakakakakaka... lol. Jadi, kita mesen mie goreng dan mie rebus. Jam 8 malem, nonton spektakuler kelima dari Indonesian Idol.
Listriknya mati nih sepanjang pagi ini sampe jam 12.45 siang!! Huh!! Jadi selama 2 minggu aku udah di Jogja, listrik udah mati 3 kali!! :( :( Sore tadi jam 7 malem, aku pergi ke Bandara Adisutjipto untuk njemput mamaku dari Jakarta (penerbangannya sama kaya yang aku ambil
dua minggu lalu
, Garuda Indonesia GA 214). Penerbangannya terlambat lagi, tapi kalo kali ini "

cuma

" 35 menit, ga selama kaya penerbanganku dulu.